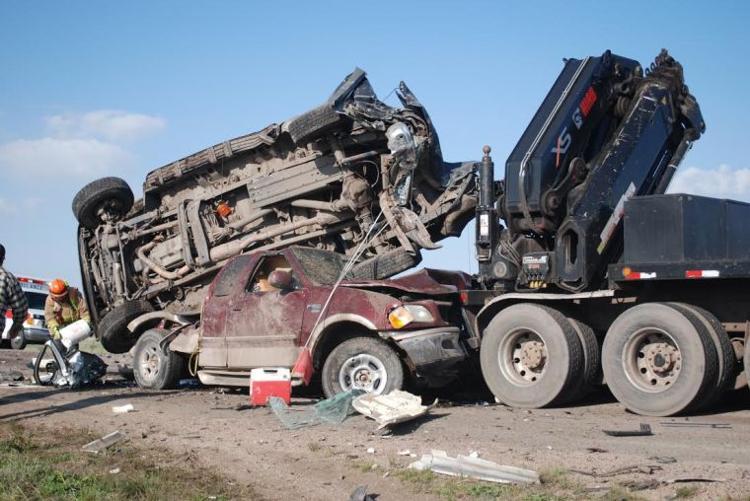 A woman who was hurt in a crash that killed three people five years ago is suing the company for punitive damages for chronic injuries that she continues to live with after the crash.
Anna Mitchell is suing Powder River Transportation and Rhoda Steel, the driver of the bus, for punitive damages. Her attorneys argue that the injuries she received in the crash have changed her life for the worse.
Both sides made their opening arguments Tuesday morning in front of a jury and District Judge Thomas W. Rumpke. While they agree that Mitchell deserves some compensation for her injuries, they disagree on how many of her injuries were a result of the crash.
Mitchell is represented by Gillette attorneys Thomas Metier and John Cotton. Ryan Schwartz and Pat Murphy are representing Powder River Transportation.
"This case is about money," Schwartz said and asked the jury to focus solely on Mitchell and not on any of the other people affected by the crash.
Steel was driving a Coach USA/Powder River Transportation bus at about 7:30 a.m. May 14, 2014, on Highway 59 when she collided with a line of cars that were stopped for construction south of Gillette.
Three men — Colin Schultz, Charles Errington and Christopher Joubert — were killed in the crash.
In August 2015, Steel pleaded guilty to three amended charges of misdemeanor vehicular homicide. Then-Circuit Judge Terrill Tharp sentenced her to 30 days in jail under a plea agreement.
Mitchell was sitting right behind Steel when the accident happened and was thrown back and forth and up and down.
Since then, she's had chest and knee pains and has been diagnosed with post-traumatic stress disorder. She also started having migraine headaches that would "put her down for an entire day," Metier said, adding she'd never had them before the accident.
She also has had two neck surgeries since the crash, and it's neck pain that has given her the most trouble the last five years, Metier said.
"She can't look down or up without getting a headache," he said, adding the pain was so unbearable that she had to quit her job.
Metier said Powder River Transportation recently admitted it was at fault after denying responsibility "for a very long time."
"Anna was tough, until the crash" he said.
Mitchell's brother, Mick Snyder, said that before the accident, she was active and a good, hard worker. Now, she "hurts all the time and gets tired easily."
"She's not the same sister, in that respect," he said.
Schwartz said "a grievous error was made, and a terrible crash occurred."
"We accept that (Mitchell) was injured and is entitled to some compensation," Schwartz said, but the defense does not believe the crash was responsible for causing her neck injuries.
He told the jury that it would hear testimony that Mitchell's neck had been causing her problems for years before the crash, and that she "should have pursued surgery" for those issues.
Perry Study, who was a passenger on the bus, said that shortly before the crash, he looked at Steel and saw that while both of her hands were on the steering wheel, "she wasn't looking out the windshield."
Steel had previously testified that she was looking down right before the crash, but that she did not remember what she was looking at.
Schwartz said the "only reasonable explanation" was that Steel had fallen asleep at the wheel.
After the crash, Study climbed out of a window and went to the front of the bus, when he said he heard Steel say, "I'm going to lose my job."
Study said he'd had complaints about Steel's driving in the past, but never brought the complaints to Powder River Transportation.
Mistrial?
During opening arguments, Metier showed the jury photographs of the crash. Before showing them, he said there would be no pictures that contained the victims who died. But as he was going through the pictures, one that showed a victim flashed on the screen.
Metier said he had prepared a presentation with pictures of the deceased removed, but he was having problems downloading it Tuesday morning so he used the original presentation. He forgot to remove those pictures, he said, and it was "completely unintentional."
Schwartz called for a mistrial, saying that showing a picture of a dead body "tainted that jury beyond repair," and that "we cannot un-ring that bell."
The picture was "absolutely irrelevant to the case," Schwartz said, because Mitchell left the bus without seeing any of the victims. "There is no way to cure this."
Even though Rumpke said he was very concerned about Metier's error, he refused to declare a mistrial. The picture was not gruesome and it was only on the screen for a few seconds, he said. But most importantly, the jury was already aware that people were killed in the crash. He instructed the jury to "totally disregard the picture."