As COVID-19 continues to surge across Wyoming, more than half of the state's counties have set rules requiring face masks to be worn in public. And Gov. Mark Gordon, who for months has maintained a resistance to issuing a statewide mask mandate, also now seems closer to doing so.
That's because despite efforts urging people to social distance, wear masks on their own and not let their guard down to help slow or curb the spread of the novel coronavirus, it's spreading out of control.
"We've relied on people to be responsible and they're being irresponsible," Gordon said during a virus briefing last week in which he announced "all things are on the table" regarding more stringent public health orders to deal with the spread, including a mask mandate.
While maintaining that's the last thing he wants to do, he may have to if people don't act on their own to address a statewide public health crisis.
"If I can't rely on you, we're going to have to do something else," he said.
In the meantime, 15 of Wyoming's 23 counties already have asked for and been granted permission from state officials to implement their own public mask orders. They range from only being required in public buildings to everywhere when out and about.
Campbell County has discussed a mask mandate but isn't among those that have requested one even as its COVID-19 numbers have surged at an alarming rate.
While local sentiment from many businesses and public officials remain adamant against a mask mandate, they also say that's the lesser of evils between that and shutting down the local economy again.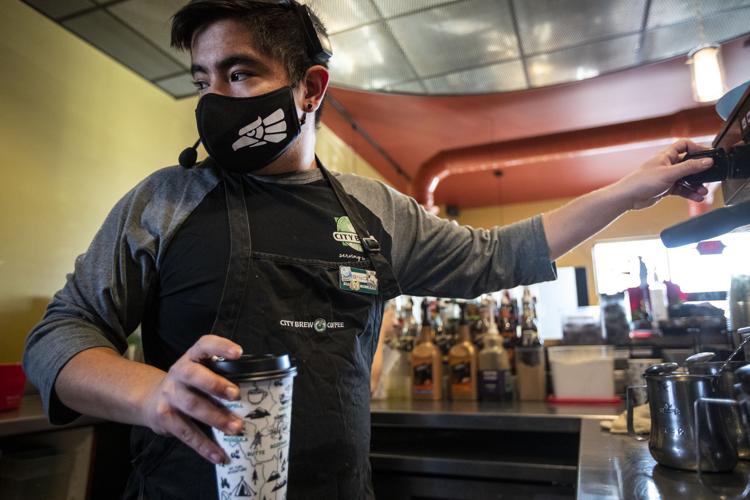 Their 2-cents
"While I appreciate the possibility of a mask mandate, I just don't want a shutdown again," said Josh McGrath of ERA Priority Real Estate during a Tuesday Zoom meeting with Wyoming Department of Health Director Michael Ceballos hosted by the Campbell County Chamber of Commerce.
"I'm just not a fan of shutting businesses back down," he said. "It wasn't to the benefit of anybody the first time."
He also agreed with Gordon that if people do the right thing on their own, the government won't have to intercede.
""It's not difficult," he said about being courteous and safe. "It's doing all the right things. We all have to contribute and help out. I went to my daughter's basketball game last night and everyone wore a mask. Every person wore a mask."
This week's online meeting with local businesses was one of a series Ceballos is doing to gather input and ideas on how the state can better respond to the COVID-19 pandemic. He also emphasized that, as of now, the state hasn't taken any more strict action.
"I'm not here saying I want to do something. I'm very concerned about the numbers we're experiencing right now and I think it's going to impact all of us, " Ceballos said. "I don't want the numbers we're experiencing to have a bigger impact than it's already having on the economy."
For small businesses that don't have the backup of a corporate office or deep pockets to spend tens of thousands of dollars on virus mitigation, keeping their own employees safe is difficult enough without also having to enforce mask-wearing for their customers, said Traci Barkey, owner of City Brew Coffee in Gillette.
"You cannot overwhelm all these businesses (with regulation)," she said. "Most of these businesses are barely getting by as it is. We're adults, most of us here, and we should be able to choose how we live our lives and be respectful of everyone."
If Gordon eventually does issue a mask mandate, Barkey questions how practical it will be and is concerned about businesses being penalized for the behavior of customers, which for the most part they can't control.
"I do not want to be the one who is the police department for mask-wearing in my business, because we're in the hospitality business," she said.
William Colemen of Home Depot agreed. He's also on the chamber board of directors and said he was speaking for himself, expressing concern over the potential for violence against employees who are tasked with telling people to mask up.
"Businesses should not police our customers," he said. "You've seen too many cases across the United States of greeters or employees being attacked."
Public officials have seen those reactions as well, said Stephanie Pyle, senior administrator for the state Public Health Division.
"I have observed fights in stores and I have family members who work in the retail setting who are (tasked) with that," she said, adding businesses shouldn't try to be too forceful. "I think it's reasonable to make the request, have the signage, but I don't think anyone should risk their lives over putting a mask on.
"It's unfortunate we have to have these kinds of conversations."
By the numbers
Over the last 60 days, Campbell County has gone from one of the least affected by COVID-19 to one of the hardest hit.
Since Sept. 21, the county's number of confirmed cases since the pandemic began ballooned from 217 to 2,213, an average of 33.2 cases per day. Before that from March 13, when Gordon declared a state emergency because of the virus, through Sept. 21, the county had 217, or an average of 1.13 per day. The county's active cases also is up from 34 recorded 60 days ago to 1,259.
While some increase can be attributed to more testing, that doesn't account for Campbell County having the state's highest positivity rate at more than 36%. That means that more than a third of people tested for the virus in the county have come up positive.
"We have had a gigantic spike here in Campbell County and are working with the commissioners and city council and chamber," said Public Health Director Jane Glaser.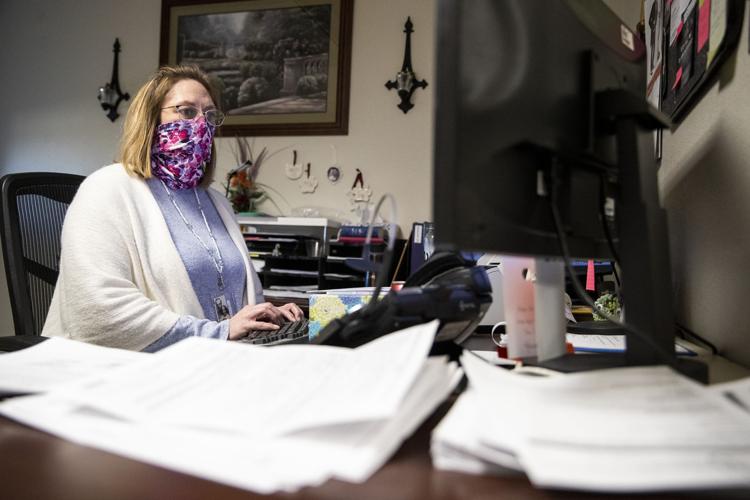 She and five others of her 12-member staff have recently tested positive and were quarantined, which caused the office to pull back on some services at a time the county most needs them.
"We have an office of 12 and about half of us have either been in quarantine or are just out of quarantine," she said during a Zoom meeting Tuesday with county commissioners. "Six of us have had it."
Glaser also said that, from personal experience, she can confirm that COVID-19 "is not just a bad flu."
She said her office is overwhelmed and that "we definitely need assistance in how to get this reined back in. The last three weeks really blew up our office."
While Campbell County's rates have outpaced the rest of the state, Wyoming also is reaching a level where shutting down public places and requiring masks may be necessary, Gordon has said.
As of Friday morning, Wyoming has had 22,489 confirmed cases with another 3,680 probable cases and 176 deaths. Seven of those deaths were Campbell County residents. Also, Campbell County's 1,996 cases over that period represent 11% of the state's overall increase.
Compared to the 4,189 confirmed cases as of Sept. 21, the state has surged 18,300 cases, or an average of 305 per day. Prior to that from March 13 through Sept. 21, the state averaged 21.8 cases a day.
Not there yet
Throughout the COVID-19 pandemic, the Campbell County Commissioners have taken the approach that people must take personal responsibility when it comes to preventing the spread of the coronavirus.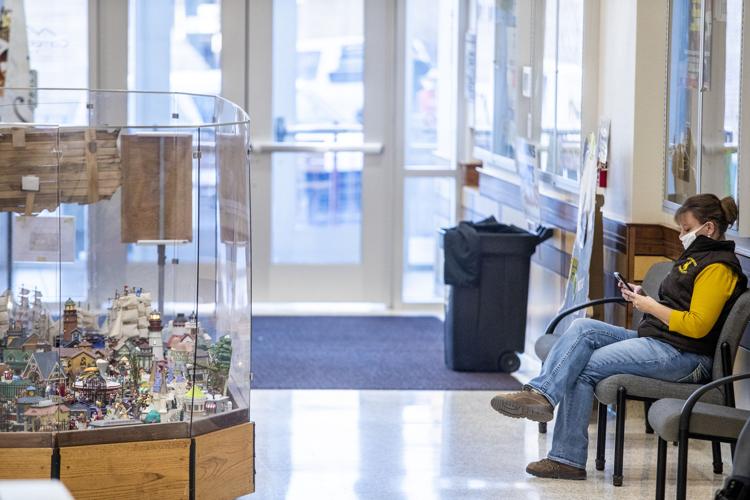 Now, with more than half of Wyoming's counties having mask mandates, and Campbell County's cases quickly increasing, the commission is still not in favor of mandating local residents wear masks. They did, however, approve a temporary policy requiring county employees to wear a mask. They also ask that people using the courthouse wear one.
Campbell County had done relatively well in the first several months of the pandemic at keeping its numbers low. But in the last few months, the cases and hospitalizations have shot up.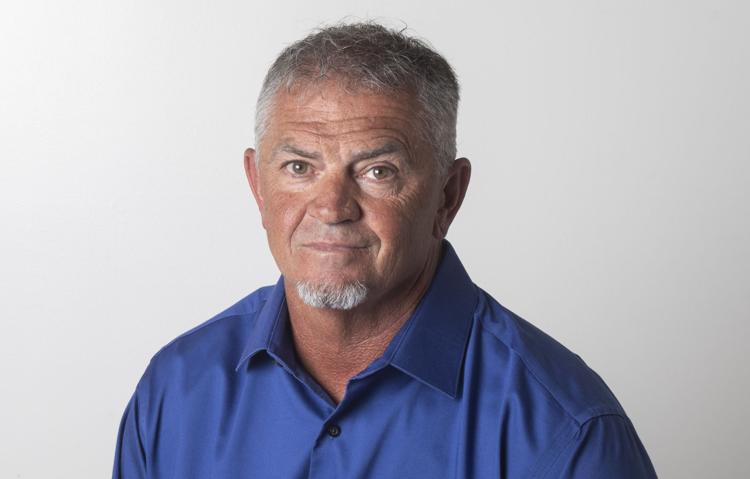 Comissioner Del Shelstad said he thinks "pandemic fatigue" has played a big part in the increase.
"People are just tired of all these mandates and things," he said.
"We relaxed restrictions and people were excited to get back out," said Commissioner Rusty Bell. "This is a long time to have your lives impacted."
Shelstad said that during the first few months of the pandemic, he was frustrated that businesses were shut down, yet there were very few, if any, people hospitalized because of COVID-19.
Today, the hospital is near capacity and it's time for residents to do the responsible thing, he said.
"The tricky part is, what's the responsible thing? I think everybody has a different feeling on what that is," Shelstad said.
Bell said people have begun to accept the reality of the coronavirus.
"There's plenty of people who say, 'Everybody's going to get it. Some people aren't going to do well, most people will do fine,'" he said. "I don't feel that way. I don't think that's a good way to look at it."
He said that as an elected official, he has a duty to represent the whole county, including those who are more vulnerable to the disease.
"It's really easy to Monday morning quarterback this thing, but there's not an easy solution to this," Bell said.
Commission Chairman D.G. Reardon said it is concerning how many people don't wear masks. He was at Walmart one afternoon and counted fewer than 10 customers in the store who were wearing a mask.
"People have the right to choose for themselves. When it comes to something that makes someone else sick or kill them, tough decisions have to be made," he said. "Obviously, none of us want to see (a mandate) in Campbell County, but we as citizens need to do what we can to help slow this down."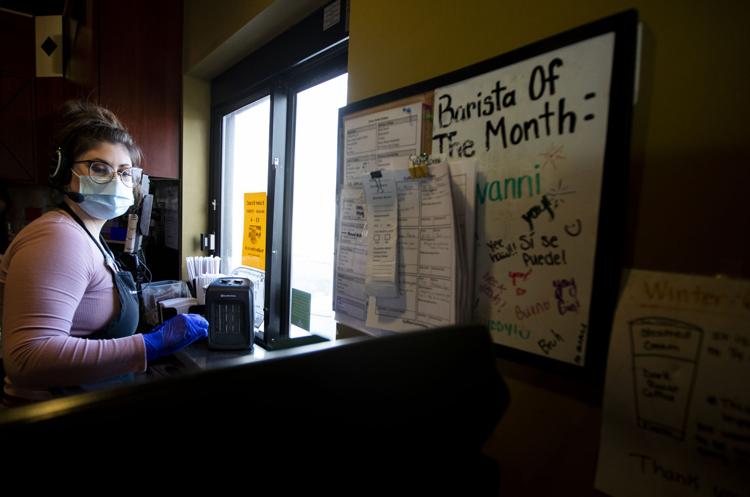 He questioned the effectiveness of a statewide mandate, saying that he doesn't think it will do much to change people's habits.
"Even if the governor mandated it, how many people do you think would wear a mask?" he asked.
"There are some people that flat out don't believe (the pandemic's) real, that it's a hoax," Bell said.
Reardon said he supports a temporary mask mandate, but he doesn't think it would have the support of the full board. Bell said the only instance where he would support a mask mandate is if it were that or closing businesses.
Commissioner Colleen Faber said she won't support a countywide mask mandate "unless there's a great amount of science or something that definitively tells everybody that's the silver bullet."
She worries that a mask mandate would give people "a false sense of security" and could actually lead to an increase in cases. She also believes the mandates in other counties won't do much more than bring "heightened awareness" to the issue.
"I'd rather we all take a good approach on recommendations and personally do the best we can to take measures are best for ourselves and families," Faber said.
Reardon is optimistic that people will come around to the idea of wearing masks in public and he believes that even if just 50% of the population wore them, that would go a long way in stopping the spread.
"I think people will get it, especially as we bring up statistics and data, show people what the masks can do," he said. "It's not going to cure it, but if it can keep one or two people from dying, then I think it's well worth the effort."
If there's a statewide mandate, Reardon doesn't think local law enforcement will be aggressive in making sure it's followed, since it will be a burden on officers and the courts, both of which are busy right now.
"It's going to clog up your courts system and you'd never catch up from that," he said. "I don't see any value in that."
The city of Gillette has not implemented a mask mandate, but is strongly urging people to wear face coverings when out in public as Campbell County and the state battle through a surge in COVID-19 cases.
"It's concerning that some people say it's just a cold," Mayor Louise Carter-King said. "Six months ago, people would say, 'I don't know anybody who has it,' and I was one of those people.
"And now, you not only know people, but you probably know people who died."
The City Council resumed online-only meetings this week because of the virus. After the city re-opened its doors to the public in May, people have became lax, Carter-King said. For the most part, people attending council meetings had not been wearing masks or practicing social distancing as asked.
Several weeks ago, the city made it mandatory for employees to mask up inside city buildings if they cannot be more than 6 feet from a co-worker. It also put up plexiglass barriers in places like the customer service department.
Since July, 29 city employees have tested positive for the novel coronavirus and there were 23 people in quarantine as of this week, including four who were waiting for test results. Since March, 106 of the city's 272 employees, or 39%, have either had the virus or have had to quarantine through contact tracing.
This does not include Councilman Nathan McLeland and Councilwoman Laura Chapman, who were in quarantine a couple of weeks ago, according to the city.
While concerned enough to require masks of employees, don't expect the city to mandate them for the public anytime soon.
"As far as the public coming in, we encourage them and ask them to (wear masks)," Carter-King said. "If they don't, they don't."
The city doesn't want to get into a fight over the issue of someone wearing a mask or not, she said.
"It probably wouldn't be a pretty sight," Councilman Billy Montgomery said if the city implemented a mask mandate. "I suppose there would be a lot of disagreement with it."
Montgomery said he doesn't know at what point the surge would need to be for him to consider a mask mandate.
"I'm sure the city would wait for the governor to do something. Let him make the decision," he said.
If Gov. Mark Gordon were to implement a mandate, Carter-King said she hopes people would comply with it.
Wearing a mask is not that big of an inconvenience. It's like putting on a seat belt or whatever other precautions people take, she said, adding that she is not sure how a mandate would be enforced.
As for the near future, the city will likely continue hosting city council meetings online unless the number of COVID-19 cases goes down and Campbell County is out of the woods.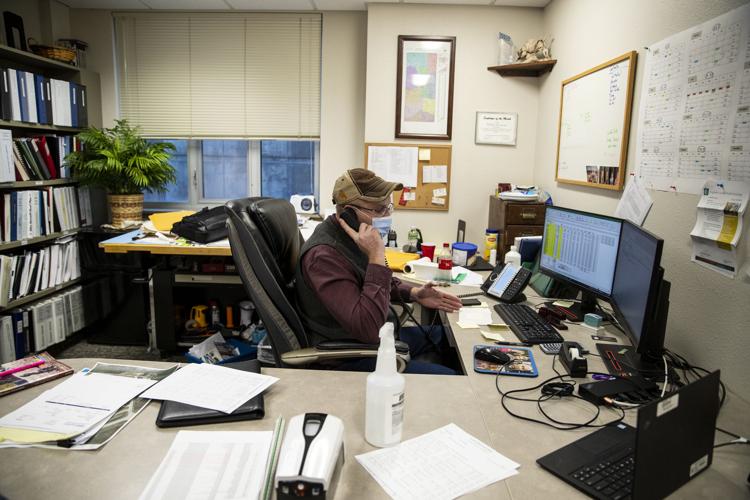 Is a mandate enforceable?
The Campbell County Sheriff's Office does not require masks to be worn by employees, deputies and detention officers.
Although the Campbell County Commission this week passed a mask policy for its employees, department directors are still allowed to set their own policies. Given that, the Sheriff's Office has continued to operate with an optional masking policy, where it's up to each employee.
While acknowledging that there have been a few cases of COVID-19 among the deputies and more that have needed to quarantine, Sheriff Scott Matheny said the decision to allow his employees to choose for themselves is one of functionality.
Masks could hinder deputies from doing their jobs, he said.
"The guys on the street, the guys in the jail, they're giving verbal commands and they have to be specific and they have to be understood," Matheny said. "That's important and masks hinder that.
"If they feel uncomfortable, we want them to be comfortable, but it's not mandatory because we feel it's more effective to do our job without the mask."
Deputies do have PPE in their squad cars and can use it depending on the situation, at their own discretion and as the circumstances dictate, he said. Beyond masking, there has been an emphasis on cleanliness that has led to lots of hand sanitizer being used this year.
"If they have to give verbal commands or they have to have their gun our or whatever, that's different," Matheny said. "It's important for them to be able to choose when to do that instead of being mandated."
If a local or state mandate were to be passed, Campbell County would be faced with the same questions being explored by the counties that have already have mask rules: How strictly should it be enforced and by whom?
Without a mandate or concrete evidence that one is coming, it is too soon to speculate about how the county would go about enforcing it, Undersheriff Quentin Reynolds said.
"I hate to speculate on that because the mandate's not in place yet, so until it comes into place then we'll have to deal with it at that time," Reynolds said. "I can't speculate on what would take place."
Sgt. Dan Maul works on the streets, patrolling and responding to calls and dealing with the public.
"As a rule of thumb, I'm not wearing a mask unless it's a situation where we are aware that there's someone quarantined or someone with the active virus, then we take those extra precautions in that situation," Maul said.
He echoed Matheny's idea that communication, a vital part of his job, is more difficult with a mask on. Because of that, other precautions are taken, such as constant hand-sanitizing and maintaining social distance when possible.
"If it's known to be the virus or a quarantine situation then we'll take the precautions in that situation, he said. "But typically we're trying to mitigate it in other ways without having to wear the mask."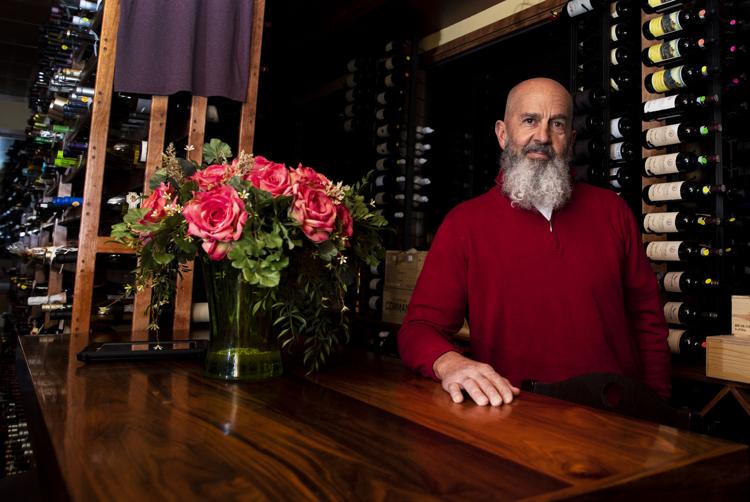 Lesser of evils
Local restaurant owners say they don't want to turn back the clock to the spring when people weren't allowed to come in to eat at their establishments because of the COVID-19 pandemic.
Some are even amenable to a mask mandate if it means keeping their doors open.
Places like The Prime Rib made adjustments to those early restrictions by offering curbside services and deliveries, but it was not enough. Prime Rib Owner Ken Barkey said business was off about 70% between mid-March and May.
"People were generous with tipping, but how much can you send out the door?" he asked, adding some people come in for an alcoholic beverage while dining, which couldn't happen with the doors shut.
When he was allowed again to have people inside, they needed to follow social distancing guidelines as well as restrict the number of people, which changed as Gov. Mark Gordon amended the guidelines during the late spring and summer.
The recent uptick in COVID-19 cases has slowed things down a bit for restaurants again, although not been to the extent it was in the spring.
The catering business at Pokey's, for example, has struggled since February. Business has started to come back, but there have been some recent event cancellations because of concerns about the virus and people trying to avoid large gatherings.
"That hurts," said Pokey's owner Ric Schuyler.
The increase in cases has not only slowed business, it has intensified conversations about the possibility of a statewide implementation of a mask mandate.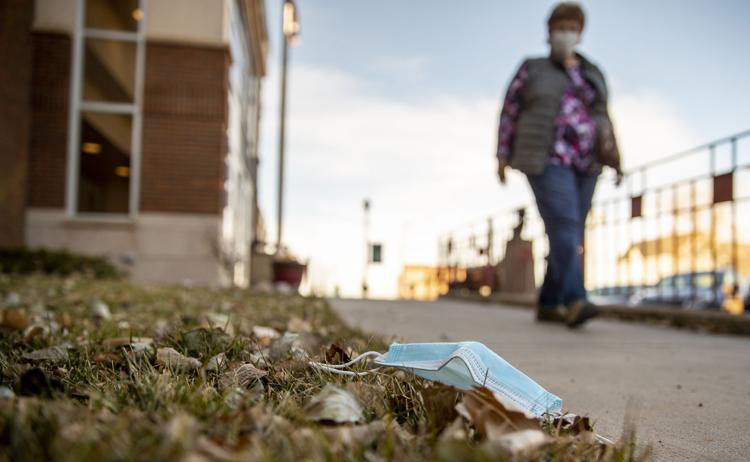 Barkey said if wearing a mask is necessary to avoid a new round of restrictions for restaurants and bars, then he's fine with it.
"We just want to keep our people working," he said. "If they want to give us a mask mandate, I'd be OK with it as long as we can stay open."
Schuyler said he would hate to be the one to make that decision, especially because so many people have strong opinions on the issue.
"I'd rather see a mask situation than a shutdown like they did before," he said. "I don't think it's going to hurt the business. I just don't know if that's the cure."
It's the same for Rebekah Bane, owner of Trends Furniture in Gillette. She said she's "been very proactive wearing a mask" and that her staff also wears them.
But she's also concerned that a government mandate at either a local or state level could escalate an already volatile environment.
Bane also participated in this week's Zoom meeting with the state Department of Health and said she's had people tell her they're stockpiling guns and ammunition and "are openly hostile" about mandates.
"This 'put-on-the-mask' thing has gotten a little volatile and I don't know why," she said, adding that she also "extremely concerned about the shopping that goes on the day after Thanksgiving."
Ryan Ludwar owns Titan Solutions and said he's not a fan of a mask mandate and that the public health measures hurt small businesses more.
"It's my experience in Gillette that it's the small businesses that were following the rules," he said. "I don't feel it's my job to police the public and my customers who come into my stores.
"But at the end of the day, I've got to provide for my family ... and if we're going to out-govern my ability to provide for my family, I'm against it."