This year's holiday season has been altered because of COVID-19. Longstanding events that the community has come to expect during the weeks leading up to Christmas are not guaranteed as cancellations and postponements have rejiggered the calendar. There are still events that families can enjoy, as well as opportunities to give back to those less fortunate during the holidays.
14th annual Festival of Lights
More than 1 million lights and 70 displays promise to get visitors into the holiday spirit. There are a few changes from last year. The Infinity Tunnel now has the same type of bulbs as the Christmas Drive-In. Each bulb is programmable and can virtually be any shade of any color, which leads to infinite color combinations. The Campbell County Sheriff's Office has the only new display this year.
When: 5-11 p.m. nightly through Jan. 3
Where: Cam-plex Park
Cost: Free
Secret Santa
To sponsor a child, visit the Campbell County Recreation Center and select the letter from a child you would like to sponsor. Sponsors will shop, wrap and deliver the gifts. If you prefer not to shop, wrap and deliver, you can donate money to the program and Recreation Center staff and volunteers will do the shopping for you. Families seeking to receive gifts for a child from the program must qualify with the Council of Community Services by Dec. 3.
When: No deadline for sponsoring a child; it will continue until all have a sponsor
Where: Campbell County Recreation Center
Giving Tuesday
The Council of Community Services has two partners, First National Bank of Gillette and Cyclone Drilling, each of which will match up to $5,000 raised Dec. 1, which is Tuesday. It's one of the largest fundraising days for nonprofits across the nation. Donations can be made at the Council of Community Services' Facebook page, its website at ccsgillette.org, mail or by donations made and delivered to the council's main building.
Gillette Main Street Holiday Ice Festival
A full day of holiday fun can be had in downtown Gillette on Dec. 5 as Gillette Main Street puts on its Ice Festival, Winter Walk and Parade of Lights. The festival will include an ice carving contest, an ugly sweater contest and concoction contest/open container from participating shops. As part of the Ice Festival, Gillette Main Street encourages people to shop local during this holiday season.
The Winter Walk is a unique tour of downtown Gillette. Participants who buy a numbered button for $5 will be entered in drawings for prizes worth a minimum of $50 from participating businesses. Only 250 buttons will be sold, so act fast. The first drawing is on Saturday, and the second drawing will take place on Dec. 5.
Concoction Contest/Open container: Pop in to participating shops for whatever holiday-themed concoction they've created and vote for your favorite by going online to Gillette Main Street's website. The open container permit covers First through Third blocks on Gillette Avenue and the Third Street Plaza from 11 a.m. to 8 p.m.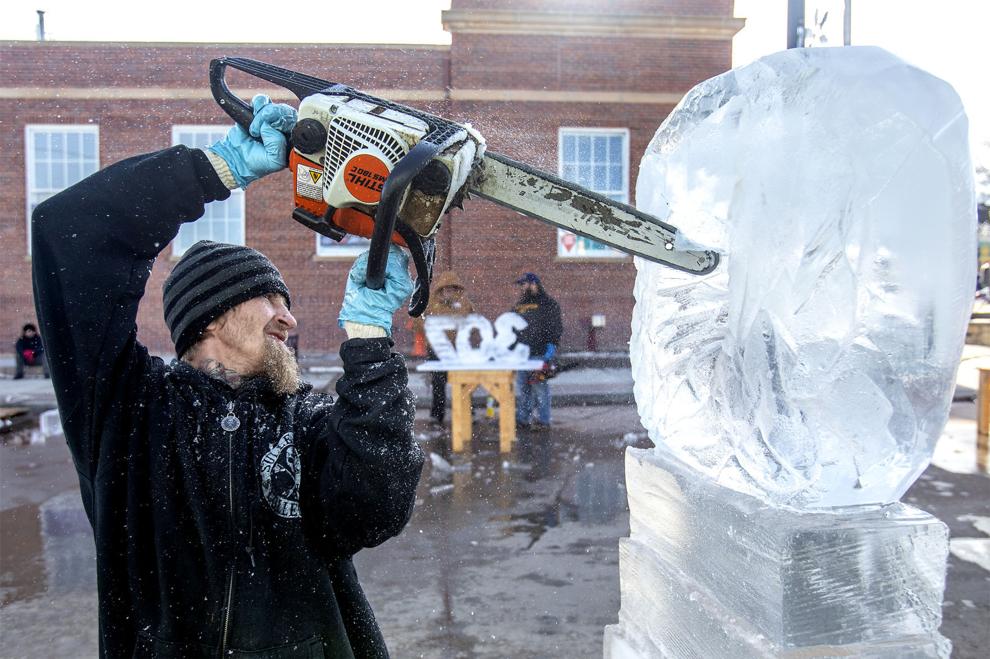 Ice carving competition at Third Street Plaza: Up to five carvers will have from 12:30-4:30 p.m. to carve their ice blocks with judging to follow.
Ugly sweater contest: Contest open to all ages, judging at 4 p.m. at Third Street Plaza
Parade of Lights: Parade begins at 5 p.m. The route proceeds from Seventh Street to First Street along Gillette Avenue. The theme for this year's parade is "A Patriotic Christmas."
Cookies for Santa
Crazy Daisy Floral is hosting a painting class where participants will create a hand-painted wooden platter on which they will be able to leave cookies for Santa. No painting experience required. Sign up at Crazy Daisy's Facebook page through Eventbrite.
When: 6:30-7:30 p.m. Dec. 2
Where: Crazy Daisy Floral, 502 E. Lakeway Road
Cost: $35
Floral Fresh Christmas
Attendees are walked through the process of creating beautiful holiday floral arrangements just in time to decorate their homes for Christmas.
When: 4 p.m., Dec. 12
Where: Crazy Daisy Floral, 502 E. Lakeway Road
Cost: $40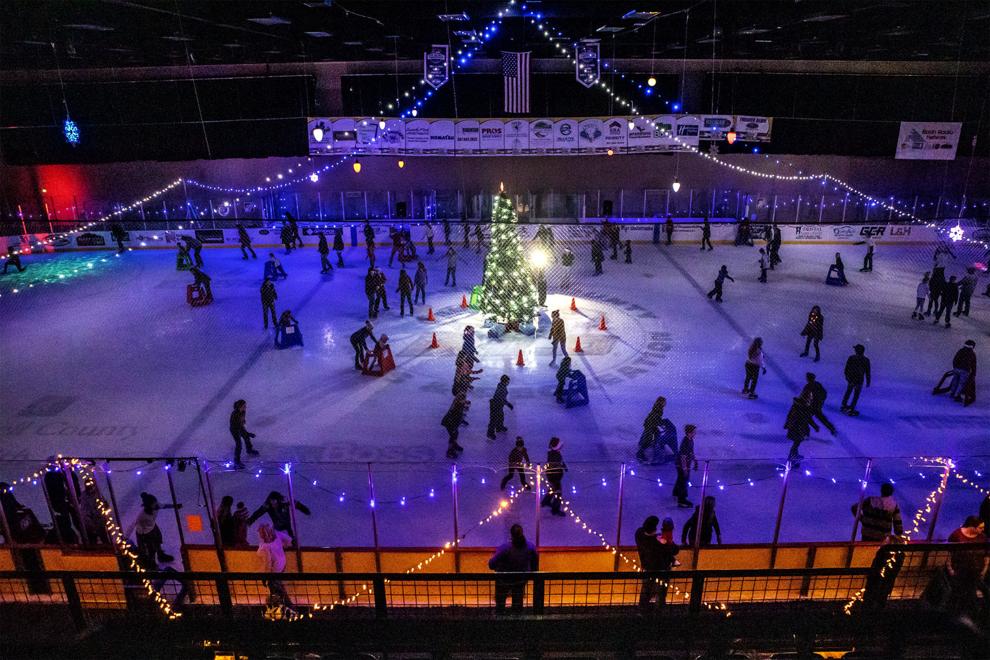 Skate Around the Tree
The annual Skate Around the Tree event has been extended beyond just Christmas Eve and Christmas Day. Tickets go on sale Tuesday at the Campbell County Recreation Center and Spirit Hall Ice Arena. Only 100 tickets will be sold for each session, and face masks and social distancing will be required. Dec. 26-30 will feature two sessions (1-4 p.m. and 7-10 p.m.). Bring a canned food item the day of your skate session for a free public skating session to be redeemed in 2021.
When: 1-4 and 7-10 p.m. Dec. 26-30
Where: Spirit Hall Ice Arena in the Wyoming Center at Cam-Plex
Cost: $10
ABATE Breakfast with Santa
Come get a bite to eat and meet with jolly old Saint Nicholas himself. Proceeds will go to benefit ABATE, and new, unwrapped toys and cash donations will be accepted for the ABATE Toy Store.
When: 8 a.m. to noon, Dec. 6
Where: American Legion
Cost: $10 for adults; $7 for kids 12 years old and younger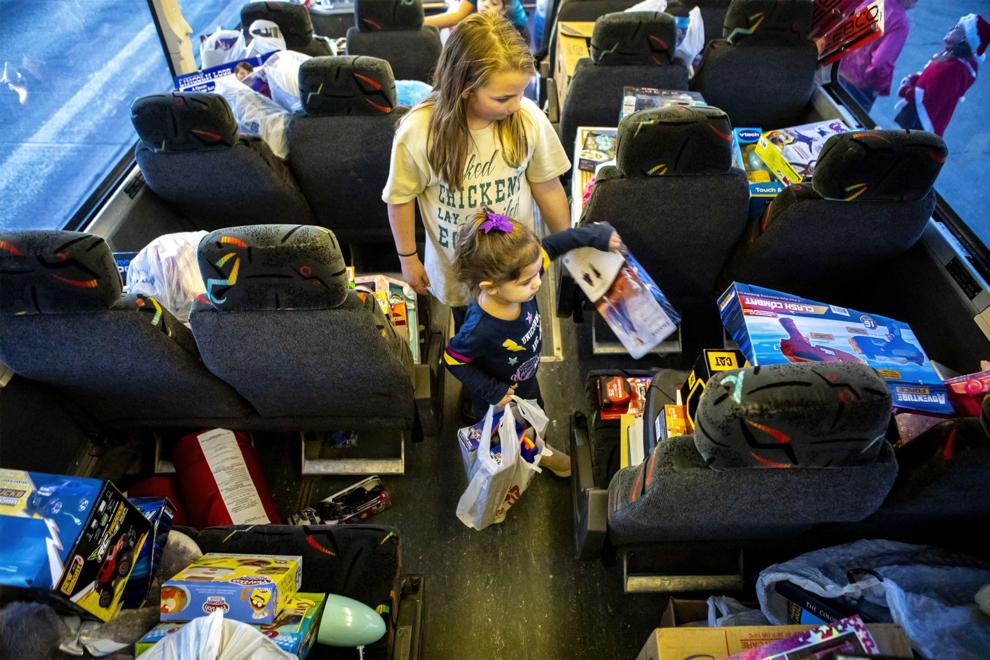 ABATE Toy Parade and Stuff the Bus
Bring new toys for children of all ages to the following locations to stuff the bus:
Nov. 30: Don's Supermarket, Wright from 1-3 p.m.
Dec. 3: Don's Supermarket, Gillette from noon to 2 p.m.
Dec. 3: Rocky Mountain Discount Sports from 4-6 p.m.
Dec. 4: South Shell Station from 4-6 p.m.
Dec. 5: Rangs Cycles from 11 a.m. to 1 p.m.
Dec. 5: Toy Parade along Gillette Avenue at 2 p.m., followed by Cookies with Santa at Gillette Brewing and Gone Postal Pizzeria at 2:30 p.m.
Dec. 8: Prairie Mining at Teacher's Corner/Kid's Mart from noon to 2 p.m.
Dec. 9: Mountain View Apartments from 3-5 p.m.
Dec. 10: NAPA from 3-5 p.m.
Dec. 11: Sonic Drive-Thru from 3-5 p.m.
Dec. 12: Crossfit Brown & Gold from 11 a.m. to 1 p.m.
Dec. 12: Inspiration Gardens at Mount Pisgah Cemetery from 1-2 p.m.
Dec. 13: Unstuff the Bus at ABATE Toy Store (6001 Mohan Road) at 1 p.m.
Campbell County School District Jingle Bell Run
Put on a favorite ugly Christmas sweater and lace up your running shoes to help the Campbell County School District raise money for the Gillette Abuse Refuge Foundation in the district's ninth annual Jingle Bell Run/Fun Walk. The starting line will be at the Rec Center's Field House, and the course is ¾ mile for kids and 2.8 miles for adults. There will be a staggered start, with kids starting at 8:15 a.m., walkers starting at 8:30 and runners starting at 9. A silent auction will be set up for participants to browse and place bids before and after the race, and winners will be announced at 10. Register at any school building through Dec. 4 or register the day of the race at the Rec Center.
When: 8-10 a.m. Dec. 5
Where: Rec Center Field House
Cost: Until Dec. 4, adult with T-shirt is $15, adult without T-shirt $10, kids $15 (with or without T-shirt); on Dec. 5, adults $20 (with or without shirt), kids $15 (with or without shirt)
Rockpile Museum Virtual Christmas Crafts Day
Due to COVID-19, the Rockpile Museum's Christmas Crafts Day will be held virtually this year. Beginning Dec. 5, kids age 4-12 can stop by the museum to pick up a crafts bag that will contain all the materials for a project. Supplies are limited. They can then go to the Rockpile Museum's YouTube channel or the Campbell County Facebook page for a Christmas crafts video.
When: Dec. 5
Where: Rockpile Museum
Cost: Free
Wright Branch Library Outdoor Christmas Party
Santa Claus is coming to the Wright Branch Library on a fire truck to visit with kids. All events are outside this year, so dress for the weather. Snacks, crafts and possibly a snowman-making contest (weather permitting).
When: 3:45 p.m. Dec. 9
Cost: Free
Get in the Holiday Spirit at the Campbell County Public Library
A whole-library event with fun for folks of all ages is scheduled for Dec. 10. COVID-19 precautionary measures will be enforced. Face coverings will be required for guests age 3 and older. Temperatures will be checked at the door and social distancing will be maintained during the event.
For the kids, there will be a visit from Santa in the Wyoming Room from 4-6 p.m. Photos will be taken free of charge. Christmas stories will be read by staff during this time, and kids will get a crafts bag and a small treat on their way out the door.
For teens, there will be two sessions teaching how to decorate cookies. The first begins at 3:30 p.m. and the second session begins at 4:30. Teens must be in grades 7-12. Registration is requested ahead of time so staff might have an exact count. Call 307-687-9227.
For Craig Johnson fans, the Longmire author, will be reading his annual Christmas short story at 6:30 p.m., but he will be doing so virtually from his home in Ucross. Patrons can visit the library to watch the stream, but capacity is limited because of COVID-19 restrictions and will be awarded on a first-come, first-served basis. To get the Zoom link emailed to you, call the Reference Desk at 307-687-0115.
When: 4-8 p.m. Dec. 10
Where: Campbell County Public Library
Cost: Free
Bazaar and Photos with Santa
Seasonal Bazaars at the Ramada Plaza is hosting its fourth and final bazaar of the year, featuring 30 local vendors who sell holiday decor, gifts and artisan, handmade items. Santa Claus will be there and photographs start at $20 for one digital image with the option to order more. The head table will be staffed by two families, Nik and Bethany Wight and David and Susan Green, who are raising money to allow them to adopt children from Ukraine. Their table will sell baked goods, gift-wrapped mugs with mug muffins, handmade headbands from Ghana and socks from We Help Two, which gives them a free pair of socks to donate to the Council of Community Services homeless shelter for every two pairs they sell.
When: 10 a.m. to 3 p.m. Dec. 5
Where: Ramada Plaza
Cost: Free
Old-Fashioned 307 Christmas
The 307 Patriots are hosting their third event since the group's founding in the summer, and this time it's a community Christmas event for families. There will be Christmas Eve-themed finger foods and hot chocolate. For the kids, there will be seven Christmas-themed craft stations, including sugar cookie-making, ornaments and snowman plates.
Santa Claus will be there to visit with kids, arriving around 4 p.m., and parents will get a free photo of their kids and Santa. Each child also will get a gift from Santa.
To help Santa and the 307 Patriots, the group has placed collection boxes for toys for children 12 years old and younger at six locations around town. They will be in place until the evening of Dec. 6. The boxes can be found at: Ruby Tuesdays, Energy Lanes bowling alley, Camelanes bowling alley, Highmark Federal Credit Union, Tracy Norris Agency Farmers Insurance and the Gillette Moose Lodge. Gifts don't need to be wrapped, but if they are, the group requests they be wrapped according to gender, if applicable.
When: 3-7 p.m. Dec. 13
Where: Gillette Moose Lodge
Cost: Free
Christmas Winter Market
The Gillette Saturday Farmers Market is hosting an opportunity to get locally made baked goods and handmade crafts and gifts just in time for Christmas.
When: 9 a.m. to noon Dec. 19
Where: Ramada Plaza
Cost: Free
Throwback Thursdays at Gillette Theaters
COVID-19 has been tough on many businesses, and movie theaters are one area that's been hurt nationwide. Gillette Theatres has been continuing to show old favorites despite a lack of new releases. It's partnering with local businesses for the holiday season to show three free Christmas movies in the weeks leading up to Christmas. Full concessions will be sold at each screening.
Dec. 3: "National Lampoon's Christmas Vacation" at 6 p.m., sponsored by Greg's Welding
Dec. 10: "It's a Wonderful Life" at 6 p.m., sponsored by Campco Federal Credit Union
Dec. 17: "A Christmas Story" at 6:30 p.m., sponsored by Core 307 Physical Therapy
Gingerbread House Decorating
If you've ever wanted to decorate your own gingerbread house, The Ice Cream Cafe has just what you're looking for. On Dec. 7 and 14, the store will host two classes each day where it will provide all the materials for customers to make a gingerbread house that's unique to them. Call The Ice Cream Cafe at 307-686-8110 to register or with any questions.
When: 4 and 6 p.m. Dec. 7 and 14
Where: The Ice Cream Cafe, 202 S. Gillette Ave.
Cost: $6
New Life Wrap It Up and Pop-up Shop
Whether you find yourself behind on your gift wrapping or need some last-minute gifts, New Life Church can help. Its Wrap It Up event will provide volunteers to wrap gifts free of charge, and its pop-up shop is a fair trade shop that sells products from artisans in Haiti and other impoverished nations. Purchases put money in the pockets of the artisans, the local ministry partners in those countries and also helps fund New Life's missions.
When: 11 a.m. to 7 p.m. Dec. 19
Where: The Landing, 4500 Wigwam Blvd.
Cost: Free
Council of Community Services Christmas Baskets
Families in need of food can sign up at the Council of Community Services through Dec. 3. People can donate food at the council's building. If a receipt is needed for tax purposes, donors need to call or knock when they get to the building. If no receipt is needed, there is a large green donation box at the building. No dairy, frozen goods or meat should be donated in the box.
Volunteers are needed for food sorting Dec. 16-20 and also on distribution day, Dec. 22. Folks can call 307-686-2730 to sign up for volunteer time slots. Face masks are required for volunteers.
When: Dec. 16-20 and Dec. 22; call for individual volunteering time slots
Where: Council of Community Services