Opening a restaurant at any time is risky. Opening one during a pandemic is even riskier. But despite the risk, Gillette has seen a handful of new restaurants open their doors in the past year.
The Sherpa Indian Kitchen opened in spring 2020. Philly Shop and Co. opened in the summer. Last fall, Mrs. C's Catering opened a cafe in the Gillette College Technical Education Center and Frida's House opened in Camel Plaza. Last month, Katie J's, a vendor-run market, opened on Gillette Avenue.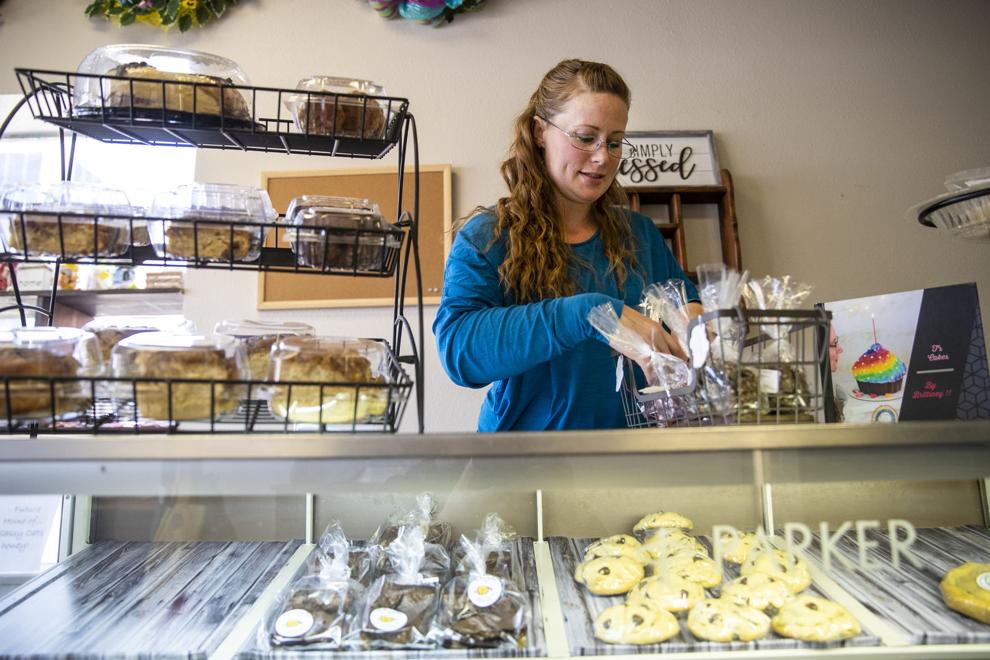 And later this spring, Ranch and Roost, a fast casual restaurant selling burgers and chicken sandwiches, will open next to Big Lost Meadery.
Jessica Seders, executive director of the Campbell County Convention and Visitors Bureau, said that during the pandemic, especially last summer, Campbell County residents showed support for local restaurants.
"I think our locals really stepped up and ate out more when they could to keep restaurants in business," she said.
Seders said having a diverse selection of places to eat benefits the community, not just by giving people more options, but also in drawing visitors to Gillette.
Chain restaurants are still popular, but increasing numbers of people are looking for a unique dining experience.
"More and more, people are asking, 'Where do the locals eat?'" Seders said.
If a town's residents are eating at a certain restaurant, "that's the best place to eat," she said.
This summer, the locals have more options.
Ranch and Roost
When Ranch and Roost opens its doors, it will offer smash burgers and southern-style chicken sandwiches. Owner Aaron Cannon moved to Gillette from Raleigh, North Carolina. He'd spent years in the catering side of the food industry, which is much less risky than opening a restaurant.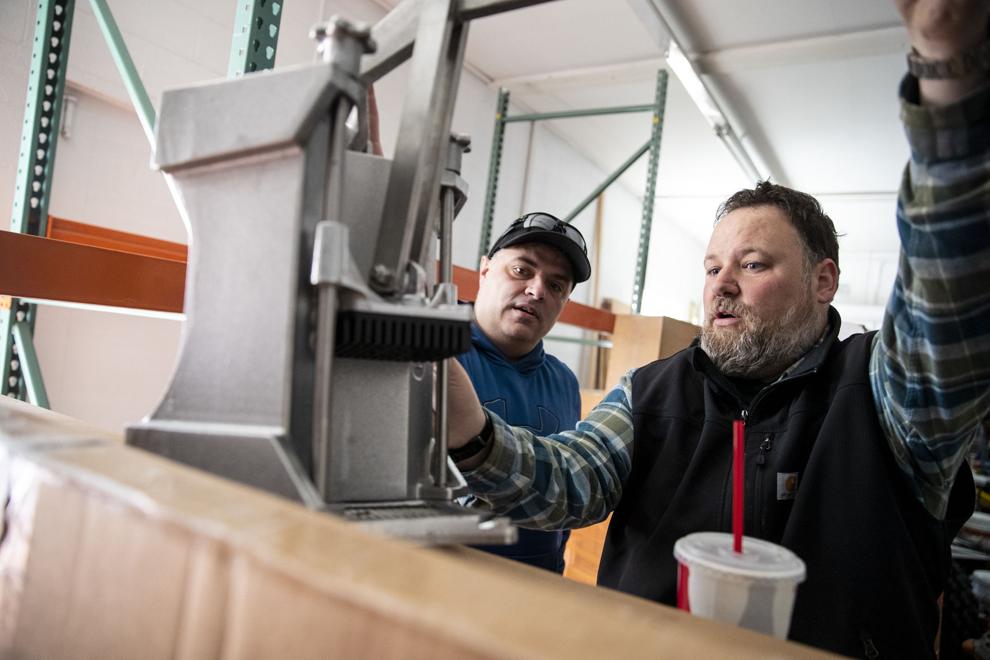 "With catering, you only work when you're making money," he said. "The problem with restaurants is, you have to be there even if you're not making money. It's an industry that's just brutal. It demands you all day, every day. In return for that, it usually gives you financial ruin."
But when Cannon visited Gillette last year, he was surprised with the number of restaurants here.
"It punches so far above its weight class," he said of the local restaurant scene. "The folks in Gillette do enjoy eating out. They eat out quite a bit. There's way more restaurants than you'd expect for a town this size."
The decision to sell burgers and chicken sandwiches came from looking at what Gillette loves, and what it could grow to love if given a chance.
"Every restaurant in town sells a burger. I've never seen anything like it before," Cannon said.
On the flip side, KFC is the only place that specializes in fried chicken.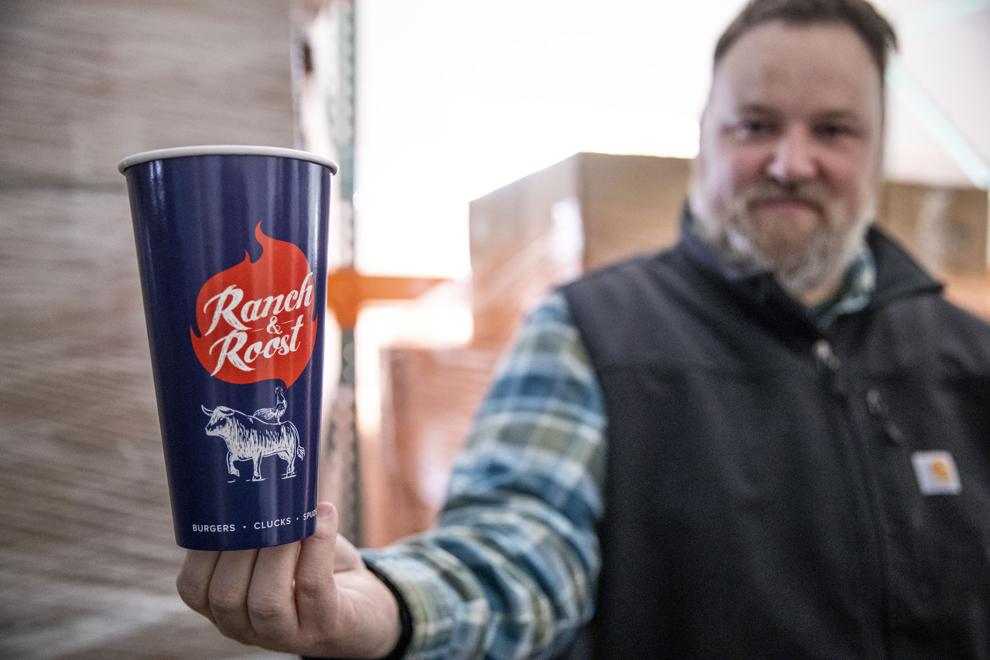 "We're from the South, we know fried chicken really well. We could make a really fantastic chicken product for the folks here that they're missing," he said. "I feel like I can win over a lot of people."
Ranch and Roost is located at 101 S. Warren Ave. next to Big Lost Meadery's new location. One of Big Lost's top requests since it opened has been for it to offer food, Cannon said, so this is a move that will benefit both businesses.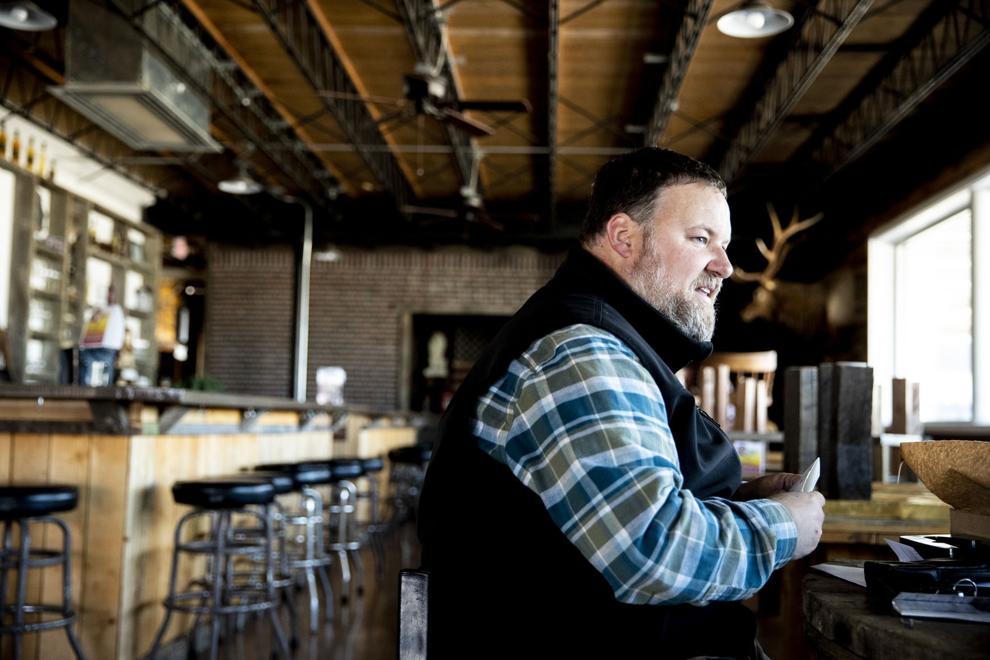 For Cannon, this is a chance to showcase his food's quality.
"If you make a good product, made well, made with skill, tastes great, the folks are willing to spend a little more on it," he said.
He said Pizza Carrello is a good example of this. Its pizza is two or three times the price of Little Caesar's or Domino's, but the restaurant stays busy and has built a loyal following.
"I tip my hat to Pizza Carrello. They make a great product," he said. "They would be successful in any city in the U.S."
Cannon said he's trying to keep it as local as possible. If he can't find a food or a product in Gillette, he'll try to get it from someplace in Wyoming. If he can't do that, he'll look for a regional option.
"We're attempting as best as we can to keep the money in town," he said.
Cannon plans on keeping the menu small, so don't expect to see seafood or salad anytime soon. With just 700 square feet of space to work with, "if we're going to make the best possible food, we can't have a big menu."
Katie J's
In March, Katie Lynde, a local baker who had a mobile bakery, opened up a storefront, Katie J's, on Gillette Avenue. It's not a full-fledged bakery, but more of a vendor-run market.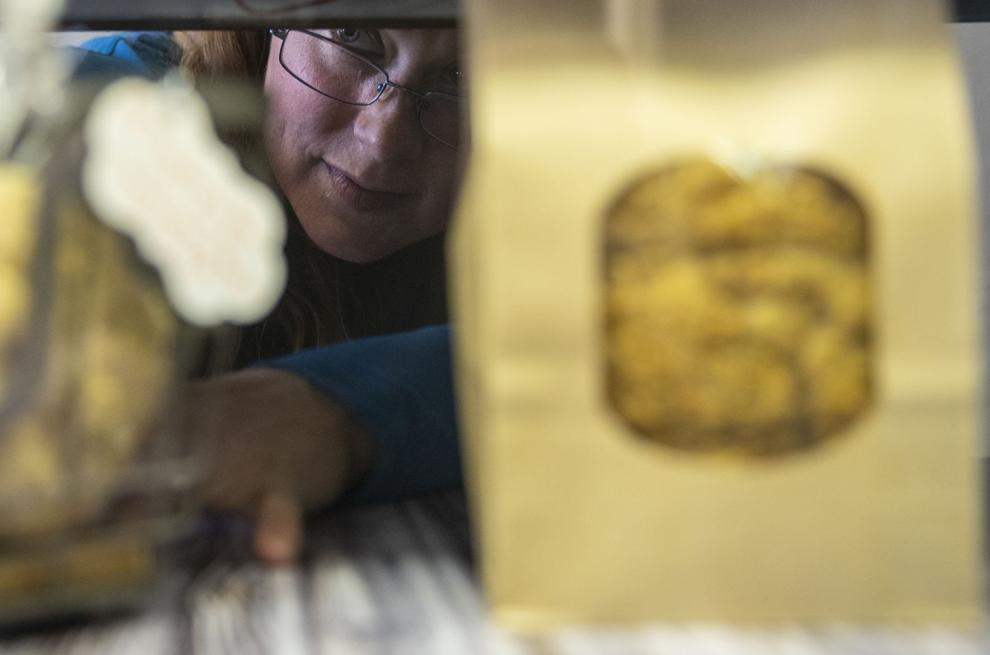 Lynde had the mobile bakery for more than a year and "it was fun, until it got cold. And then it was not fun at all," she said.
She enjoyed being able to park in different locations and meet new people, but from a business standpoint, "it was pretty hard."
Katie J's is located at 309 Gillette Ave.and is open from 9 a.m. to 2 p.m. Tuesday through Saturday.
Lynde learned how to bake when she was about 8 or 9 years old.
"I always really enjoyed playing with flavors, making something yummy, seeing someone say, 'This is really good,'" she said.
Lynde, who moved to Gillette from Arizona three years ago, has had to learn about some of the cultural differences in Gillette when it comes to food.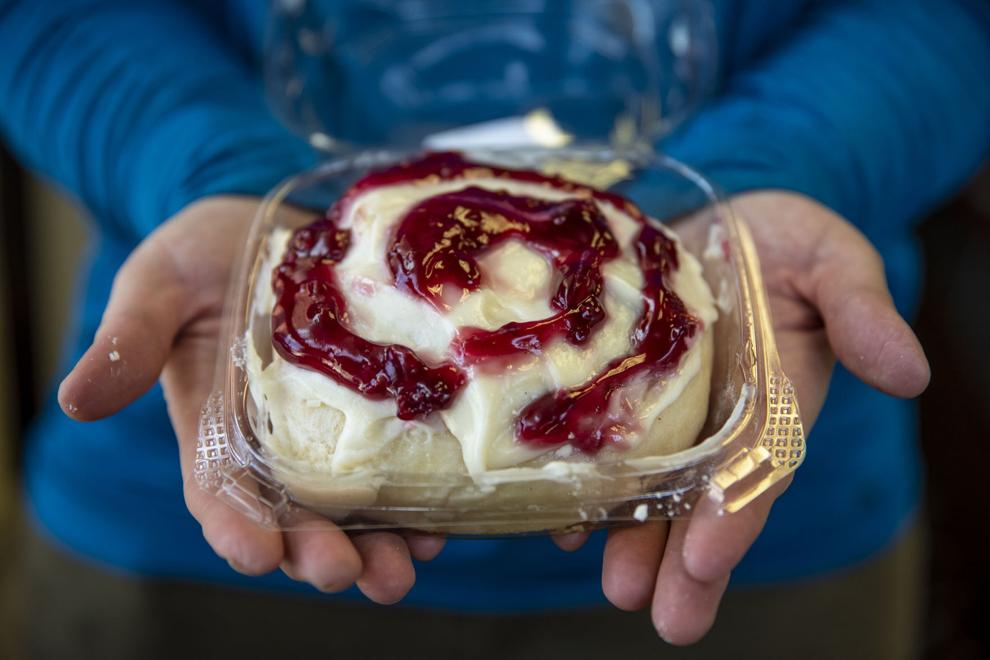 For example, coffee cake was her top seller in Arizona, "but I wasn't selling it here at all," so she stopped making it. While everyone in Arizona has a coffee cake recipe, in Campbell County, "everyone has a gooey caramel roll at their branding season."
"It's kind of the culture," she said. "What you're raised around is what you're going to want."
She's working on perfecting her caramel roll, so it's not available every day.
She said she was "a little nervous" opening a storefront during a pandemic, especially since a lot of people aren't out and about as much as usual.
So far, business has been "surprisingly really good, especially with the snow going on," she said.
Katie J's sells cheesecake, muffins, cinnamon rolls, salads and lasagna, and breakfast items are coming soon. There also are non-food vendors that sell jewelry, mugs and soap.
"It creates a beautiful environment," she said. "We're a family."
Lynde has bigger dreams for down the road.
At some point, she'd like to open up a full-fledged bakery in a larger building where she can sell pastries and coffee. But for now, she's happy with where she's at.
It's risky, she said, adding that "I've always been one to take a little bit more of a risk."
Mrs. C's
Carrie Sieh, owner of Mrs. C's Catering, opened a cafe in the Gillette College Tech Center last fall. She'd spent the years leading up to that point in the food truck game, but having her own restaurant had been a lifelong dream.
"I want the atmosphere of being able to sit down at grandma's table and have homemade food," she said. "My gift that God gave me is putting flavor together. I've always loved to cook and watch people eat, that look that people get on their faces when something tastes really, really good, I love that."
She said it never occurred to her that opening up a cafe in a college building during a worldwide pandemic was not the wisest decision in the world, and "my husband will tell you, I don't always think things through."
"I wasn't worried about it (back then)," she said. "I worry about it now more than when I first opened."
Compared to the food truck, the cafe is "a lot more work, a lot more overhead."
"I have to be a lot more astute as a businesswoman," Sieh said. "It went from having a hobby to having a job, but it's a job that I love. It never feels like going to work."
When it comes to the menu, "it's just a balance of finding things we think people can't get anywhere else," she said.
Her favorite items to make are brisket and pulled pork, but Sieh also enjoys the handmade half-pound burgers.
"I love the savory meats, the slow-cooked, fall-apart, melt-in-your-mouth meats that we do," she said.
Sieh said it's been a struggle to get the word out that her cafe is open to the public, not just college students. She said the students have been very supportive.
"The kids absolutely love us there. The kids really support us, they're fabulous. They bend over backward to help us with anything," she said.
A lot of Sieh's food is made from her grandmother's recipes, so she's "reintroducing foods that people don't eat anymore, comfort foods from way back when."
She said she makes her food from the heart, so "I take it very personally when someone doesn't like something that I've created."
Each morning Sieh said she wakes up grateful to have the opportunity "to go bless somebody with something every day," she said.
Sieh said she likes seeing Gillette starting to have more options when it comes to food. She doesn't see them as competition, but rather people following their dreams, just like she is.
"They offer something that I don't. We can't all offer the same thing. I'm happy for them," she said. "The more people that branch off, work for themselves, go back to the roots of being entrepreneurs and growing a business, the more we get back to that, the stronger our community's going to be."