Mike Enzi's legacy of public service spans more than four decades and includes achieving important milestones of progress for Gillette, the state of Wyoming and the nation.
In eight years as Gillette's mayor, he was instrumental in helping pass the Optional 1% Sales Tax the first time it was on the ballot in 1976 and led the city through developing the first Madison pipeline project to bring water to Gillette.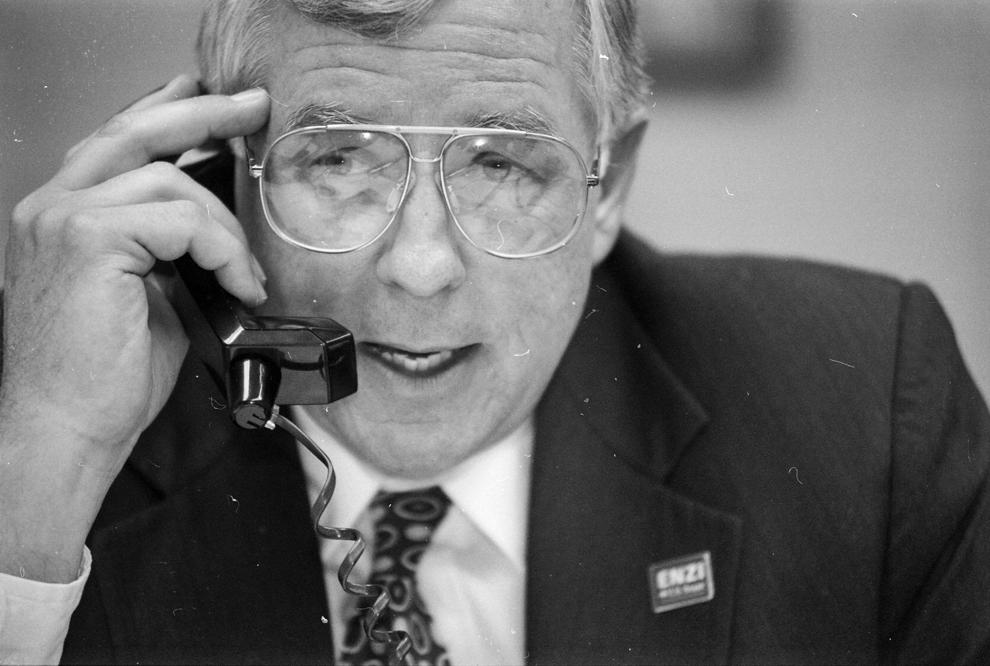 After 10 years in the Wyoming Legislature, he served 24 years as a U.S. senator for the Cowboy State, advancing and passing more than 100 bills during his tenure. He made good on a campaign promise to secure Abandoned Mine Land money that restored billions of dollars owed Wyoming and other states.
One of the most popular and well-liked congressmen by both major parties, Enzi's 80/20 approach to governance was widely acclaimed, if not always followed. He believed, and would preach at any opportunity, that most people agree on at least 80% of even contentious issues. By first agreeing and acting on that 80%, it's easier to then tackle the other 20% through debate and compromise.
To his colleagues on Capitol Hill and political watchers across the nation he was Sen. Enzi, a soft-spoken, jovial voice of common sense who lived the golden rule.
For many in Gillette, he was simply Mike Enzi, former shoe salesman who loved ice cream socials, hunting and fishing, and solving problems.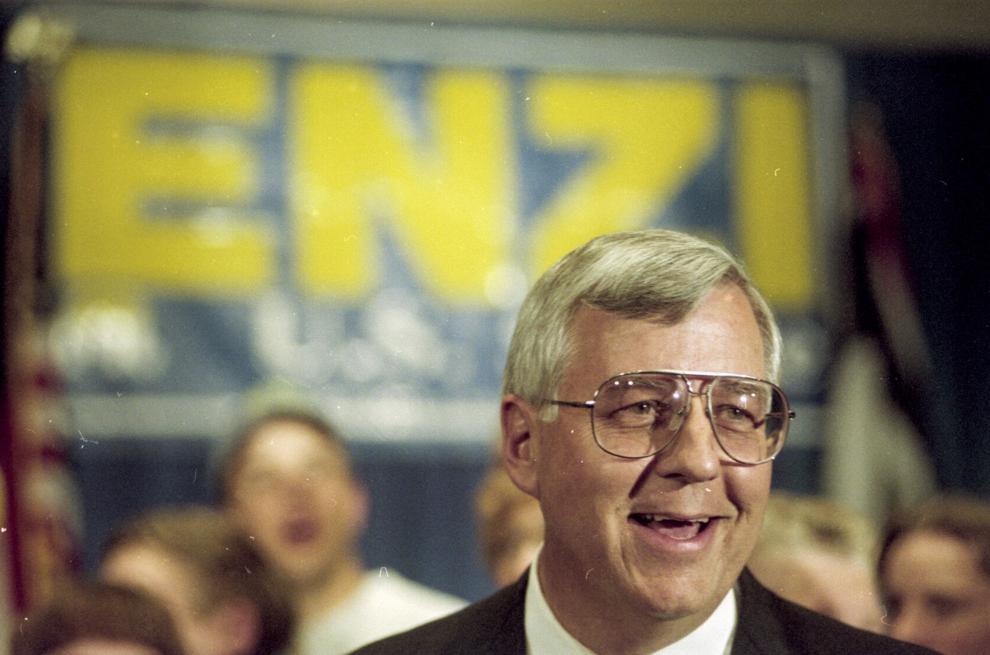 Fish slap
Many times, those hunting and fishing trips were with longtime friend Nello Williams.
Williams, 82, has spent a lot of time this week thinking about his good friend and outdoors partner. Enzi died Monday of injuries he suffered three days before in a bicycle accident in Gillette. He was 77.
While the nation remembers Enzi the lawmaker, Williams said he's thinking about the hunting trips they'd take with other longtime friend John Daly and others. They began in the early 1970s before Enzi was elected mayor in 1974.
They would ride horses into the hard-to-reach depths of Dry Fork in the Big Horn Mountains near Burgess Junction.
Often, those autumn trips coincided with the World Series and nights were spent by the campfire, fiddling with the signal on their portable radio to catch the game, looking up to the stars and carrying on with hours of conversation.
Even before Enzi entered politics, the foundation for many of his plans to improve Gillette were set during those talks, Williams said.
"We would talk about, what does Gillette need and how should you approach that?" He said. "So, what do you do at night at the bottom of Dry Fork? You sit around the fire and you just talk."
Williams recalled how they'd all look up at the stars, their minds seeming to meld the way that only happens when outdoors at night with like-minded friends, brainstorming ways to improve the community. The idea for the Optional 1% Sales Tax, now a fixture in counties across Wyoming, was floated during those late-night camps.
"A lot of the stuff that happened when Mike was mayor came out of those camps," he said.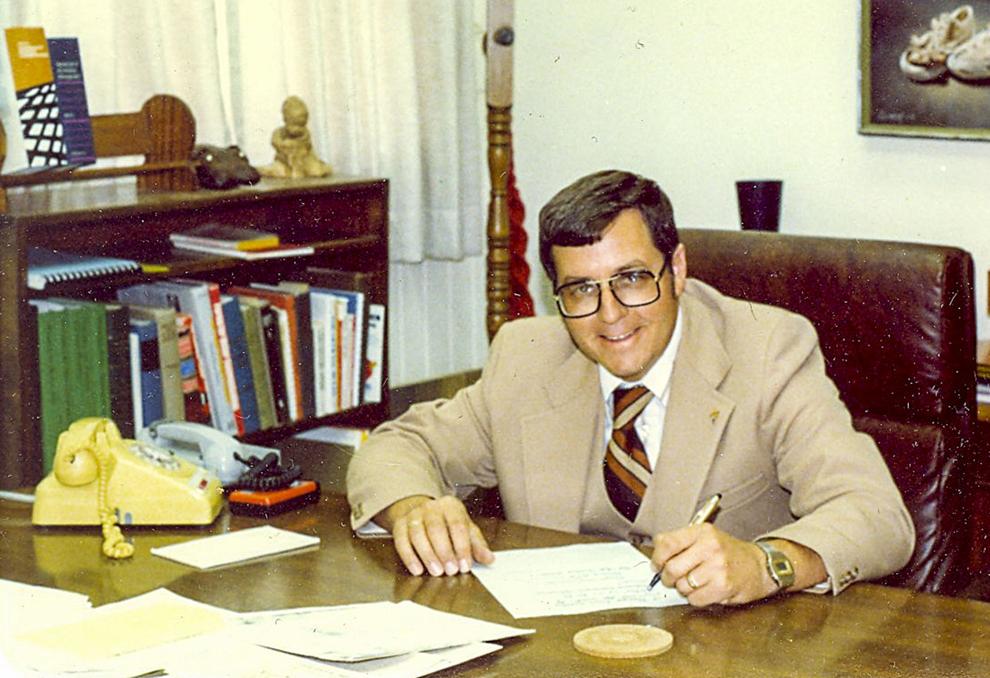 Those hunting trips carried on for "years and years and years," eventually growing less frequent as the group grew older. But Enzi's love of the outdoors continued for the rest of his life.
Williams recalled a few years back when he and Enzi went to Ten Sleep for some fishing. The pond was stocked with brown trout. While on the water's edge, Williams hooked a trout and reeled all 20-plus inches of it out of the water.
Proud of his catch, he asked Enzi to take a photo as he held his prize.
In slapstick fashion, when Williams tried posing with the trout, it snapped its tail and slapped him square in the face, knocking him backwards to the side of the water and out of his hands. Enzi, still on his feet, laughed and laughed at his friend being humbled by the fish.
"I got whacked by this brown trout, fell backwards and he's just up here laughing and laughing," Williams said. "He wasn't worried about pulling me up, he was having a good time laughing."
That's the man Williams remembers. Enzi could cry tears of laughter with friends, but also could softly unify opposing minds. It wasn't about politics or getting credit, it was about getting the job done.
In the decades they knew each other, Williams said he never heard Enzi say a negative word about anyone. Consequently, while remembering the late senator's life, rarely will a negative word be said about him.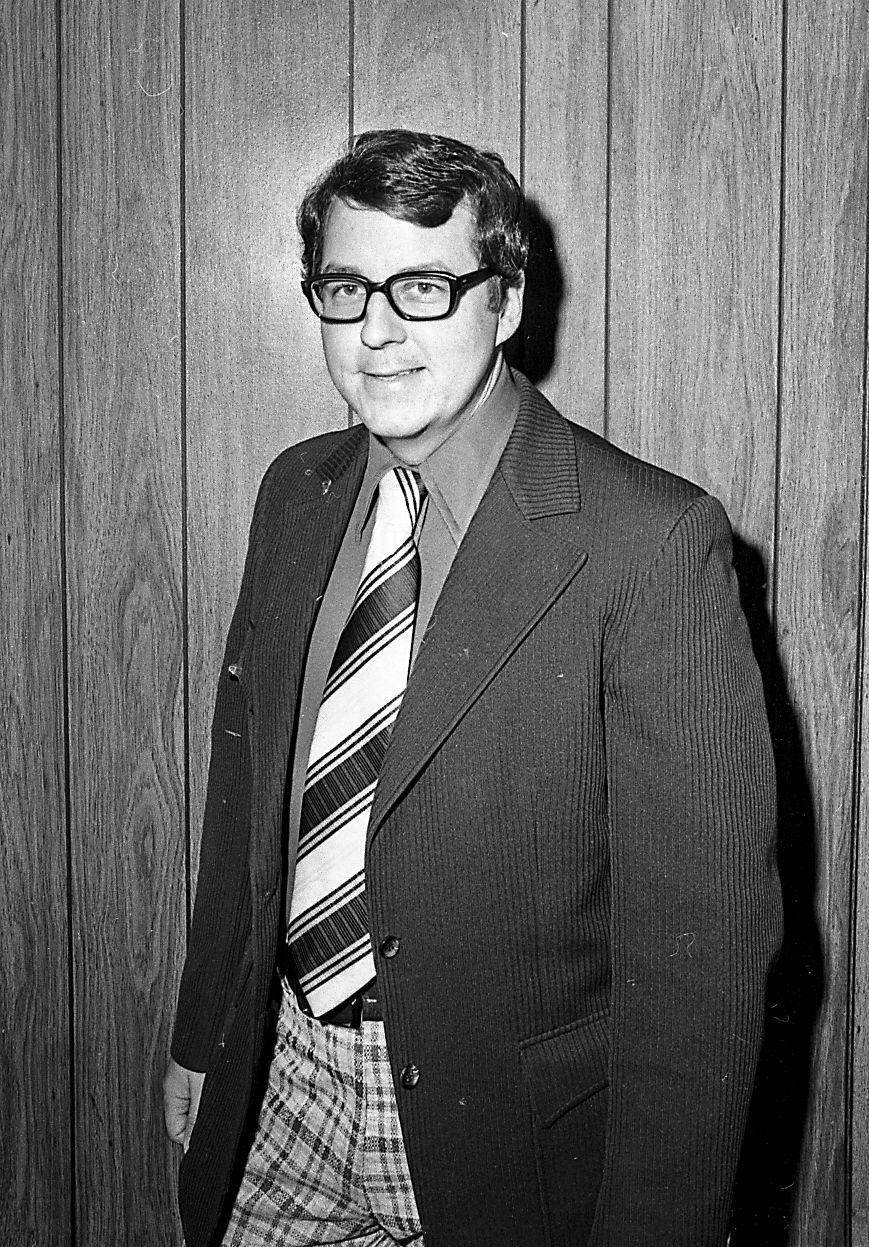 "I think God wanted a good fly fisherman, a good negotiator and a good man," Williams said. "And he got one."
The Murphys
Nancy and Tom Murphy Sr. owned a pharmacy on Gillette Avenue, right in the middle of Second and Third streets, for about 30 years. In the early 1970s during that time, Enzi and his wife, Diana, moved to town and opened NZ Shoes next door.
The Murphys also owned an office supply store up the street, which Enzi apparently didn't know at first.
Before they had met as business neighbors, Enzi entered the office supply store one day on a mission. Focused on finding whatever it was he needed, Nancy said he zipped in and out without making time to talk to who would become a lifelong friend.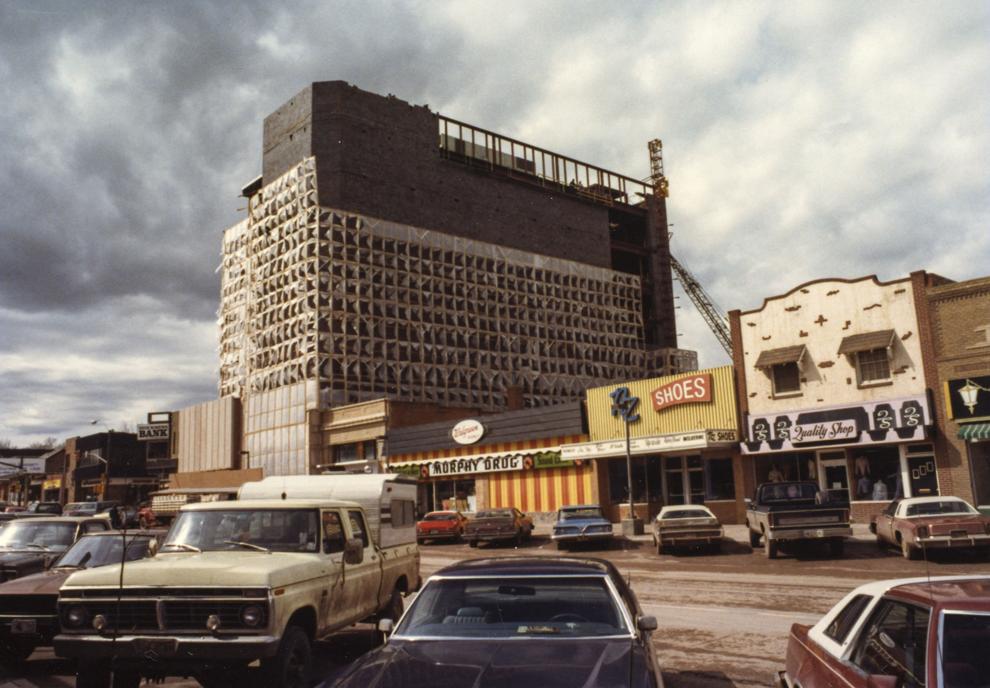 "He was busy, he was focused on getting the bookkeeping needs that he had and wanted," Nancy said. "And I thought, 'Hmm, how is this going to work? He won't even stop to talk to me.'"
The Murphy family came to know and respect the Enzis as neighbors. At Christmastime, Diana always decorated the shoe store's with "the most creative, beautiful windows." When he became mayor, she said Enzi always kept small businesses and the retail industry in mind.
Then, Nancy's son — and a future mayor himself — Tom Jr. was just a kid. He used to sweep the sidewalk outside the pharmacy and sometimes clean up the walkway outside of the shoe store too.
It was the crossing of paths of a pair of future Gillette mayors during a time when politicking was just being kind to one another.
In the 1970s, just about everything was on Main Street or within a few blocks of it. You could go see a movie, buy jewelry and attend high school on the same street, right alongside the Murphys' pharmacy and NZ Shoes.
That small town infrastructure needed careful guidance when the city's population eventually boomed. By then Enzi was mayor.
"A lot of people would try to come in here and tell (Enzi) how things are going to be done," Tom Jr. said.
To which Enzi had a common refrain.
"We don't care where you come from, as long as you can learn to get over it," Tom Jr. remembered Enzi often saying.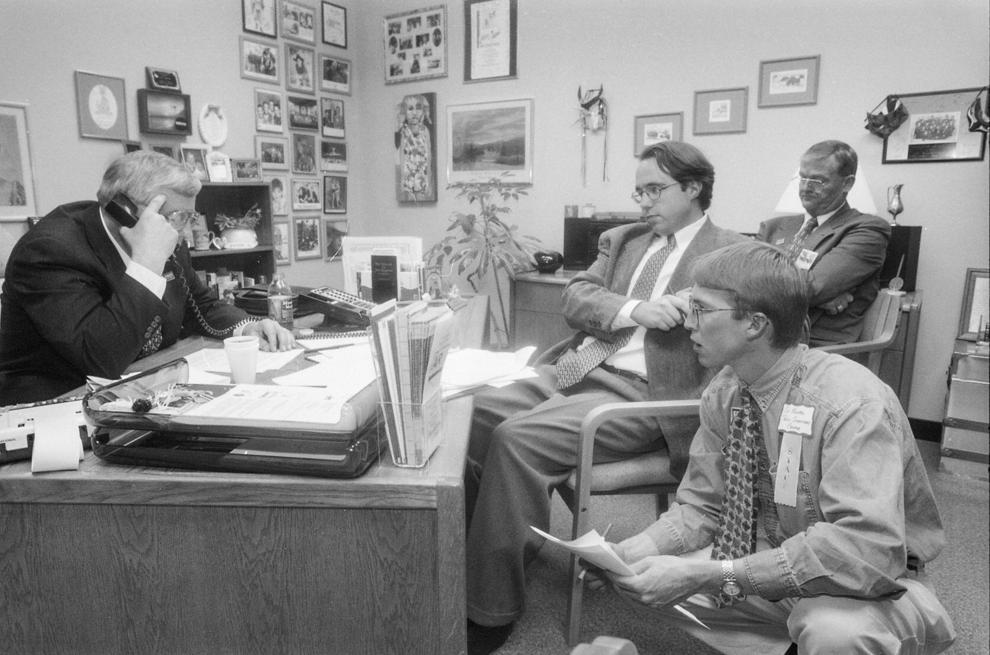 A mayor maker ...
Gillette Mayor Louise Carter-King grew up a handful of houses down from Enzi. Their families were close, and she said Enzi may have been the one to talk her father, Herb Carter, into joining the City Council before eventually taking over as mayor himself when Enzi went to the state Legislature.
From his time as her neighbor to becoming a mentor, she thanks Enzi for many memories and lessons.
Like the story Enzi would sometimes tell of an angry resident who called one winter complaining that after finishing clearing snow off his driveway, a city snowplow truck came through and covered it up again.
"Mayor Enzi just said, 'OK, thank you,'" she said. "He hung up the phone and about 10 minutes later showed up to this guy's house with a shovel and helped him shovel his driveway out."
Then there was the train incident. Before the Gurley overpass was built, the near-constant stream of coal trains moving through Gillette would sometimes hold up traffic for frustrating lengths of time.
"I did live on the other side of the tracks in those days and if you got stopped by a train, you could be there 20, 30 minutes, and it was so aggravating," Carter-King said.
So, Enzi went over to the tracks, parked by the intersection and started ticketing the train operators himself until he got the attention of BNSF officials, eventually getting them to work with the city on building the overpass.
"That's who he was," Carter-King said. "He didn't want to talk about stuff, he wanted to get stuff done."
'Goooo Camels!'
As much as hunting and fishing were passions of Enzi's, so was supporting Campbell County High School sports.
Bubba Hladky will always remember hearing Enzi's voice rumble through the gymnasium during his senior basketball season at CCHS.
Hladky, who was teammates with Enzi's son Brad, was a part of the 1992 state championship team that finished the season 22-1.
"Senator Enzi was one of the greatest Camel fans ever," Hladky said. "He was composed, present, alert and aware. I have heard, 'Goooo Camels!' come out of his mouth thousands of times."
Hladky now coaches the Camels boys basketball team. He remembers his favorite part of having Enzi at the games was that he wasn't just there to support his son. Enzi was there to support the team and the Gillette community.
"He would not miss a home game, away game or even a travel tournament game during the summer," Hladky said. "I honestly don't remember him missing a game."
In the 1992 state championship game against Cheyenne East, the Camels and Thunderbirds went into a three-minute overtime period after ending regulation tied at 49. In tense moments, it was Enzi who helped motivate players, Hladky said.
"That, 'Goooo Camels!' chant, it was a deep, echoing voice and it was heard by everybody in the gym," Hladky said. "The kids fed off of it. It just brought a positive vibe to the rest of the crowd."
The Camels clinched the 1992 state title 57-56 over Cheyenne East. In the March 15, 1992, edition of the Gillette News Record, then Sports Editor Kathy Brown wrote, "After clinching the championship, senior Bubba Hladky flung himself into the Gillette students' cheering section and the rest of the team soon followed. Fans ended the celebratory melee chanting, 'We are the champions.'"
Knowing Enzi, Hladky said it wouldn't be all that surprising if he was the fan who started the chant.
Other Camel fans quickly learned of his iconic, bellowing rallying call, too.
Mayor Carter-King remembers Enzi, often decked out in Camel purple and gold, as the loudest voice in the arena.
"He was so loud," Carter-King said. "You would hear him no matter where you were in the gym."
Williams agrees.
"'Goooo Camels! Goooo Camels!'" Williams said. "You'd hear that a hundred times during the game. You could put a thousand O's on that 'go.' He would just drag that 'go' out. And he had that baritone voice, so everybody in the gym heard him."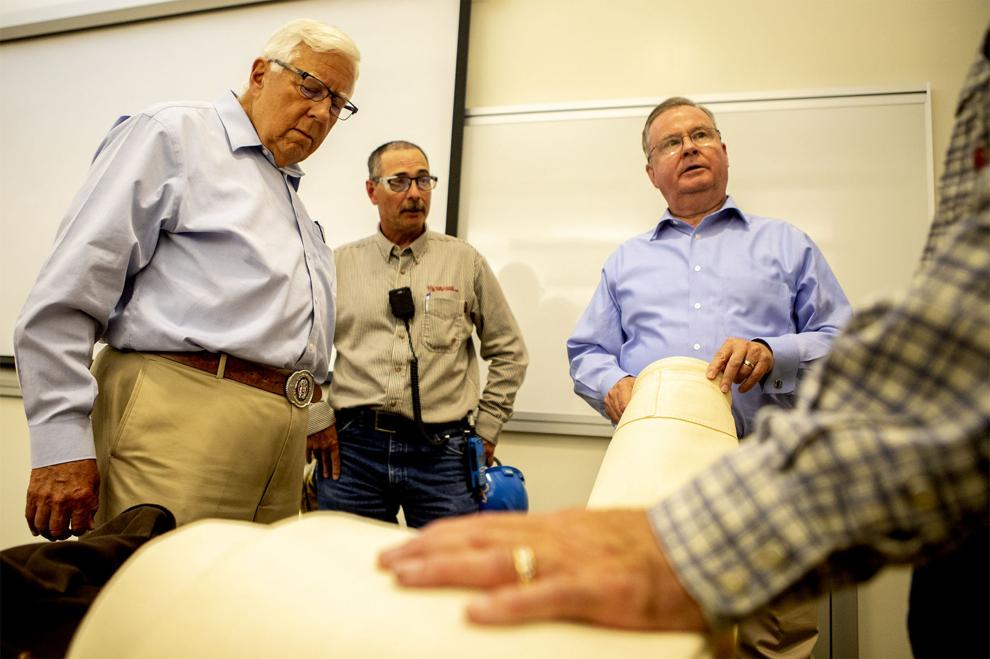 $1, one vote
Enzi was the eyes and ears of Gillette before and after he became a U.S. senator.
"I thought it was funny when Mike Enzi was running for Senate and he would go around talking to people — and he had a way of talking to people — and asked them for a $1 donation," said former Gillette Mayor Frank Latta. "He always told me, 'If I can get a $1 donation out of them, there's a pretty good chance I get a vote.'"
Latta was mayor from 1995-2003, two decades after Enzi served the same role (1975-1982).
"When I decided to run for mayor he was very, very supportive of me. I have very good memories of that," Latta said, adding that while he was mayor, he and the city pushed Enzi hard to run for the U.S. Senate in 1996.
The two men did not always see eye to eye, but Latta said Enzi was willing to discuss issues, a trait that has become rare in this era of political polarization.
Enzi was a certified public accountant when he went to Washington, D.C., a fact Latta found ironic.
"He had more expertise in financing than anybody else in the Senate, and I found that really interesting that a gentleman from Gillette, Wyoming, would have more background and information on things than anyone else in the Senate," Latta said.
Most importantly, while working in the nation's capitol, Enzi stood up for his hometown and state.
"When you have your own eyes and ears in (D.C.) that makes a huge difference," Latta said. "The community and the state probably don't even realize how much of a difference that makes. He was big help for Wyoming and he always looked out for Gillette."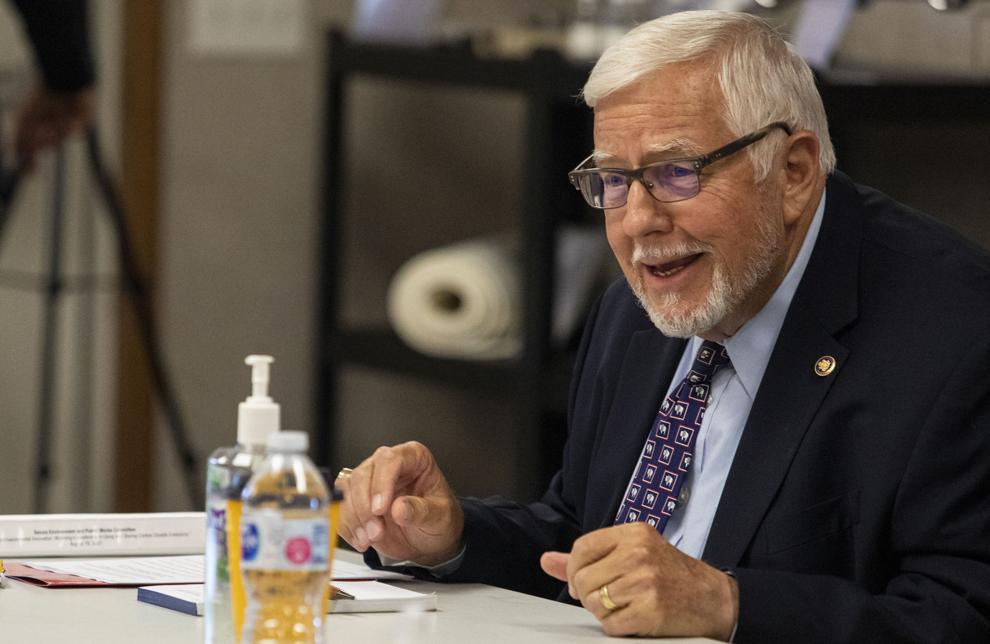 More than a boss
Robin Bailey was Enzi's U.S. Senate field representative for nearly two decades, but to Bailey he was more than just someone to work for.
"He just treated everybody fairly," she said. "He treated his staff as family. He was a very gracious gentleman."
When Bailey lost her husband, Enzi and his wife Diana were there for her.
"They gave me the support I needed," Bailey said. "Anytime staff had personal issues arise in their lives, he and Diana were there for us to give us comfort. You just knew no matter what came up in your life, they would understand and be there for you."
At Christmas, the Enzis thought about all the men and women working behind the scenes on Capitol Hill and would put on a cookie party for staff like security officers and maintenance workers.
"It wasn't for the congressmen, it was for staff and workers on Capitol Hill," Bailey said. "It was there way of saying, 'Thank you for all you have done for us during the year.'"
Bailey worked with Enzi until 2014 but they kept in touch.
"I think he was happy to be back in Gillette," she said. "I think you just know when it's time to move into a new chapter in your life."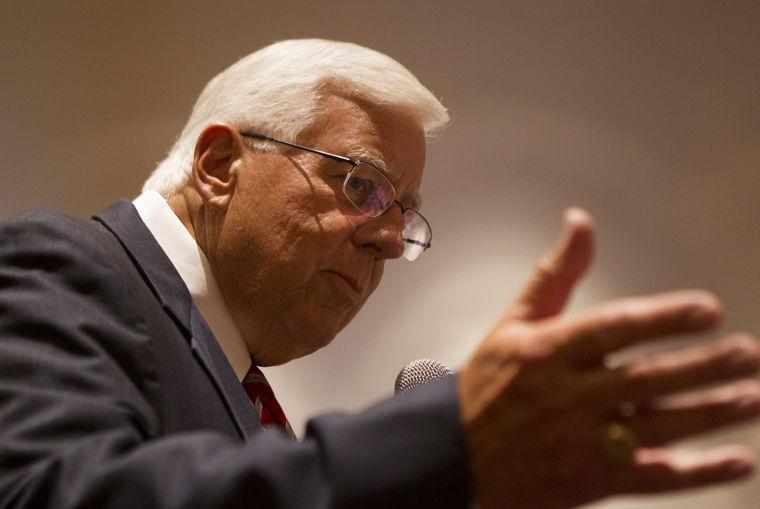 A colleague and friend
Former Wyoming state legislator John Hines worked with Enzi during his time in the Legislature. They both held Revenue Committee leadership for their respective chambers, Enzi in the Senate and Hines in the House.
He remembers running interference for Enzi one time on the floor of the Legislature.
"I remember when we were working on one of the Madison pipeline bills in the Legislature, something came up that Mike didn't think was correct," Hines said. "He wanted to call someone in Gillette. He told me to get up on the floor and talk."
Hines said that wasn't normally his style; he wasn't much of a talker. But he was able to kill enough time to let his friend get the answers he was after.
Hines also remembers helping on Enzi's U.S. Senate campaign. He said the primary race was crowded and resulted in quite a lot of unpleasant things being said about him.
"Mike's mother would call me up and say, 'Did you hear what so-and-so said about Mike? What are we going to do about that?'" Hines said.
That election led to Enzi's long career in Washington, D.C., the aftermath of which he was still sorting out when he died.
Hines remembers a recent dinner at Enzi's house that turned out to be the second-to-last time he saw his friend.
"It was a pleasant evening," Hines said. "It was in June, the weather was nice, and we could sit out on the deck for a while."
Inside, Hines said Enzi was busy trying to organize all the mementos from his time as a senator.
Hines said he understood, if on a smaller scale, what Enzi was going through because he'd accumulated a lot of memorabilia from his service in Cheyenne.
Despite all of the evidence of more than two decades in the nation's capital, one of the best things about Ezni was how true he remained to his roots, Hines said.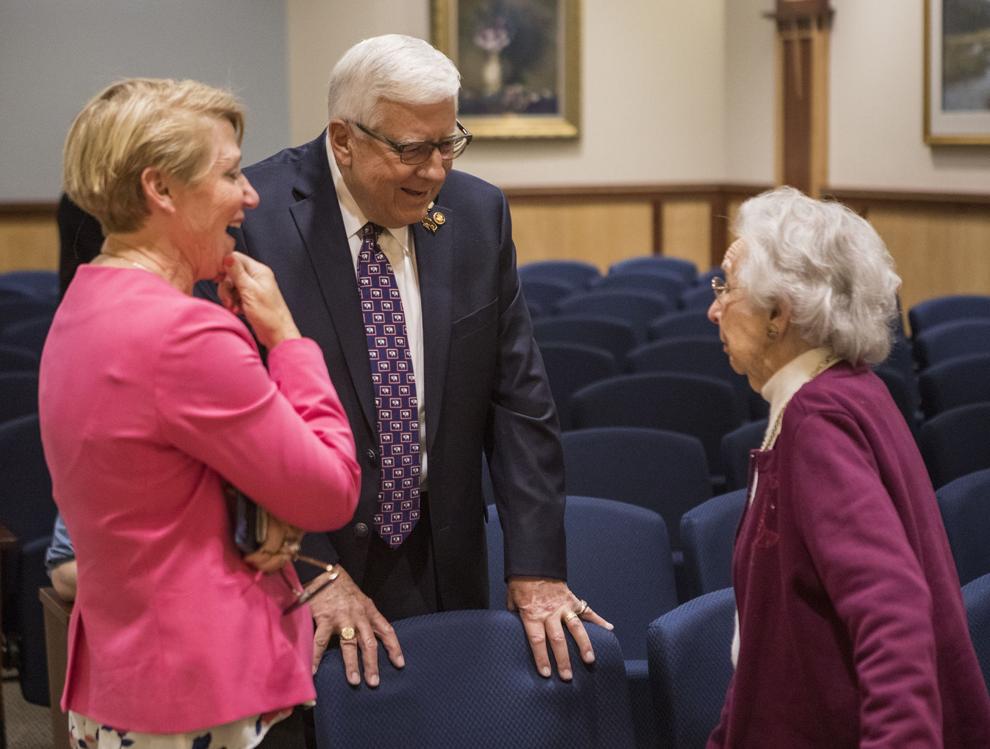 Enzi the techie
In 1992, Michael Von Flatern bought his first computer — from Enzi out of the back of his shoe store.
Von Flatern remembers the computer: A Kaypro with a 5-inch screen and a keyboard that folded into a steel frame. One needed to learn DOS to use it. Von Flatern never did learn how to use the machine, but he marveled at Enzi's forward thinking.
"He was such a geek, he was way ahead of his time," Von Flatern said. "He knew the power of computers. He took hold of that and kept going."
Enzi kept going, all right, all the way to the U.S. Senate.
"He had the first Blackberry ever in Washington, D.C., I think," Von Flatern said.
Computers and other electronic devices aren't allowed on the Senate floor, and Enzi with his Blackberry caused quite a stir. That was long before smartphones became commonplace, and people weren't sure how to deal with Enzi's handheld device.
"He fought like hell to keep the Blackberry there," Von Flatern said.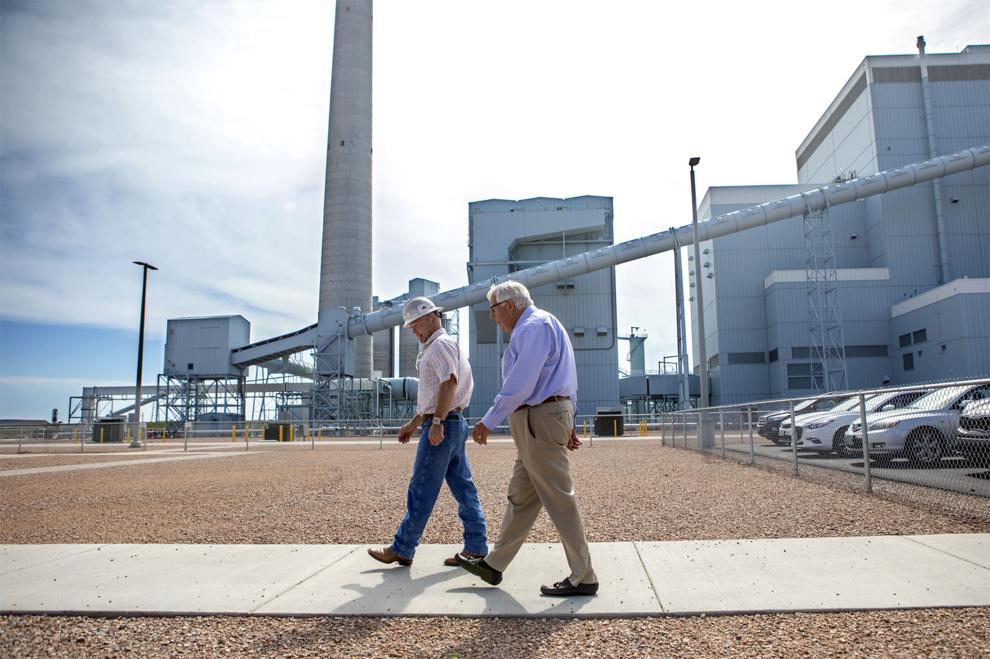 During Enzi's first two U.S. Senate campaigns, Von Flatern flew him around the state. At one time, Enzi was a licensed pilot, and on those flights he sat in the cockpit next to Von Flatern.
"It was great to have him up there, talking away," Von Flatern said. "We didn't have to listen to anyone else."
In 1996, Enzi announced his Senate campaign in Sheridan. From there, Von Flatern flew him to Gillette, then Laramie, then Rock Springs.
Enzi was not a superstitious person, Von Flatern said. But in 2002, "he said he wanted the same luck that I'd given him in 1996, so he did everything exactly the same."
So again, they started in Sheridan, then went to Gillette, Laramie and Rock Springs.
One of the most remarkable things about Enzi, Von Flatern said, is that he never said a bad word about anyone. You might have been able to tell in his eyes whether he disliked a person, but that would never come out of his mouth.
"I don't know how he did it," he said.
Enzi's extended family
Elly Henning worked in Enzi's press office in Washington, D.C., for seven years and saw the senator in action.
His was a career that helped inspire Henning when she was a senior in high school. She'd won a scholarship to go to Washington as one of two representatives for the state of Wyoming. Students just like her were there from every state.
"Being the kids from Wyoming, we were not special in any way," Henning said. "I mean, nobody knew who our senators were."
But that changed one night at a reception. All 100 U.S. senators were invited to visit and mingle with the students, but none came.
Except Sen. Mike Enzi.
"So it didn't matter that John McCain was your senator," Henning said with a touch of pride. "He didn't come, but my guy did!"
She and the other students wanted to reunite, so they made a plan to come back as college students to intern in D.C. She interned for Enzi, and that would lead to strong working relationships that would help her get a job in his press department two years later before she finished college.
"He was so much like a grandfather-pastor figure," Henning said. "He wasn't a dad figure, not that, but a grandfather-pastor."
She said she'd stopped going to church as much as she once had in Gillette, where her mother still attended the same church as the Enzis when they were in town. The Enzis invited her to church in Washington at the Capitol Hill Presbyterian Church, and Henning would go, but left to her own devices, her attendance slacked.
"It must have been a few years in when he realized that I really wasn't going on Sundays, so he would leave the bulletins from church for me," Henning said. "Just gently, consistently, not in your face about it, not making me feel horrible, but just very much encouraging and loving about it."
If Enzi was a grandfather-pastor figure in her life, Henning emphasized the family part of that. He treated all of his staff that way, she said.
If they were working late on a Thursday night, she said either Enzi or Diana would invite them all to a Mexican restaurant called Tortilla Coast, at the corner of First and D streets near Capitol Hill.
There'd be 15, maybe 20 of them, all eating together, Henning said. Spouses and kids and anyone connected to the staffers were all part of the extended Enzi family.
"He picked up the tab every single time," she said.
Henning returned to Wyoming in 2011, and was admittedly nervous about telling Enzi she wanted to come home. She returned to D.C. with her husband, Robert, in February 2020, where she made sure to visit the senator.
When Thursday night rolled around, there they were right back at Tortilla Coast, like she'd never left, with the extended Enzi family.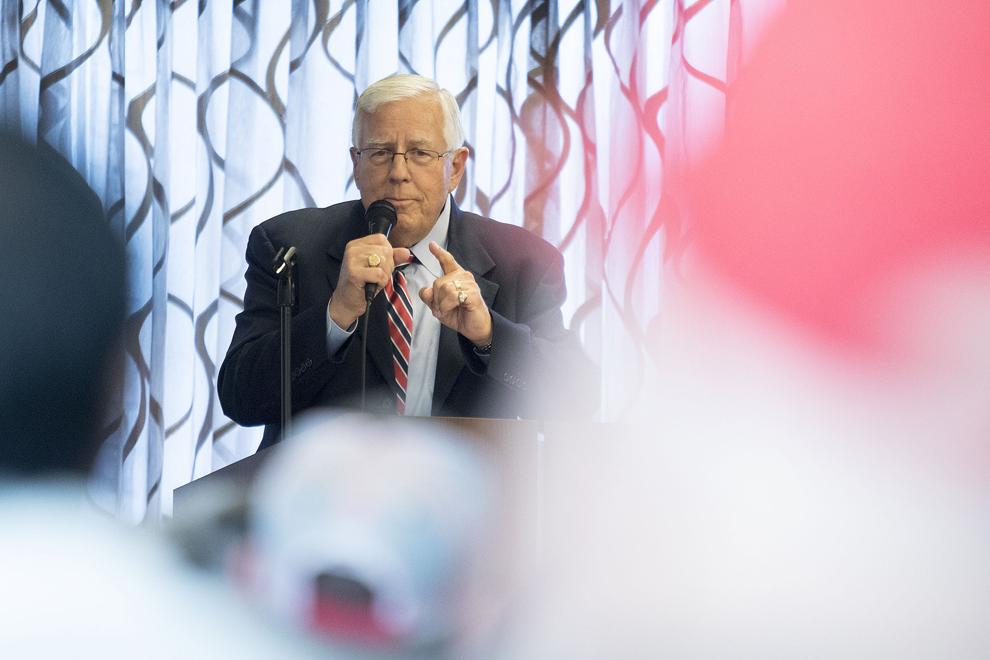 A visionary
Judith Semple moved to Gillette in the 1960s, back when it only had a few thousand residents and most of the streets were covered in crushed red scoria. When she ruminates on how far Gillette has come in the decades since, she credits much of the community's positive growth to Mike Enzi.
"He was very visionary, and he really set Gillette on the path of becoming a city," Semple said.
They both were downtown business owners when downtown Gillette was only four blocks. Enzi had his shoe store, and Semple and her husband owned Pronghorn Theatre on Gillette Avenue. She bought her daughter's first pair of shoes at NZ Shoes.
"We were all main street businesses, concerned about parking," she said. "We were working hard to get additional parking downtown."
Enzi worked to make that happen, she said, but his influence reaches far beyond that.
"Mike had the ability to say, 'This town is going to need this,'" she said.
In the 1980s, their paths crossed again, this time as members of the original Campbell County Public Land Board, which was instrumental in getting Cam-plex built.
"Mike was a very effective, but quiet, leader," Semple said.
He would make a suggestion, like the idea of the land board having an attorney.
"He turned to Wade (Brorby), and Wade would say, 'I think Frank Stevens would be really good for that,'" Semple said.
That was how Enzi got things done, she said.
"Mike was just one of those people that was always there, always helpful, always able to read a situation and quietly make a suggestion that was one of those things that made you go, 'Why didn't I think of that?'" she said.
Semple said she'll remember Enzi as this "great big guy with a wonderful laugh who knew everybody."
Even when he was a U.S. Senator, he never forgot about Semple.
Anytime something big happened in Semple's life, Mike and Diana would send a letter with their congratulations.
"Any time I would see him, he always had a minute or two to chat," she said.
Enzi set the stage for mayors and city councils that followed, Semple said. He helped make Gillette a place where people can raise a family and be proud to live.
"The fact that we have water, that's all Mike's fault," she said. "When you have water, you begin to have greenery and landscaping requirements. With that comes some pride of ownership, a pride of place."
Semple remembers when Gillette residents didn't have that sense of community pride. But Enzi saw its potential, he saw that it could become something beautiful if the right steps were taken.
"He had his head screwed on straight, and he could see into the future," she said.
... and a princess-maker
A problem didn't have to affect a large number of people for Enzi and his wife to help. That's what Jenni Rothleutner Bridges said she fondly remembers most about the couple who owned the shoe store across the street from her family's business, Hardware Hank.
Born with a club foot, Bridges said that she was quite self-conscious of it as a child. Getting a pretty pair of new shoes was a special, exciting day for most other girls. Not for her.
"Until mid-grade school I had to wear orthopedic shoes, and we always had to buy two pair of shoes because my feet were different sizes," Bridges said.
Add that the orthopedic shoes she needed weren't very pretty, there wasn't much for a little girl to like about them.
"They were never very good looking," she said. "My friends had all these snazzy shoes and I always had to wear these ugly brown orthopedic shoes."
Then NZ Shoes set up shop across from the hardware store owned by her parents, John and Evelyn Rothleutner. That meant that the downtown business community was as much her playground and neighborhood as anyplace, Bridges said.
And when it came time for new shoes, Enzi's warm personality and attention to a little girl's feelings still stirs emotions for the woman who now is principal at St. Mary's Catholic School in Cheyenne.
"He was just such a warm personality and he made me feel special and pretty," she said, adding that Enzi "made me feel like a princess."
It didn't hurt that Diane would sometimes also have fresh-baked cookies to share.
Like many who grew up in Gillette in the 20-plus years NZ Shoes was open, their signature carousel was a favorite of Bridges'.
"That was my favorite part of their store," she said. "I loved that merry-go-round. It was like a home away from home."
The stories that have grown from Enzi's decades of public service and vision are varied and, in some cases, well-reported, Mike Enzi's legacy in Gillette goes far beyond the accomplishments of a storied political career. He remains Gillette's favorite husband, father, hunting and fishing buddy, visionary, problem solver and princess-maker.