John and Evelyn Rothleutner, ages 81 and 82 respectively, were upbeat and hopeful when they arrived at the Campbell County Senior Center on Friday afternoon. They were finally going to get their long-anticipated COVID-19 vaccines.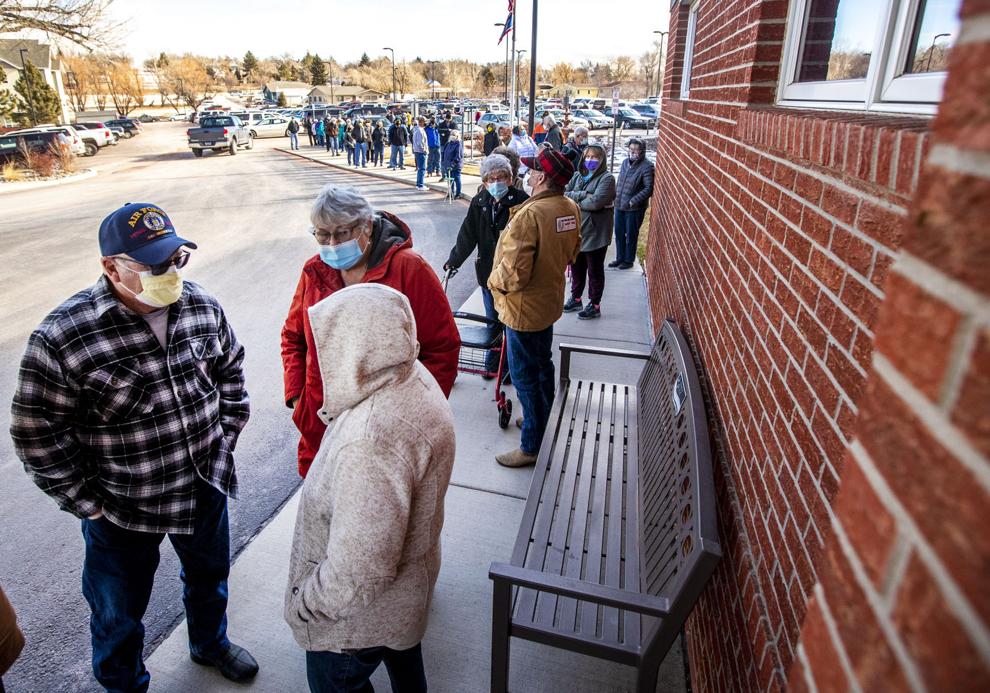 More than an hour later, the Rothleutners were still waiting outside in a long line that hadn't appeared to move much since they arrived. Cold, tired and already not in the best of health, they had to leave without being vaccinated, said their daughter, Wendy Hays.
Because both her parents have health conditions that put them at greater risk from COVID-19, they've "basically been hermits in their own home" for months, isolating from their local children and grandchildren, Hays said. Friday was supposed to be a happy one, where they could finally start to turn a corner on the pandemic.
"My mom said they stood out there for over an hour and were still standing outside when they finally left," she said. "They had to go home."
Her mother recently got out of the hospital after receiving treatment for a heart condition and her father is recovering from cancer.
"They just can't stand in line like that," Hays said, adding she questions how well Campbell County Public Health planned for rolling out the next tier of local COVID-19 vaccines for people ages 70 and older.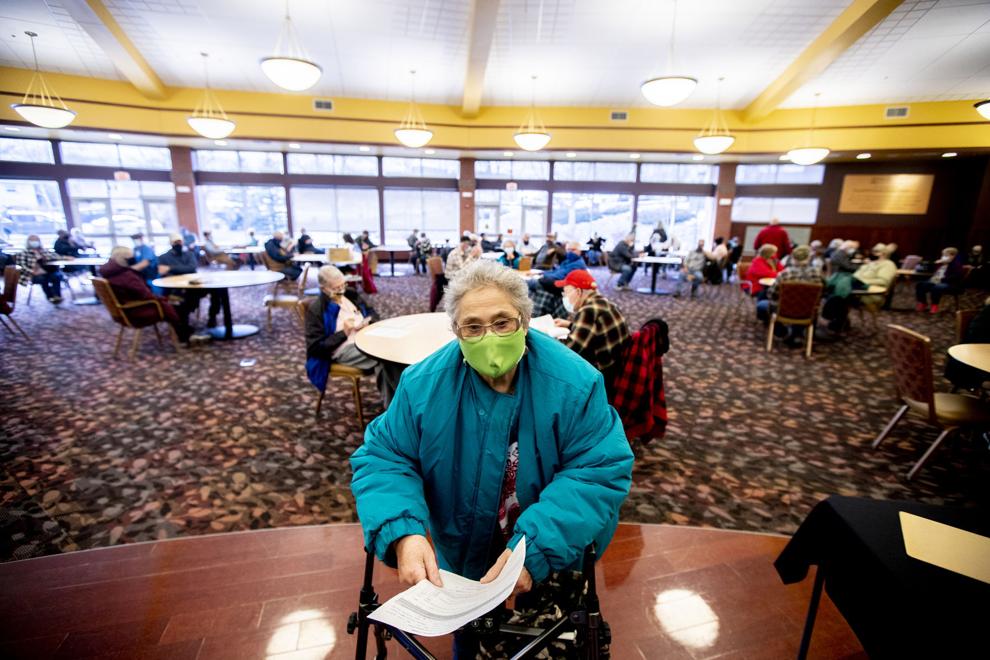 After vaccinating Senior Center members who eat lunch at the center, Friday's clinic opened at 12:30 p.m. By 3, there was still a long line of seniors waiting to be vaccinated.
"It was not very well planned," Hays said. "I had a feeling it would be that way. I'm so mad right now."
While irritated with the wait and inconvenience, the real concern Hays has is that her parents still haven't had the vaccine they've been waiting for.
"They're just holed up in their house waiting for this (pandemic) to blow over and were very much looking forward to getting a little bit of freedom," Hays said.
At the center, hundreds of senior citizens lined up outside and down the sidewalk anticipating their chance to receive the Moderna COVID-19 vaccine administered by Campbell County Public Health nurses at a pair of stations inside.
An afternoon temperature of 30 degrees made the long wait outside a chilly one for many, with some finally throwing in the towel and leaving. Most stuck it out and eventually made it inside.
A number of people reached out to the News Record to express their frustration with how the clinic for COVID-19 vaccines was handled.
Inside, each person receiving the shot was temperature checked and had their driver's license reviewed to ensure they met the criteria and were safe to move forward. Once inside the center's cafeteria, tables of two to three people sat busy filling out paperwork before having their numbers called to come forward.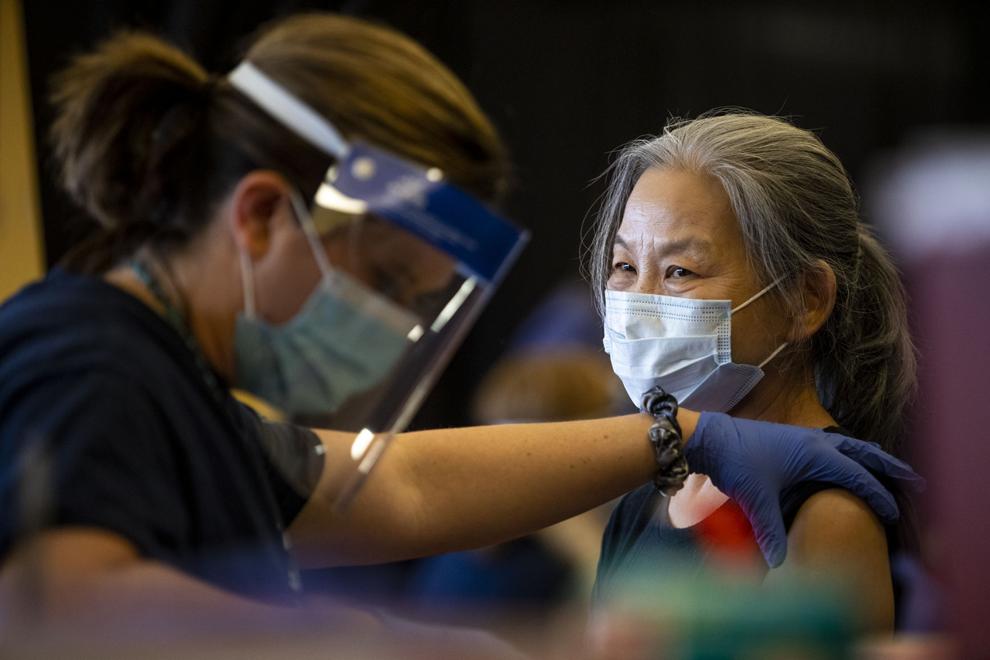 Jody Mohan had been waiting in line for about an hour after 2:30 p.m., and was still a while away from getting into the building. She and another woman were wrapped in a blanket that someone had given them after seeing them out in the cold.
"This is just too long to be out in the cold," said Mohan, who was accompanied by her husband, Les. "I don't think they had planned for this many people."
If she'd known the line wait would be as long, she said she wouldn't have even come out.
Bob and Julie Norlin had been in line for about 70 minutes. They also weren't happy about the wait.
"This is very disappointing," Bob said. "It just strikes me as poor planning and poor preparation."
Julie was more forgiving in her assessment of the situation.

"Bob, they did not know how many would turn out," she said.
"You plan for the worst," Bob replied.
They said they saw "a lot of people" who didn't want to wait any longer and decided to go home without getting the vaccine.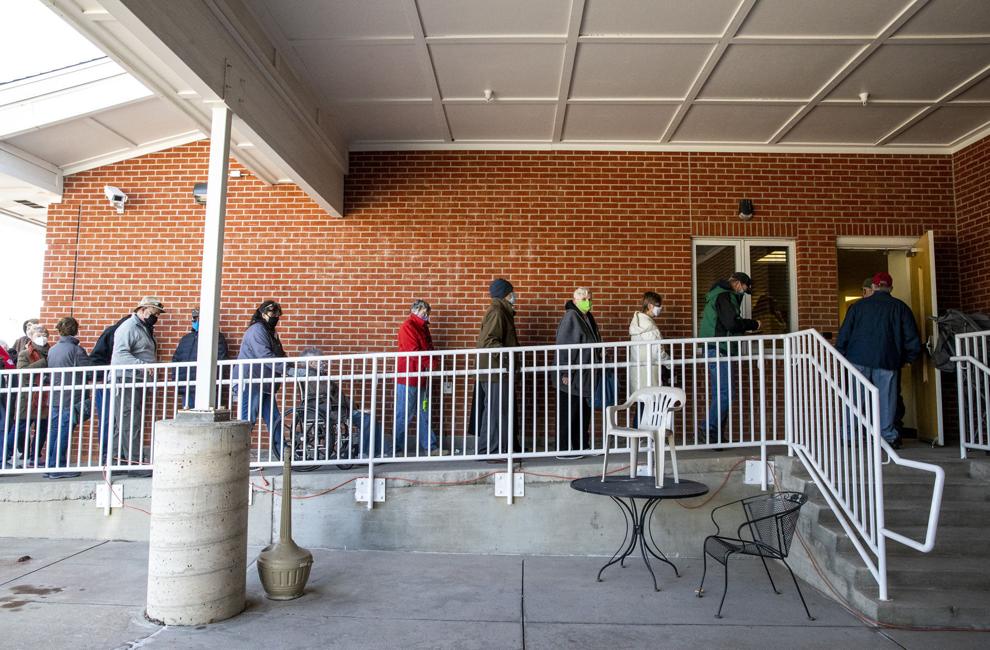 Bob suggested the event should have been held at the Cam-plex Wyoming Center, where there is enough room for people to social distance without having to wait outside.
On the bright side, the Norlins were encouraged by the turnout.
"I'm glad all these people are here getting shots, because I had a real concern about that because of the political climate in Wyoming," Bob said. "I'm happy to see them all here. They're taking it a whole lot more serious than a lot of other people in Wyoming."
Despite being in the cold, Mohan was able to keep his mood light.
"I won't get COVID, but I'll get pneumonia," she joked.
Eventually, the line was cut off and the seniors who there was not enough vaccine for were sent home.
"Apparently it wasn't the optimum situation," said Campbell County Public Health Executive Director Jane Glaser. "We did cut off the line when we knew that we were going to run out of vaccine and the length was getting to be too long for people to have to stand out there."
With the way the day played out, she said it became clear by 1 p.m. that the processes were not flowing as well as intended. The paperwork caused a bottleneck in the line all the while seniors remained out in the cold.
She said that she expects nurses to be giving shots to those lucky enough to make the cut until at least until 5 p.m.
More details on the next clinic for seniors is still to come, but Glaser said it would not be hosted at the Senior Center again.