Brian Roesner arrived at the field at Dalbey Memorial Park early Monday evening.
He had just finished a 12-hour shift that started at 6 a.m. as a patrol officer for the Gillette Police Department. It was a relatively slow shift for Roesner, who has been with the department since 2007, involving the usual suspects of drunks or probation violators.
It was time for an about-face out of cop mode.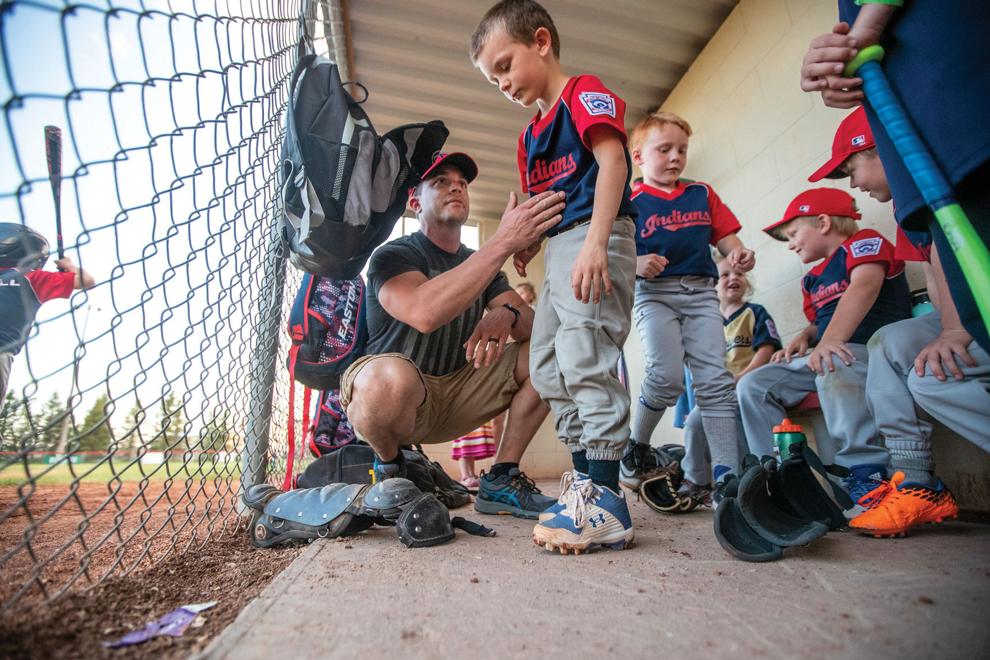 He began unloading baseballs and batting helmets from an equipment bag in the dugout as he prepared for his second job as an assistant Little League baseball coach.
Four of his players in their Indians jerseys warmed up on the outfield grass that had been dampened by a severe thunderstorm that passed through just minutes before.
One of the players approached the coach just outside the first-base dugout.
"Dad, I caught the ball five times in a row!" he exclaimed.
"No pushups for you," Roesner joked.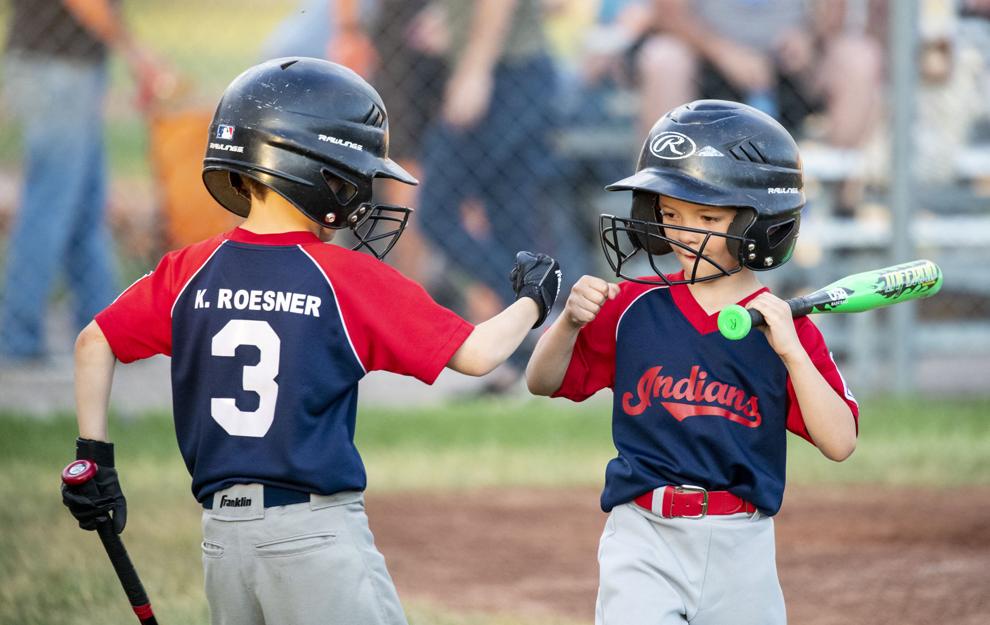 Gunnar Roesner, 6, is one of two sons the police officer coaches along with 10 other boys on the machine-pitch Little League team. His other son, 7-year-old Karson, wears No. 3 for the Indians.
As Gunnar and his father talked on the sidelines, another Indians player did pushups in center field after missing a ball while warming up.
On the other side of the field, the team's opponent, the Mariners, did a pregame chant. The Indians weren't intimidated, but that's only because they weren't looking.
Roesner stood next to his partner as the pair began to assign players to their positions. The team's head coach, Eric Small, is Roesner's longtime friend and coworker as an eight-year veteran with the Gillette Police Department.
Small's job since 2019 has been as a detective investigating crimes. But that can sometimes seem an easy ground ball compared to assigning 6- and 7-year-olds positions on a baseball field.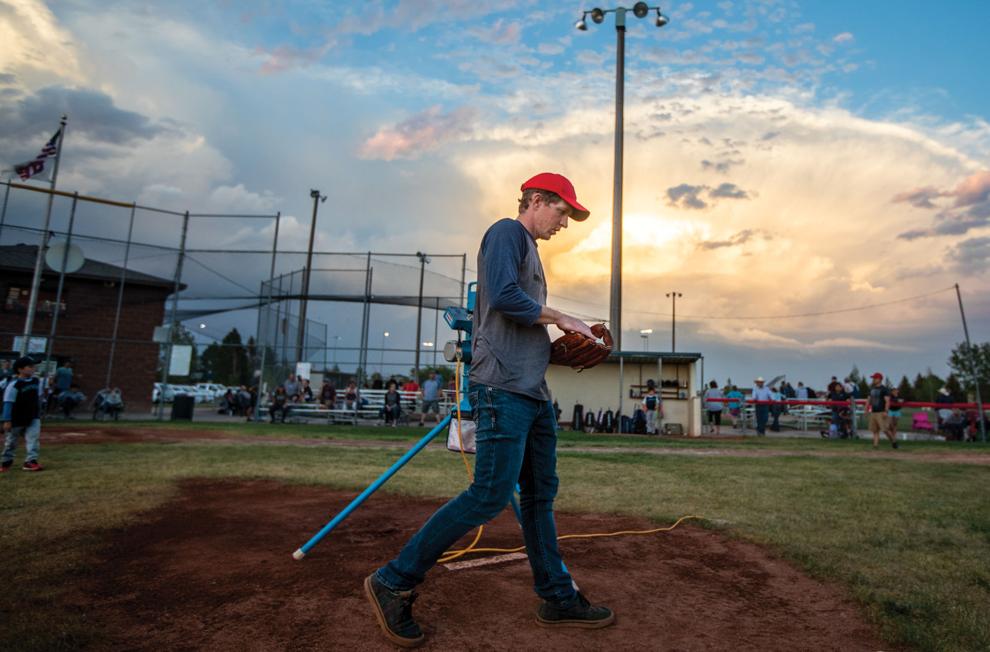 "I can't put everyone at pitcher," Small said as he announced the lineup. The players who were paying attention all grunted with displeasure.
Although the league is machine pitch, many of the young ballplayers still want to play the position. At this level, that means standing behind the machine to field (or chase) any balls that come their way.
"You're in left field," Small said to one player, who stood still. Small quickly realized the child didn't know where left field was.
"Go out there to that patch in the grass," Small prompted, pointing to a corner of the outfield.
The few parents in the bleachers next to the Indians dugout began to cheer as the players took the field.
Small also has a son on the Indians. Easton Small, 7, settled in at right field.
As head coach, Small is responsible for feeding baseballs into the pitching machine. Since the kids are so young, coaches for both teams stand in the outfield grass instead of the dugout as play got underway.
From his position in right field, Roesner immediately spotted something amiss.
"Get that glove out of your mouth!" Roesner called to Gunnar at second base.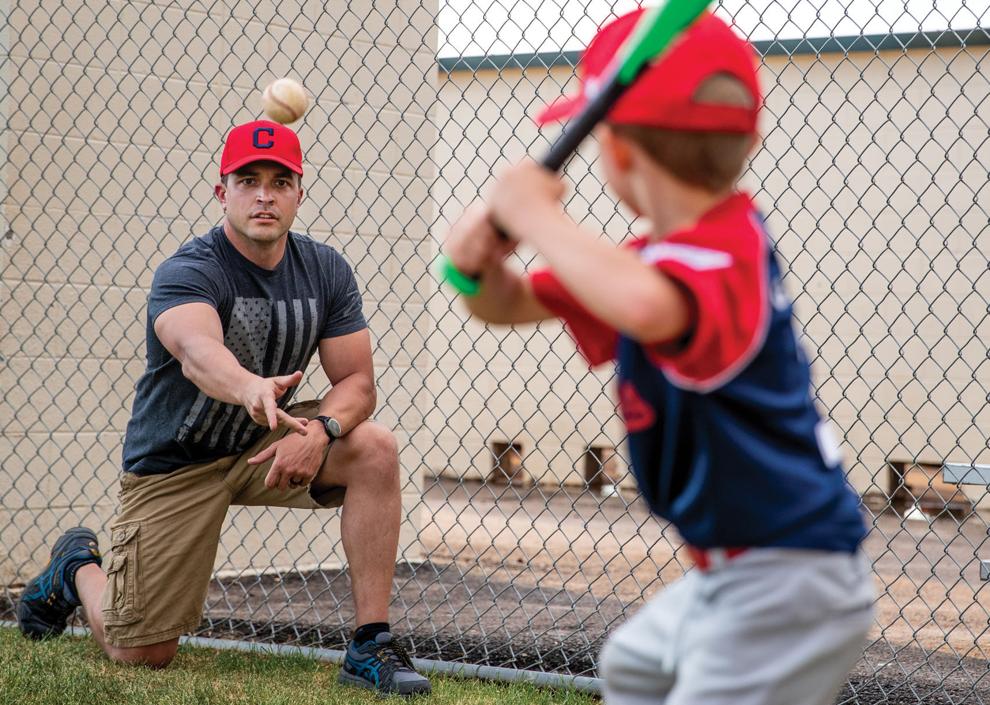 It's all in a day's work for Roesner and Small. While their career is to protect and serve the city of Gillette, their job as Little League coaches requires they protect and serve the 12 boys playing for the Indians, including their own sons.
Roesner and Small often are identified by a simple three-letter word: Cop. But off the job, they have an even more important obligation: Dad.
Called to coach
Roesner and Small didn't wake up one day and arbitrarily decide to coach baseball. Both men said they were pulled into it after the league asked them to help out with their sons' team.
Small had never before wanted to coach his son in any of the sports he plays.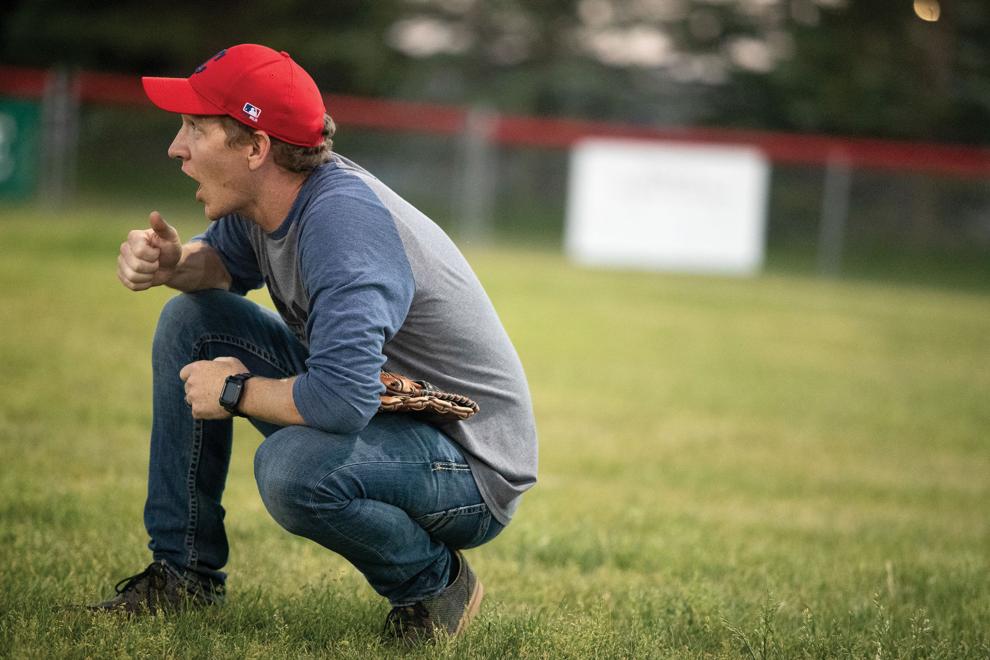 "I always thought that it'd be difficult coaching my own kid," Small said. "I don't think they listen to dads as good as they could listen to other folks."
That all changed when a Gillette Little League board member called Small and asked him to coach. A similar phone call reached Roesner.
"They were short on coaches, so I accepted the opportunity," Small said. "And now here I am."
Roesner played baseball when he was a kid. When it came down to it, he wants his own sons to have the same opportunities to play, even if that means volunteering his time in the dugout.
Roesner was off duty and out of uniform on Monday night. But earlier in the season, the police officer was working the night shift and using his lunch break to coach.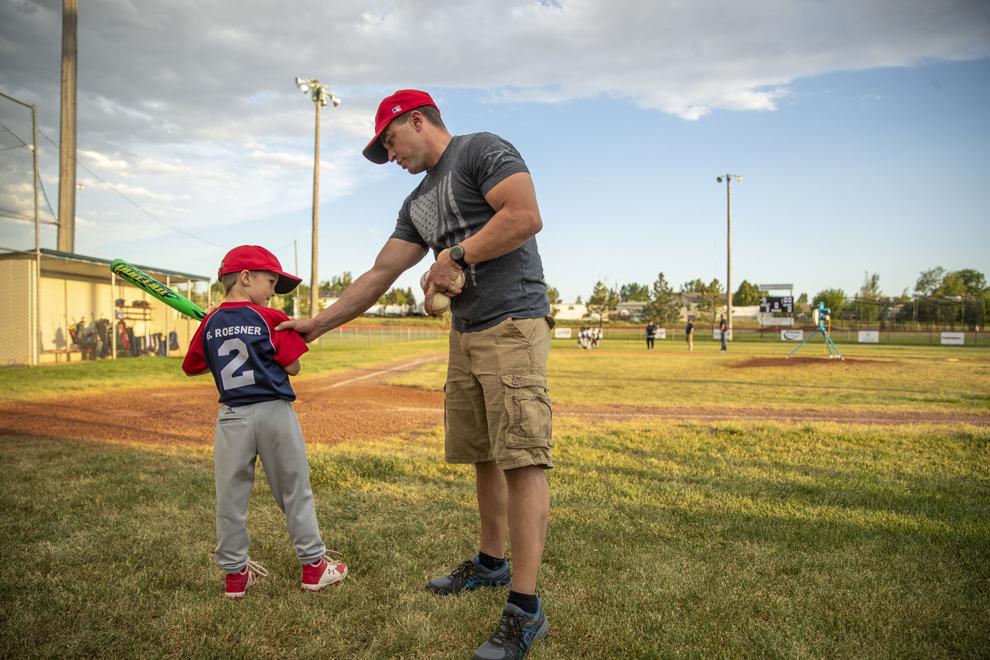 That meant showing up to the ballpark in uniform.
"I got some different looks from people originally. I think they were wondering, 'Why is there a police officer on the field?'" Roesner said. "But once people realized I was out there coaching, I didn't really have any comments or anything. I heard a lot of people that sounded pretty supportive of it."
The police department was supportive of Roesner using his lunch break to coach. All the department required was that Roesner remain on-call in case he was needed, which he never was.
Roesner's shifts were recently rotated so his work day now ends at 6 p.m. But when he was working nights, Roesner was grateful to have Small as his coaching partner.
"It works pretty good with us both being in the same career field," Roesner said. "We both obviously understand the schedules and having to leave in the middle of games for calls or something."
Coaching a few Little League games here and there is a great change of pace to take both officers' minds off the stresses of working in law enforcement.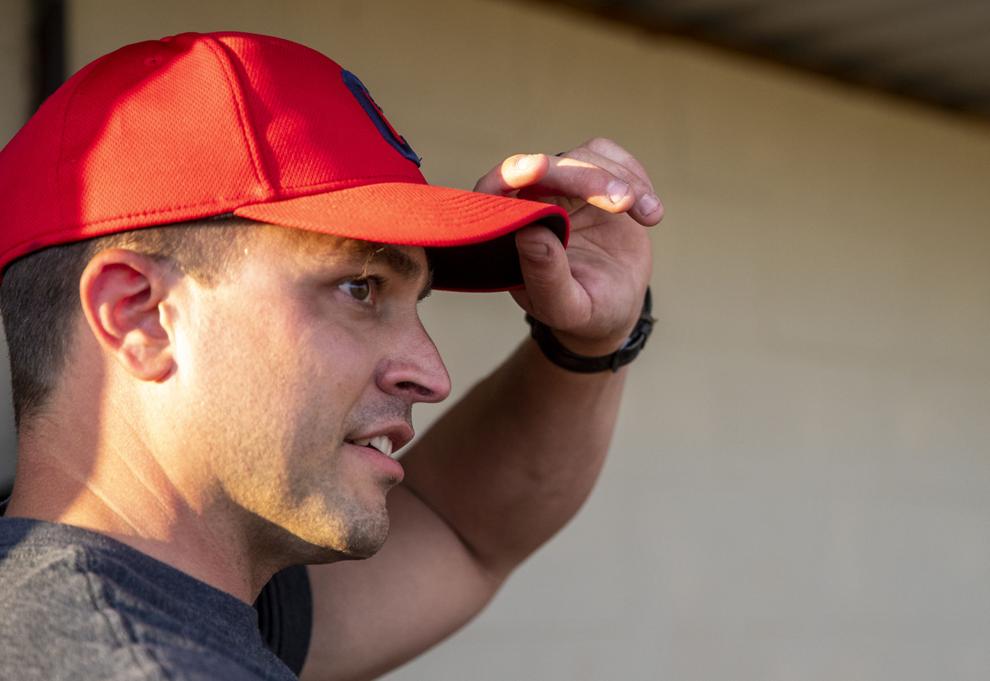 "You're just not really thinking about that kind of stuff that you have to deal with out here," Roesner said. "You're thinking about the kids and making sure that they have fun and that they learn something."
Plenty of hiccups
The Mariners jumped out to an early 5-2 lead after the first inning. After scoring two runs on offense, it was the Indians' turn to take the field again.
But after just one pitch in the top of the second, a typical Little League hiccup was thrown at Roesner and Small.
"I have to go to the bathroom," Gunnar said from second base.
"You're going to have to wait a second, bud," Small said. "You shouldn't have drank all that water."
Simon LeBlanc was at bat for the Mariners. After hitting a foul ball down the first base line, LeBlanc retrieved the ball himself to throw it back to his coach on the pitching mound.
"Good hustle," Small said to LeBlanc. "You wanna throw on one of our jerseys?"
After LeBlanc reached base safely, perhaps the most hustle play of the night came from Gunnar at second base. Between batters, Gunnar ran off the field and toward the bathroom.
You won't see that at a Major League ballpark.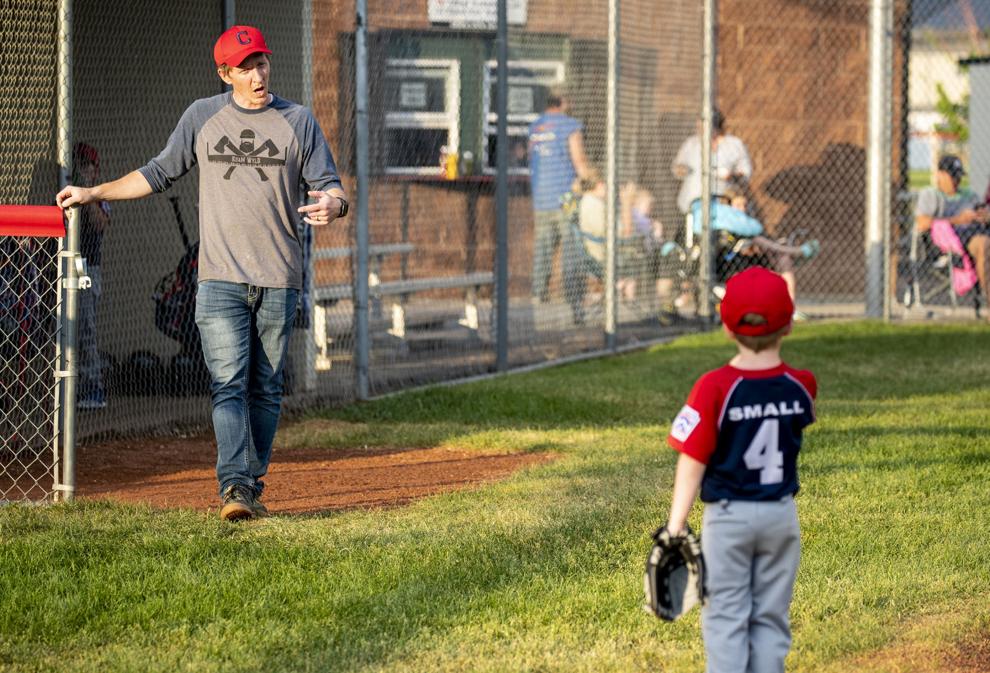 Added responsibility
The time commitment for Roesner and Small isn't just coaching the Indians on game days. There are a lot of behind-the-scenes responsibilities Little League coaches often didn't learn about until they're on the job.
"I was a little naive to a lot of the behind-the-scenes stuff that goes on. I thought, 'Why not come out here and coach some kids?'" Small said. "But there's more to it. You have to have a lot of involvement with the parents because we as coaches can't do everything.
"We need their help, and for the most part everyone is pulling their fair share."
Some of those responsibilities include parents running the scoreboard and keeping statistics. Coaches also are responsible for getting parents to take turns running the concession stand and bringing post-game snacks.
Outside the dugout on Monday, a little girl and her mom unpacked a cooler full of the all-important post-game snacks.
One by one, the girl lined up red and blue Gatorades on the muddy cement. Next to each sports drink she placed a large sugar cookie with white and red frosting in the shape of a baseball.
"How much time is left in the game?" the Indians right fielder asked Roesner going into the fourth inning with the Indians and Mariners deadlocked at 10.
"They bat and we bat and then we're done," Roesner said.
The sky had turned from a post-storm magenta to nearly pitch black.
"It's been like 10 hours," the right fielder complained.
"I know," Roesner said. "It's a long game."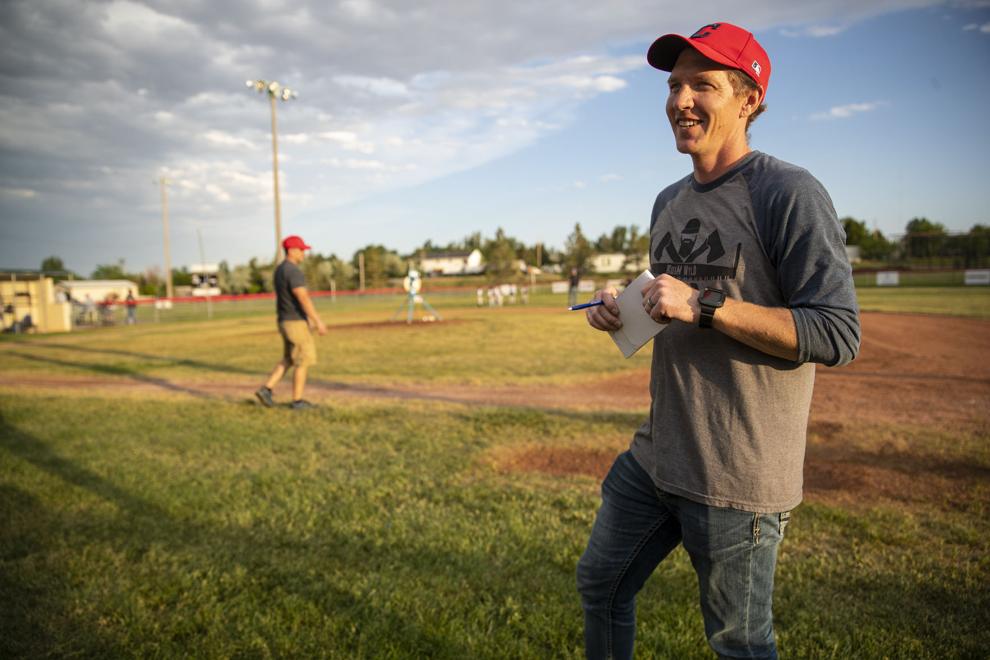 Fathers and sons
Roesner and Small initially wanted to stay as far away as possible when it came to coaching their sons on the field. But now that they both have sideline access to their baseball careers, it's paying dividends and adds an extra layer to what fatherhood is about.
Easton loves playing for his dad but needed a few seconds to think about what he finds most enjoyable about playing for the Indians.
"That's a hard one to figure out," Easton said. "My favorite part is playing for my dad. I like when he gets excited when I hit the ball."
Karson Roesner thinks his dad makes a fine Little League coach. But Karson knows his father's responsibilities go well beyond the baseball diamond.
"He likes to protect us," Karson said about why he thinks his dad is a good police officer. "He likes to protect other people, too."
The Mariners scored five runs in the top of the fourth inning to take a 15-10 lead. Down to their last three outs, the Indians went down in order to lose the game and fall to 2-7-1 on the season.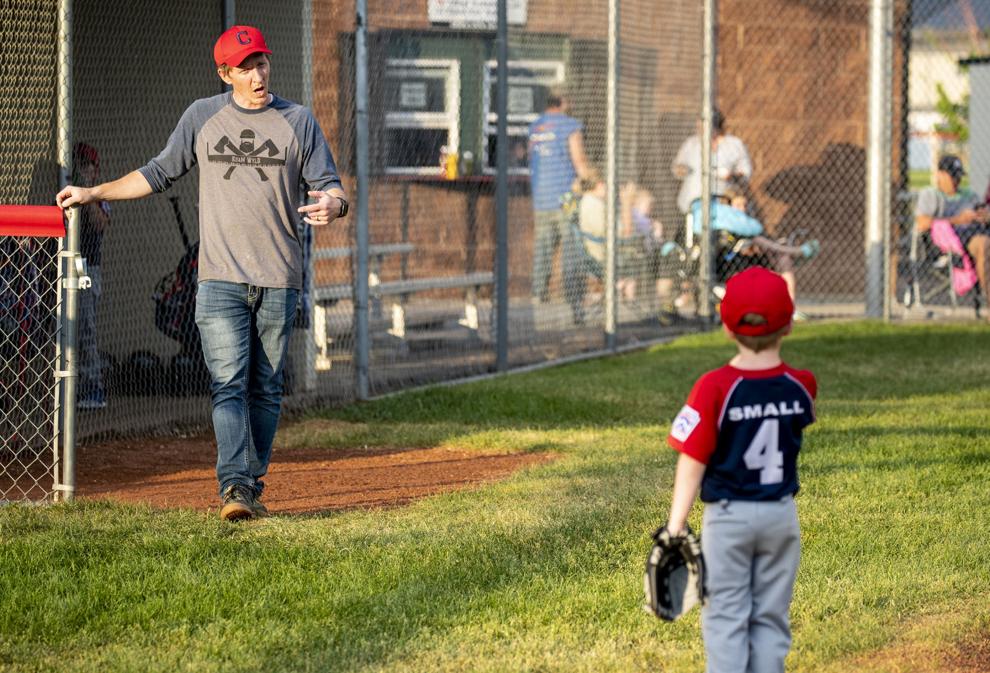 Roesner and Small gathered the players next to first base. The Indians plopped into the grass. A handful of players took large bites of their baseball cookies.
"It's two hours past everybody's bedtime by now, so I'll make this quick," Small told the players. "This was by far the best game you guys have played this year."
Some players smiled to each other, revealing teeth temporarily stained with frosting and red Gatorade.
"Don't be sad about that loss," Roesner said, pointing to the scoreboard. "You guys played your hearts out. I'm proud of each and every one of you."
The speech is reminiscent of a generic post-game pep-talk from any coach. But at the Little League level, Roesner and Small meant every word.
The pair of policemen don't hang out at Dalbey Park for trophies. They aren't there to win championships or to have bragging rights about posting perfect records.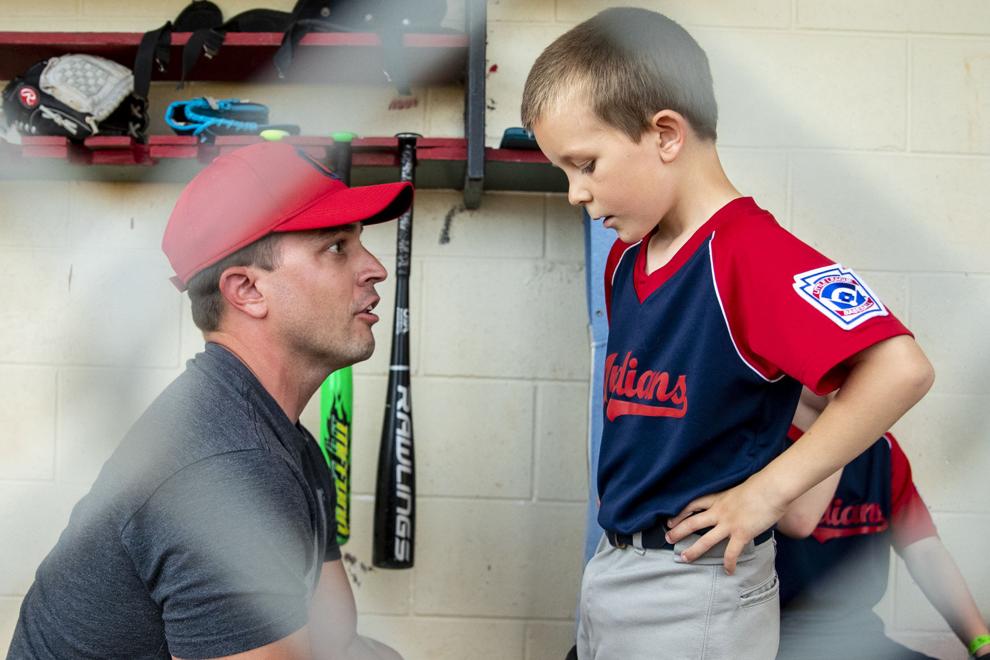 Roesner and Small coach the Indians to teach the boys about life, in particular their own sons.
"We're just trying to reinforce to them that it's not always about winning," Small said. "As much as I'm competitive myself as a coach and I'd like to win every game, losing with grace is something to be treasured as well."
The Indians left the field not thinking much about the loss. They had played their best game of the season and had nothing to hang their heads about.
Small and Roesner surveyed the dugout one last time to make sure nothing was left behind. They were the first two to step onto field No. 5 on Monday night and three hours later were the last to leave.
Their jobs for the day were done. Another day spent protecting and serving in the office and on the field.