It always made sense for Braidi Lutgen to coach the Campbell County High School girls basketball team after Mitch Holst, the program's longtime legendary coach, decided to step down.
Lutgen, a 1996 CCHS graduate and the new Camel girls basketball coach, was born for the job. That's because her dad, Mike Hladky, was an integral part of making Gillette the basketball town it is now.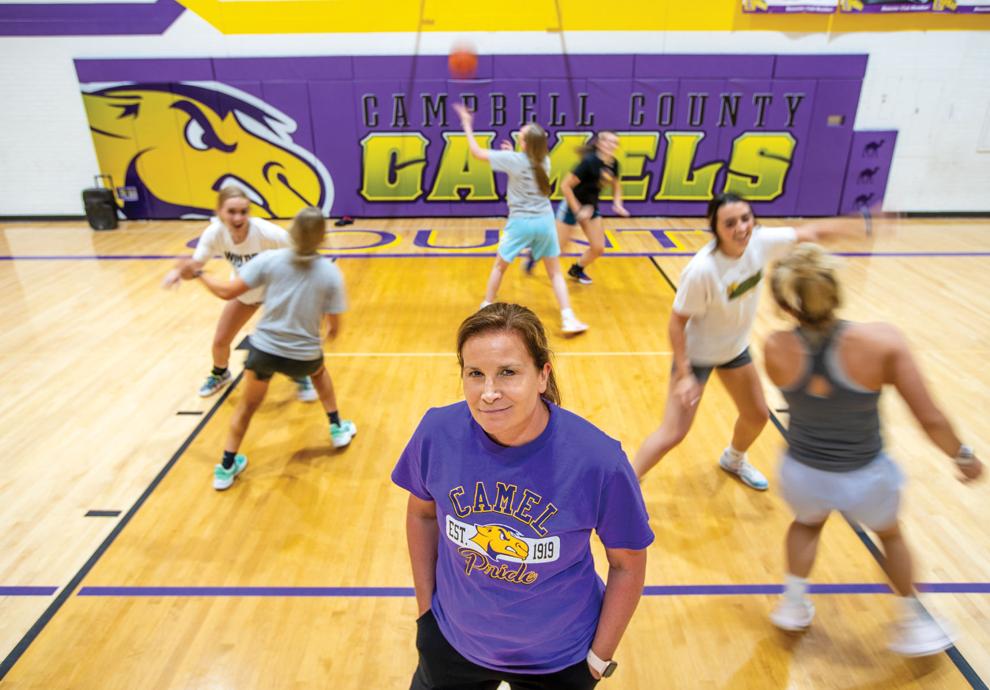 Hladky, Garland Marso and Nello Williams worked together to create a youth basketball program in the early 1980s. Teaching young kids the fundamentals of the game early paved the way for Gillette to become a high school basketball powerhouse over the last three decades.
Since 1990, Campbell County has accounted for 31 state titles. Thunder Basin also won the girls state championship in 2019.
Of those 31 state titles for the Camels, 17 were from the girls program. Thunder Basin's state title came in the school's second year of existence.
Three of Campbell County's championships have Lutgen's name on it (Hladky at the time). But her name isn't just on trophies at Campbell County. Thunder Basin's 2019 championship trophy is also marked with her name.
Lutgen was the first coach for the Bolts girls when the school opened in 2017. During her first year coaching at the varsity level, Lutgen led the Bolts to a 21-7 record and a third place finish at state. The following year, Thunder Basin won the school's first state championship.
The 2019 state title was followed by another accomplishment for the hometown coach. Lutgen was named the Class 4A coach of the year following the season.
In 2020, the Bolts won 15 games in a row before being upset in the regional tournament to take the No. 3 seed at state. Lutgen and her team never got the chance to defend their state title because the tournament was canceled because of COVID-19.
Following the canceled state tournament, Lutgen was voted the Class 4A East coach of the year for a second straight season.
The award wasn't enough to stop Lutgen from contemplating her future as Thunder Basin's head coach. The game of basketball has always been a part of her, but at the end of the day, it was just that: a game.
It was during quarantine she decided to resign. While she'd miss drawing up plays and heckling her players to stay tight on defense, the game also was causing her to miss out on something much larger than basketball.
"I quit coaching because I was missing all of my son's stuff," Lutgen said. "My son's freshman year I only got to watch a handful of games and had to leave at halftime. I stepped down because I was missing too many things and that was silly to me."
Last year was the first Lutgen didn't coach basketball since she was 15 years old, she said. But when Holst resigned last month as the girls varsity coach to transition to coaching JV boys, a golden opportunity opened up.
That was the head coaching position at her alma mater.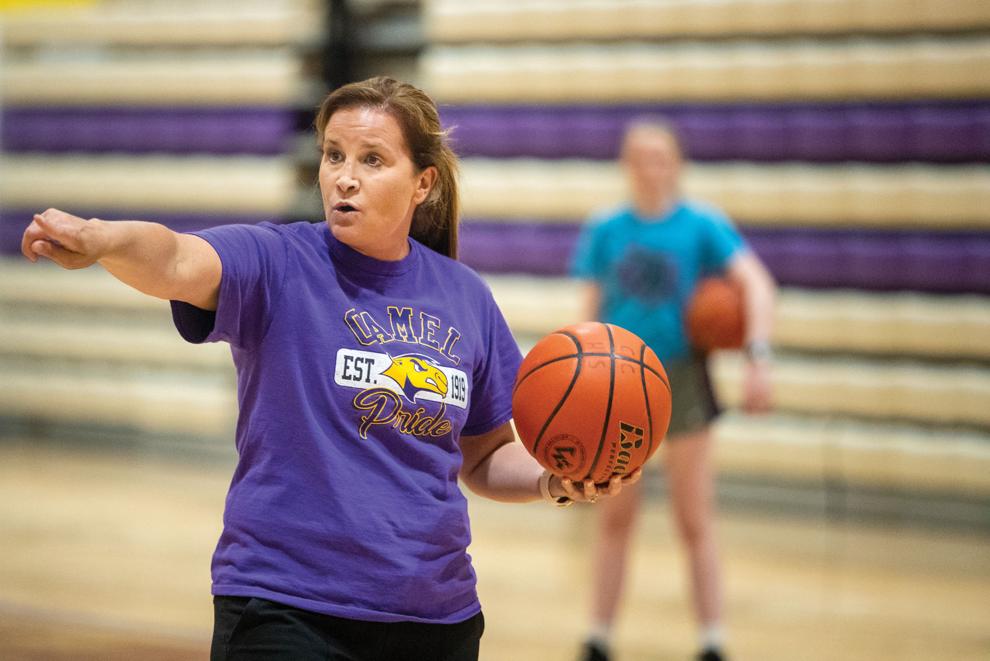 Coaching at Campbell County allows her to watch her two sons play before her own games. The boys and girls teams often travel together, which will give her more time with her kids, Nash and Lawson.
Nash will be a junior at CCHS next year while Lawson will be a freshman. Both of her sons will be around her own former mentor in Holst during Camel practices.
Holst started as the Campbell County JV girls coach during Lutgen's junior year in 1995. Holst will start next year as the Campbell County JV boys coach during Nash's junior year, 26 years later.
Holst won 11 state championships over his career as the CCHS varsity coach. Lutgen said she wouldn't want to take the torch of the program from anybody else.
Sibling leadership
Lutgen will see plenty of familiar faces when the season starts in December. One of those will be her older brother, Bubba Hladky.
Bubba has been the head coach of the Campbell County boys basketball team since Mike Curry resigned in 2013. He won a state title in his first season in 2014 and again in 2018.
Like his sister, Bubba also won a state championship as a player for the Camels in 1992. He was named to the Wyoming boys all-state team and was the USA Today Wyoming Player of the Year his senior season.
Both went on to play college basketball at Chadron State College in Nebraska. The pair played for the Eagles in the same season when Bubba was a redshirt senior and Lutgen a true freshman.
The siblings also teach at CCHS. Bubba is a physical education teacher while Lutgen teaches chemistry.
"It's going to be a lot of fun," Lutgen said about coaching alongside her older brother. "We've always been really tight. We went to the same college and I'm excited to coach with him. We talk basketball all the time and he's taught me a lot about the game."
Lutgen coming on board the Campbell County coaching staff will be a huge benefit for the athletes at the school, Bubba said. And he's not just saying that because he's her older brother.
"I'm really excited," Bubba said. "I'm excited for her because I know how much she loves working with the kids and I know she missed that a little bit."
Their father, Mike Hladky, supports both. When Bubba was coaching the Camels while Lutgen was coaching Thunder Basin, Hladky created his own Friday night and Saturday afternoon routine.
"When I was coaching at Thunder, he would come watch Camel games and wear all of his Camel gear and then he had this little dorky bag that he would carry around so he could switch out into his Thunder Basin T-shirt and hat and come cheer for my game at Thunder Basin," Lutgen said.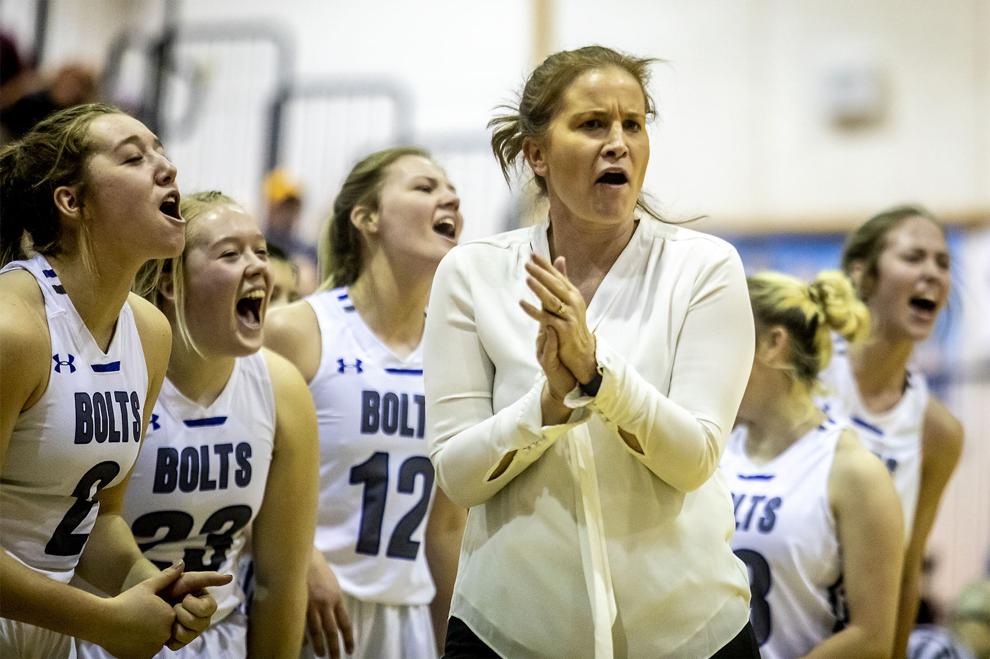 The bag of alternate clothing will no longer be necessary for Mike as he can watch them coach back-to-back games in the same gym.
Mike also coached Holst on the Post 42 American Legion baseball team during Holst's high school days. Seeing Holst and Lutgen coach against each other when Lutgen was at Thunder Basin was like "watching two kids argue on the front lawn," he said.
There's no such thing as a proud meter when it comes to measuring the pride you have for your kids' successes in life. But if it was a thing, Mike would rate his kids coaching varsity at the same school together as a 96 on a scale of 100.
"Where else can you sit in one gym and watch your daughter coach and then stay right there and watch your son coach?" Mike said.
Above all, it's not about wins or losses or state championships. While that might matter to Bubba and Lutgen in the moment, Mike knows the success of a coach is measured by the impact they have on their players.
"I've always told them that the measure of being a coach is looking 20 or 25 years down the road. What's that kid doing that you coached?" Mike said.
High expectations
Lutgen's CCHS coaching career has already begun. She's been coaching a traveling team that includes most of the Camels roster for next season.
Lutgen hopes to get in about 40 games over the summer months. The team will travel to tournaments in Wyoming, South Dakota, Colorado, Nebraska and Las Vegas, Nevada.
Lutgen and the team have "hit it off" through the first couple of tournaments they've played so far, she said. Looking forward to the winter season, Lutgen said Gillette fans can expect a high-intensity team they've grown accustomed to seeing on the court.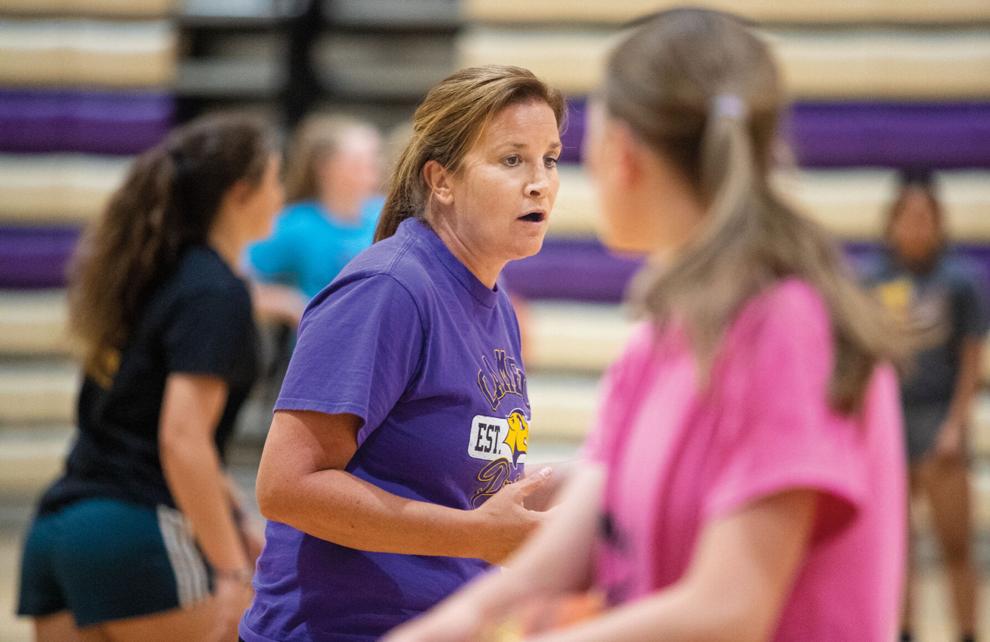 "I believe in setting extremely high expectations. These girls are eager and capable of reaching them," Lutgen said. "We will be playing fast like Camel basketball always does."
Basketball is a family tradition for Lutgen and the Hladky family. Starting in December, that tradition will grow even stronger in the Campbell County High School gymnasium.