Mitch Holst, James Hinshaw and Dale Boedeker's careers have all been special for different reasons.
The three men collectively have contributed more than 100 years of service to junior high and high school sports.
The three men's careers have run practically simultaneously, but it wasn't often that their paths intertwined. That changed this summer when Holst, Hinshaw and Boedeker each earned Hall of Fame honors from different organizations, all within a one-month span.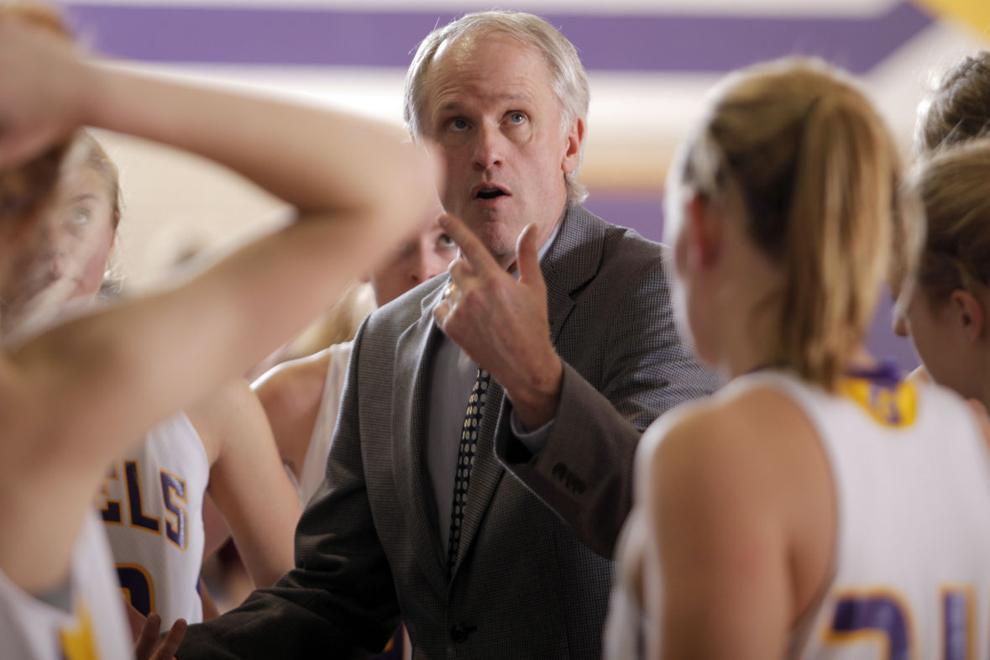 Holst recognized by RMC
Holst, 59, was the first to be given Hall of Fame recognition this summer. Holst was inducted into the Rocky Mountain College Clara Klindt Athletic Hall of Fame in June.
Holst originally was told about the induction last year but the official announcement was made this summer because of COVID-19.
Holst graduated from RMC in Montana in 1986, where he played basketball and football. He was a member of the 1984 Frontier Conference championship football team.
The 1981 CCHS graduate was grateful for the opportunity to play both sports at the college level. But that wasn't the original plan.
Holst wanted to play baseball at RMC but the baseball program was cut the year he moved to Montana for school. He decided to give basketball and football a shot, despite his smaller size.
After graduating from RMC, Holst moved back to Gillette and joined the CCHS staff as an assistant girls basketball coach in 1987. Holst took over as head coach in 2001.
The Camels won state titles in each of his first four seasons (2001, 2002, 2003 and 2004) where Campbell County posted a combined record of 90-15, according to wyoming-basketball.com.
The Camels would go on to win seven more state championships under Holst in 2006, 2009, 2011, 2013, 2015, 2016 and 2018. In 2020, CCHS didn't qualify for the state tournament for the first time in Holst's career. During Holst's 21 seasons as head coach, the Camels were 429-132 (.765%).
In May, Holst stepped down to take the JV boys job for the Camels.
Holst admits his Hall of Fame induction to the college likely was influenced by his legendary Wyoming coaching career after graduation. He wasn't expecting to be recognized by RMC, so he was surprised when the school called.
"'You sure you got the right guy?'" Holst remembers thinking. "I was fortunate enough to have a few cups of coffee in a couple sports but I didn't have a dominating athletic career by any means. But I sure enjoyed my time there."
Three and a half decades later, Holst still remains thankful he was able to attend a small college where he could get playing time on both the football and basketball teams. The 1984 football team also was inducted into the college's Hall of Fame.
"We didn't even have 500 kids when I went there," Holst said. "But I loved the chance to further my athletic career because I wasn't ready to be done playing."
Holst has no doubt his playing days at RMC helped prepare him for what has now become a historic coaching career. While he's honored to receive the award, he still has plenty of motivation left to continue coaching and mentoring kids at Campbell County.
His focus now shifts to the football field. Holst works as an offensive coordinator for the Campbell County football team during the fall season. He will coach his first season as the CCHS boys basketball JV coach in the winter.
Holst will be honored by RMC with a ceremony at homecoming Sept. 17 in Montana.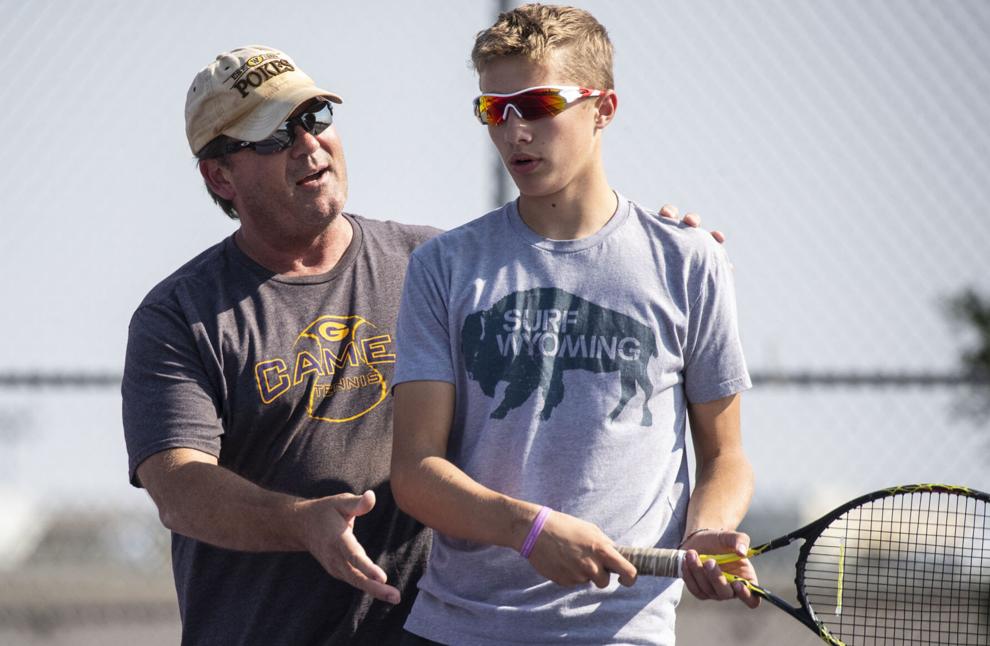 Hinshaw inducted into WCA Hall of Fame
Hinshaw has worked with some of Wyoming's most dominant coaches in their respective sports during his 30-year coaching career. The success he's had in Gillette as an assistant coach earned him a spot in the Wyoming Coaches Association Hall of Fame last month.
Hinshaw spent 14 years as an assistant for former CCHS basketball coach Mike Curry. He spent another five years working under current coach Bubba Hladky until 2019.
In that span, Campbell County won six state championships, including four from Curry and two from Hladky. Before joining CCHS, Hinshaw was the ninth grade coach at Twin Spruce before the school district moved freshman into the high school.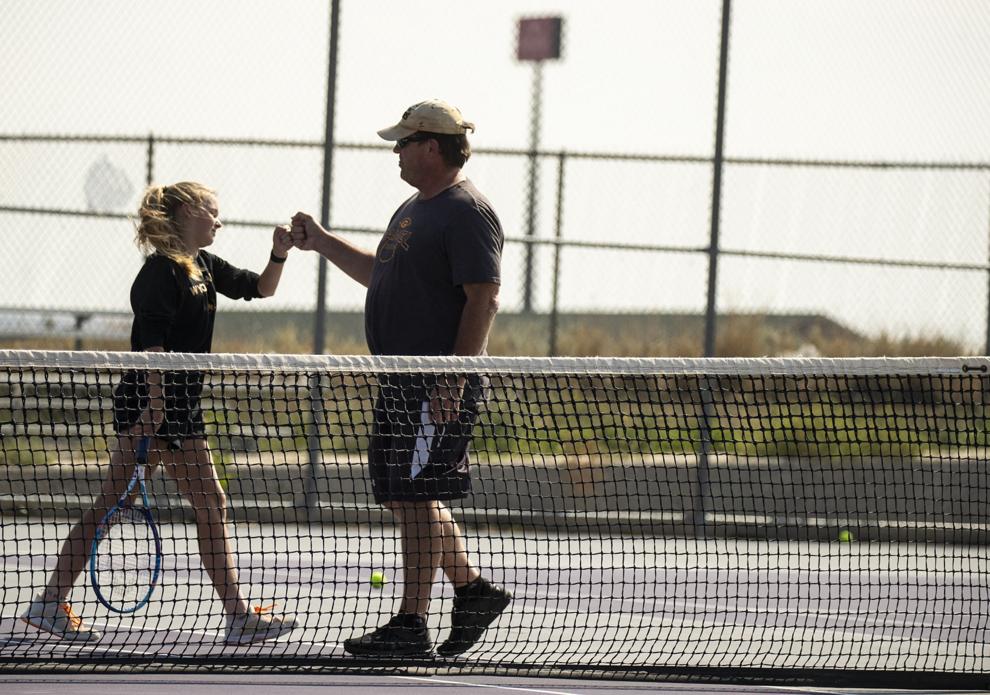 Despite coaching at Twin Spruce from 1990 to 2000, he was still listed as an assistant for the CCHS varsity team. That's why Hinshaw has no problem accepting some of the credit for the eight state championships Curry won with CCHS during the 1990s.
"Technically I was an assistant so I got to claim those titles in the 1990s," Hinshaw said. "But I was very proud of the fact that when (Curry) was winning all those titles, the majority of the kids were Twin Spruce kids."
Hinshaw moved up to the CCHS sophomore team in 2000, putting him right next to Curry on the bench. Hinshaw was one of Curry's assistant coaches until Curry retired in 2013.
Hladky took over and won state titles in 2014 and 2018. Hinshaw retired from coaching basketball in 2019, but he wasn't done coaching entirely.
Hinshaw is still an assistant coach for the CCHS boys and girls tennis teams, a title he's held since 1997. Since joining the Camels tennis program, Hinshaw has been a part of 14 state championship teams (10 boys, four girls).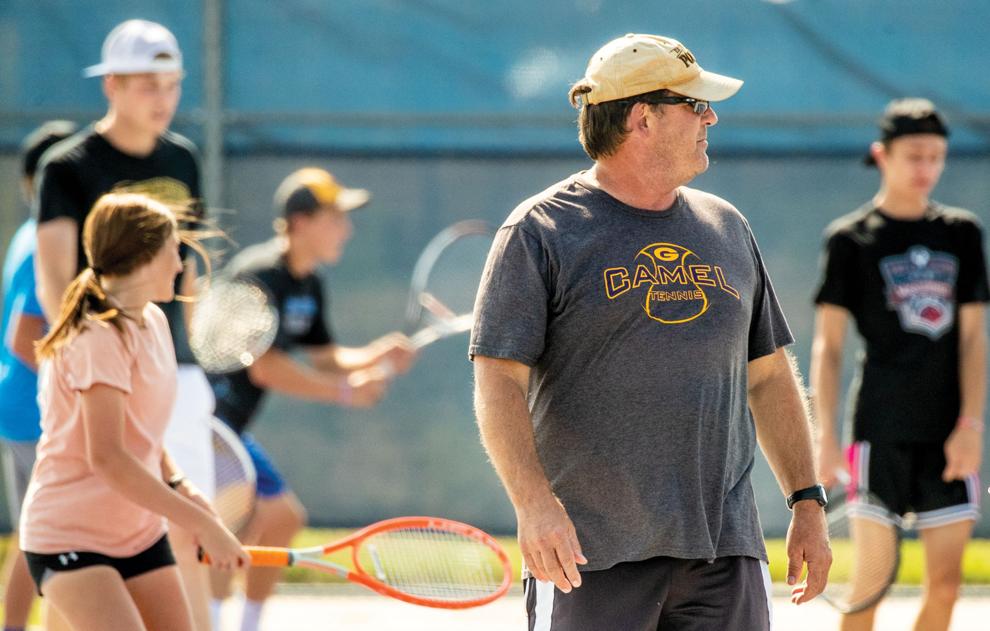 His favorite memory of his tennis career has been winning state titles with both of his daughters. Hinshaw's oldest daughter, Taylour, was a part of the 2010 state champion tennis team and his other daughter Madison helped win it in 2013.
While every coach enjoys winning throughout a career, Hinshaw also has appreciated the experience of watching multiple generations of kids grow and develop within the Gillette community. His coaching style is fairly laid back, which has allowed players to trust and open up to him over the years.
"It's always been fun for me to just hang out with the kids," Hinshaw said. "These guys are a ball and they're what make it fun. ... I've always been the guy to have my arm around them. Me and coach Miessler have had the 'good cop, bad cop' thing going on forever."
Hinshaw doesn't have a particular date in mind for hanging up his coaching whistle for good. Some coaches he's met in his career have told him he'd know when to walk away, but he hasn't reached that point yet.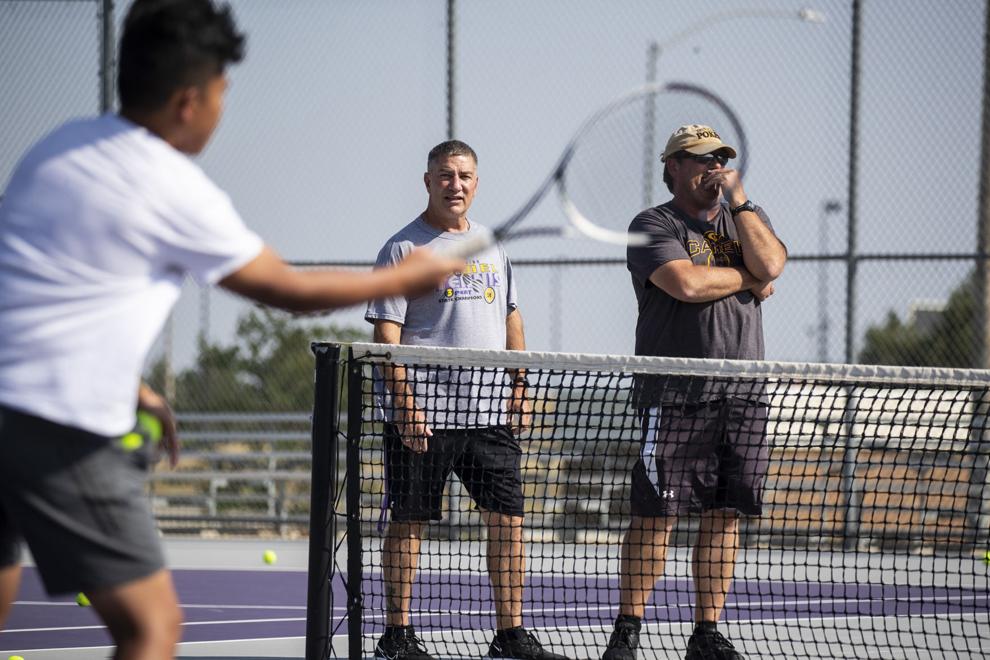 For now, the WCA Hall of Fame induction is a reminder for Hinshaw of why he started coaching in the first place.
"It's super humbling," Hinshaw said. "Especially for a guy that's been a career assistant. I had chances to interview for head coaching jobs but the kids have always liked me and I get along well with everybody.
"To get appreciated by somebody who doesn't really have to appreciate you feels really good."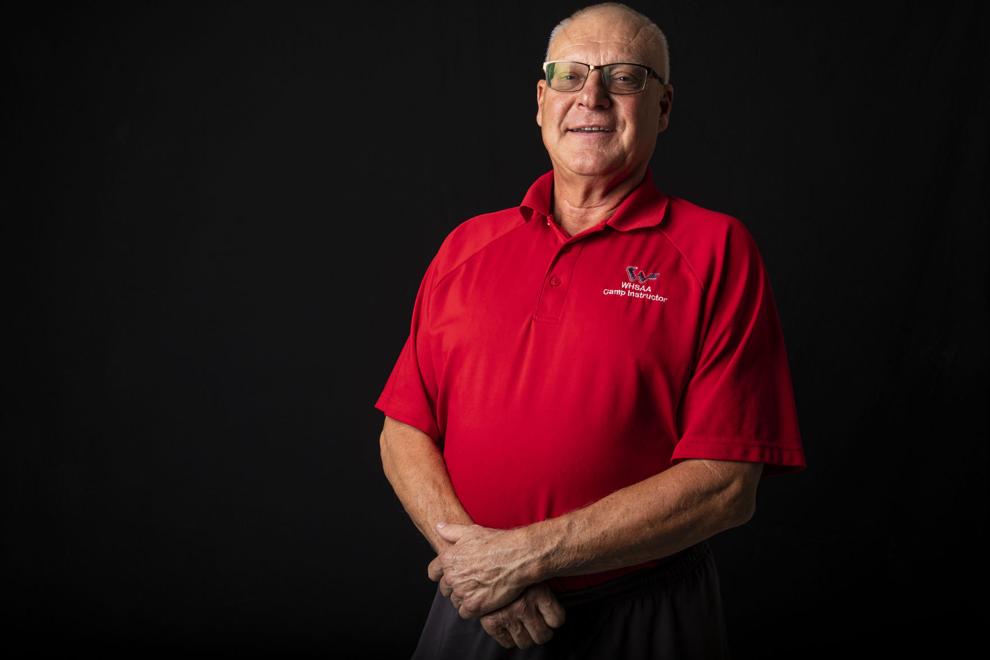 Boedeker earns his stripes
Boedeker's mark in the athletic world came in a white and black uniform. Boedeker was a junior high and high school referee for the Wyoming High School Activities Association for 36 years.
Boedeker was inducted into the Wyoming Sports Officials Association Hall of Fame by the WHSAA last month in Casper.
The veteran referee was selected in the class of 2020 but wasn't inducted until this year because of COVID-19.
Boedeker started reffing basketball and football in 1981 while attending Chadron State College in Nebraska. He officiated his first game in Wyoming in 1983.
Boedeker lived in Jackson for 15 years before moving to Sheridan and working at the Sheridan Parks and Recreation Department for 14 years.
All in all, Boedeker estimated he worked 3,600 high school games, including state tournaments for basketball and championships for football. He won official of the year honors in 1995, 1998, 2000, 2001, 2002 and 2006.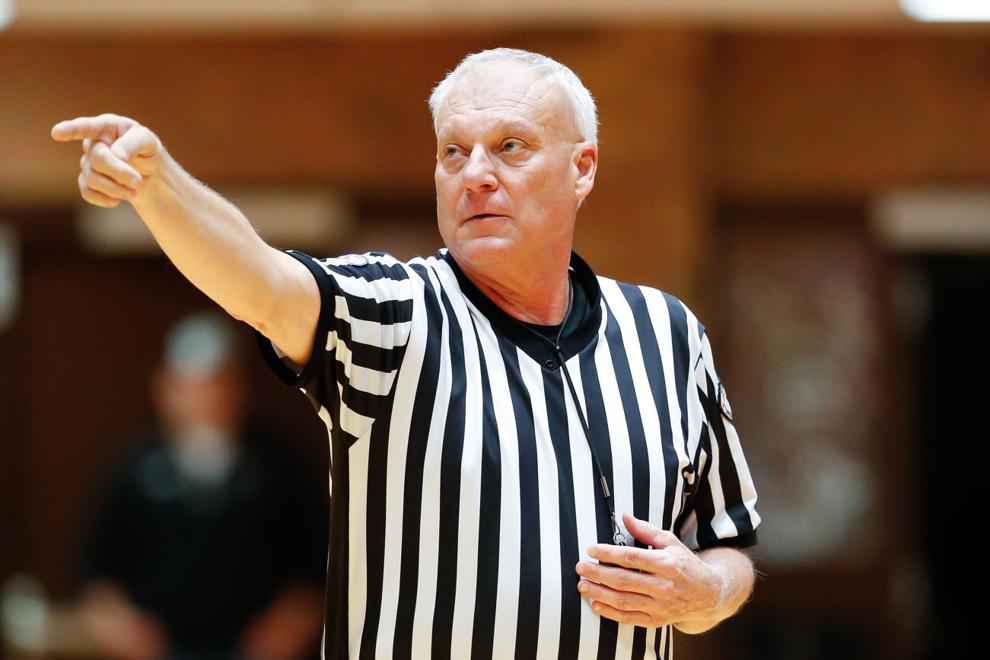 Boedeker's goal was to work at least 100 events each year between basketball, football and track. Earning recognition for his dedication to officiating wasn't the reason he got into the reffing business, but being inducted into the Hall of Fame will be a memory he holds close for the rest of his life, he said.
"I wanted to put back into something that was good to me," Boedeker said. "I enjoyed every year of it, whether I got booed or cheered for, it didn't matter. I really enjoyed it."
Boedeker also spent 36 years working in the Parks and Recreation Department of the various cities he lived in, including Gillette. He retired in 2012.
He came out of retirement in 2014 to become one of three full-time activities bus drivers for the Campbell County School District. He reffed his last contest in 2016 but still continues to drive Gillette teams across the state.
Boedeker can't keep himself away from Wyoming high school sports and plans on staying involved as long as he can. The reward isn't a Hall of Fame badge or an official of the year award, but rather having kids across the state grow up and recognize him years later.
"There's nothing more gratifying than walking into a convenience store across the state and having a kid tap you on the shoulder and say, 'Mr. Boedeker, is that you?'" Boedeker said. "He remembered me from 2004 and he was saying I reffed his game and he even said, 'I think you even reffed my dad's game!'"
Boedeker was joined by Jim Wilson of Sheridan and Chuck Duncan of Highlands Ranch, Colorado, in the 2020 WSOA Hall of Fame class.
Throughout his career, Boedeker officiated 18 state championship basketball games, 15 football state championships, six Wyoming/Montana all-star boys and girls games, six Shrine Bowls and four North vs. South all-star games.
In 2019, Boedeker was inducted into the Wyoming Recreation and Parks Association Hall of Fame.
Boedeker encourages individuals with a passion for sports to apply to referee for WHSAA. Applications can be found at WHSAA.org.