One last week of practice and four matches stand between wrestlers and the Wyoming prep state championships.
A total of 33 wrestlers will represent Gillette in Casper on Saturday, and all 33 will go in with the potential to be crowned the best wrestler in Class 4A in their respective weight classes.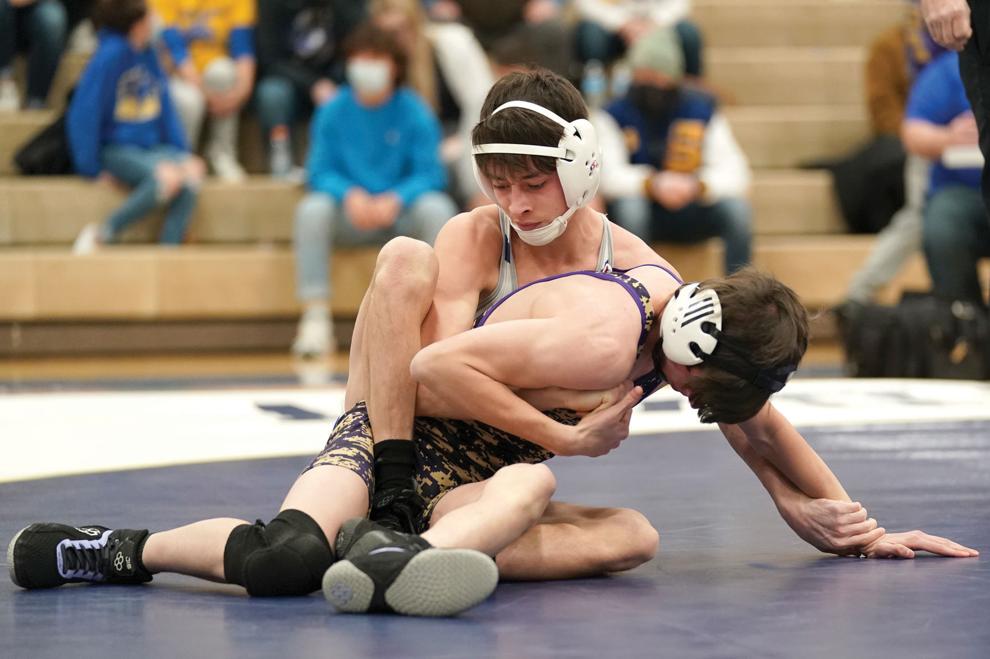 The Thunder Basin High School wrestling team placed second at the 4A Northeast Quadrant Qualifier Regional Tournament this past weekend in Sheridan, qualifying 19 wrestlers for the state tournament. The Campbell County wrestling team was third and qualified 14 wrestlers.
Now with the regional tournament behind them, both teams shift their focus to peaking in their final action this weekend.
Having the tournament Saturday only because of COVID-19 protocols gives teams an opportunity to make some last-second adjustments going into state, said TBHS coach Mikah Kadera.
"You can get a lot better in a week span, and that's what we've talked to the guys about," Kadera said, adding that under normal conditions, state is a three-day affair. "You can make big strides in a week's span and that's what we're focused on doing, not just with one guy, but with all 19 guys we qualified."
Practice this week at Campbell County will be a lot more technical than intense, said CCHS coach Clay Rodgers.
"We'll try to keep our conditioning up and work on our technique, but it's not going to be 2-hour-long, grind-them-out practices," Rodgers said. "It's going to be short and sweet. Get in there with high tempo and get a lot of reps in different positions and different situations."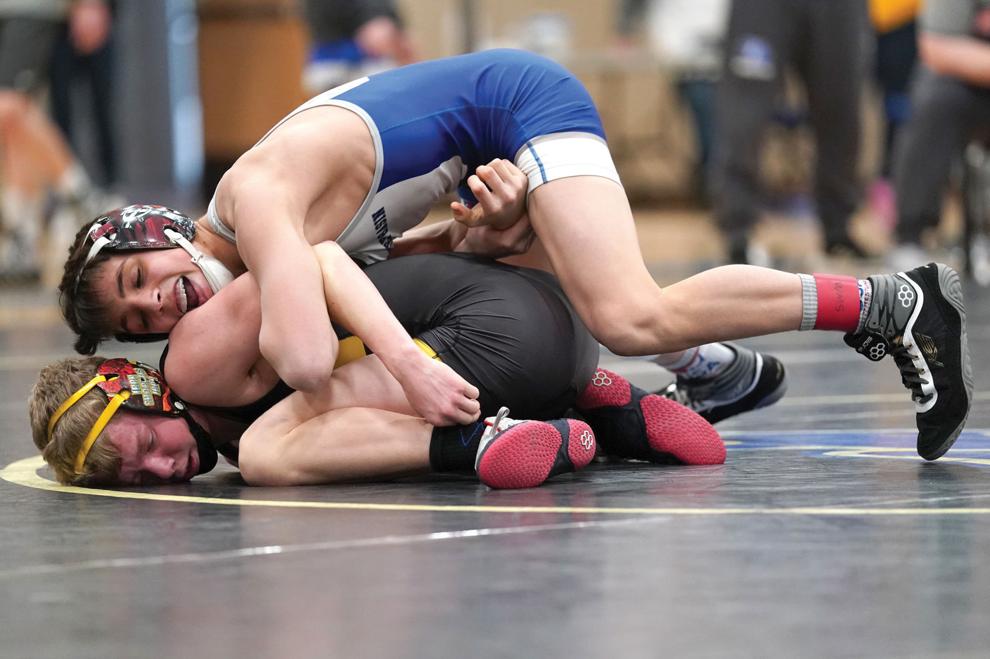 A big difference for all the teams involved in this year's tournament is the new one-day format. In an effort to limit the potential exposure to the virus, all matches are Saturday.
The ripple effect of the one-day tournament will cause conditioning to become a large factor for all weight classes, Kadera said.
"We've been maxed out at three matches a day, so that's the most that anybody has wrestled," Kadera said. "If you get to the finals and want to win that state championship match, that will be match No. 4, but if you lose a match and have to wrestle back to placing, you can wrestled four or five or possibly six matches.
"It's just going to be about being in good shape, and I think our shape is pretty good, but we'll keep improving on that this week."
Bolts return six state placers
While Thunder Basin lost its only individual champ from last year to graduation, the Bolts return six state placers and four seniors who are four-year varsity wrestlers.
State placers from last year include senior Jeric Igo (fifth at state last year), junior Seamus Casey (third), sophomore Lane Catlin (fourth), senior Dylan Catlin (third), junior Cael Porter (fifth) and sophomore Dillon Glick (sixth).
Going into state, Lane Catlin has a perfect 35-0 record at 220 pounds.
Joining last year's state-placers for the Bolts will be 13 others ready to work their way through the brackets in their respective weight classes.
Blaize Burrow has a 16-11 record at 106 pounds and will be joined by teammate Grady Edwards (5-2) in the same weight class. Freshman Antonio Avila is 26-1 at 113 pounds and junior Alex Draper is 29-8 at 120 pounds. Other Bolt qualifiers include Parker Lee (126), Jais Rose (132), Zabian Cowley (132), Deyton Johnson (160), Aden Jorgensen (170), Garrett Toohey (170), Aidyn Mitchell (182), Dylan Skillings (285) and Kavontae Montgomery (285).
Kadera is telling wrestlers who have been there before and those who haven't that Saturday is just another tournament. While the program's first team state title is the ultimate goal, Kadera wants his athletes to enjoy the experience as well.
"They need to come and wrestle hard and wrestle to the best of their ability and stick to what's been working all year," Kadera said. "The adjustments that we make, we have to make sure we use those in the matches that we need to and just keep getting better.
"The guys just have to go out there and wrestle and have fun like they have all year long and just continue to motivate each other."
As a team, Thunder Basin is ranked No. 3 in Class 4A behind Natrona County (No. 2) and Sheridan (No. 1) on wyowrestling.com.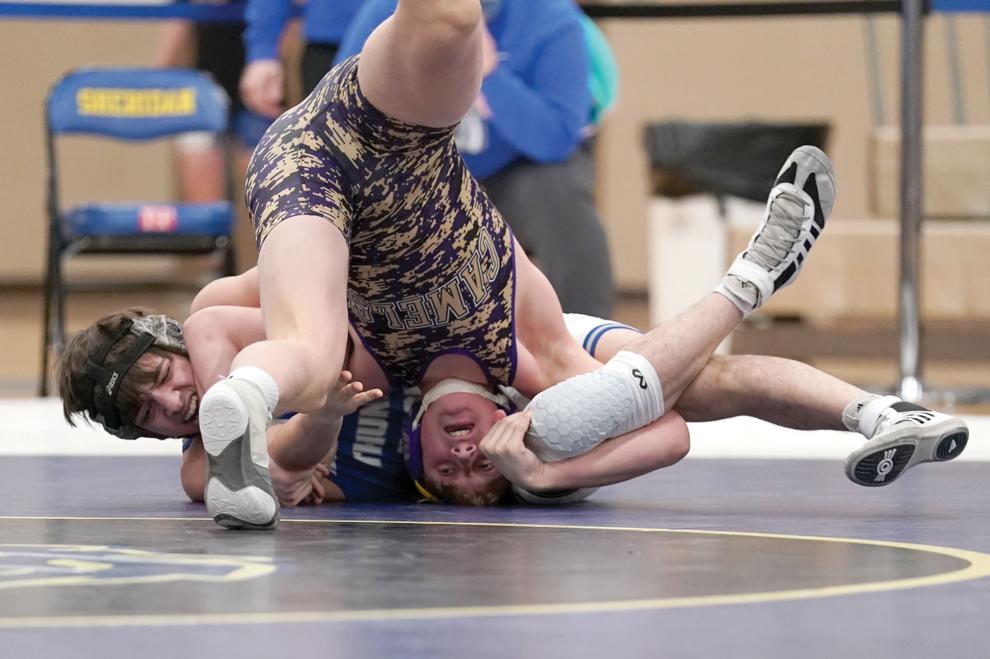 Camels return pair of state placers
Campbell County will return state placers Colt Welsh (second at 106 pounds) and Colter Rankin (third at 285) from its 10th place finish as a team at last year's state tournament.
The other 12 state-qualified wrestlers include Darron Provost (113), Austin Enriquez (120), Logan Johnson (126), Lucas Hill (132), Alex Eisenbraun (138), Blake Harding (138), Tyson Stephens (145), Chris Boardman (152), Hunter Henderson (160), Logan Ketterling (160), Cohen Granzer (182) and Jack Tinnell (195).
After the regional tournament in Sheridan, Rodgers said he was "pretty darn happy" with his team's performance. Having only qualified 12 wrestlers for state last year, 14 this season gives the Camels a better chance of placing better as a team.
"These guys share that team concept and fighting for the team now and fighting for those team points," Rodgers said. "When you win, you start getting your advancement points and then you start getting into those placement matches, and that's where you really get the bonus points.
"The ultimate thing is to win, whether it's a dual or a tournament. You have to win to score points."
The most important thing for the Camels on Saturday will be to stay warm and fresh in between matches, Rodgers said. In a typical tournament, wrestlers would have several hours between matches to rest and relax, but the new one-day format means wrestlers will be competing almost consecutively.
"In my opinion, it's going to be just as much about the mental game as it's going to be about the physical one," Rodgers said. "It's going to be about the guys who have a tough match or an early loss in the tournament that can forget about it in a short period of time and be ready to go again."
Rodgers said his team's ability to recover from those tough matches early on will determine how high Campbell County ends up in the standings.
"If you lose in the semis or early on in the tournament, your personal goal of being a state champion is gone," Rodgers said. "How important is the team to you to come back and fight and grind and get some wins and score some more team points?"
The Class 4A State Wrestling Championships begins at 8:30 a.m. Saturday at the Casper Events Center.
For state tournament coverage, follow The Gillette News Record on Facebook and Twitter or visit gillettenewsrecord.com.