It is what it is.
Both Gillette boys basketball coaches — Bubba Hladky at Campbell County High School and Rory Williams at Thunder Basin — repeated the sentiment about the new state regional tournament format. Under the new format, the Bolts and Camels play each other in the first round of the regional tournament in a win-or-go-home game.
The top-5 teams in the WyoPrep.com coaches and media boys basketball rankings are from the East side of the state in Class 4A. Three of the five ranked teams are in the Northeast Quadrant, including Sheridan (No. 1), Thunder Basin (No. 4) and Campbell County (No. 5).
With the Broncs (14-2) locking up the No. 1 seed for regionals to play No. 4 seed Kelly Walsh (2-14), that leaves the Bolts and Camels as the Nos. 2 and 3 seeds to face off in the first round. The winner clinches a trip to state, and the loser goes home.
What that means is this year's regional makeup guarantees that one of the state's top 5 teams won't make it to the state tournament.
"It is what it is, unfortunately," Williams said. "It's pretty similar to what volleyball did in the fall. I understand all the health concerns and keeping everybody safe, but the tough part of it is that you're going to have some good teams that don't make it."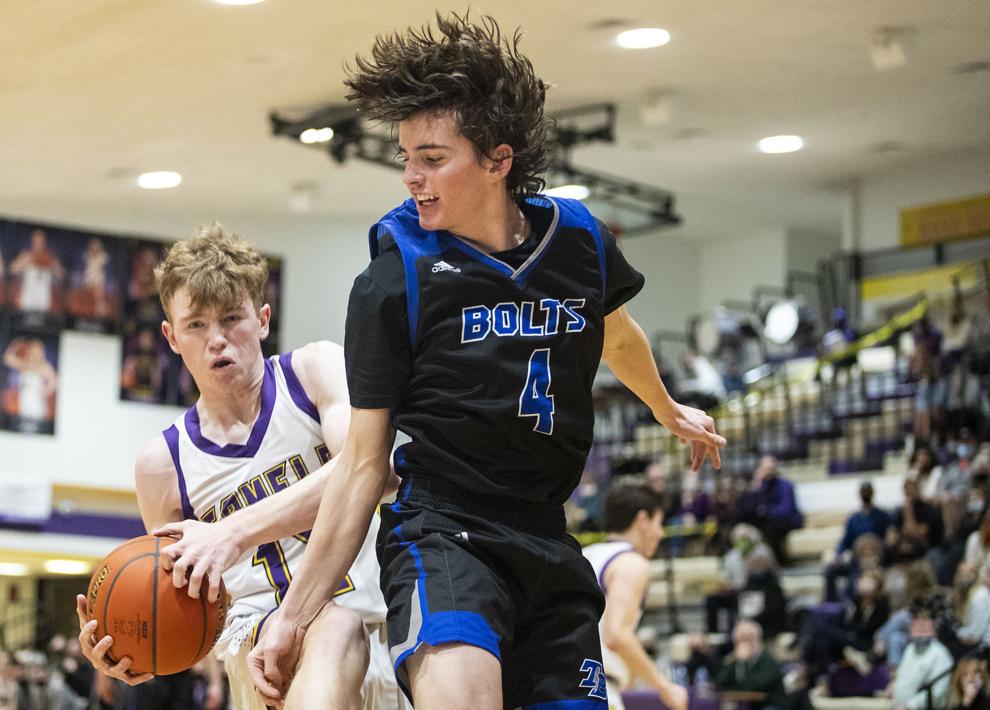 During volleyball season, Thunder Basin eliminated Campbell County in the first round of the regional tournament in four sets to clinch a spot in the state tournament.
The basketball teams split the season series 1-1 this year, with Campbell County beating Thunder Basin 68-57 Thursday night and the Bolts taking down the Camels 67-58 last month.
While the Bolts program is only in its fourth year of existence, the Camels have a 33-year streak of making the state tournament going back to 1987, according to WyoPrep.com. The last time Campbell County wasn't in the state tournament, President Ronald Reagan was in office.
"I like the pressure," TBHS senior Andre Felton said. "The cross-town rivalry has always been a big deal to me and I like that we get to play them to go to state. The emotions are definitely high."
Williams compared the situation to a college team going into March Madness.
"Everybody is in the same boat and everybody knew what was going to happen a long time ago," Williams said. "We all played for the best seed possible, so now it's just win one game and you're in or lose one game and you're out.
"Nobody is going to feel sorry for anybody. You've got to prepare for one game and hope to get it done."
In past years, the regional tournament would include eight teams from the East side of the state in a double elimination format. Because of COVID-19, activities directors across the state voted for a new condensed regional format to limit regionals to four teams at each location, with only the top-2 teams surviving the quadrant.
Unfortunately for Campbell County or Thunder Basin, one of the Gillette squads will be the odd team out this year.
"It's win or go home," Hladky said. "It's just the way it is this year. … There's nothing we can do to control that. We just have to show up there and play."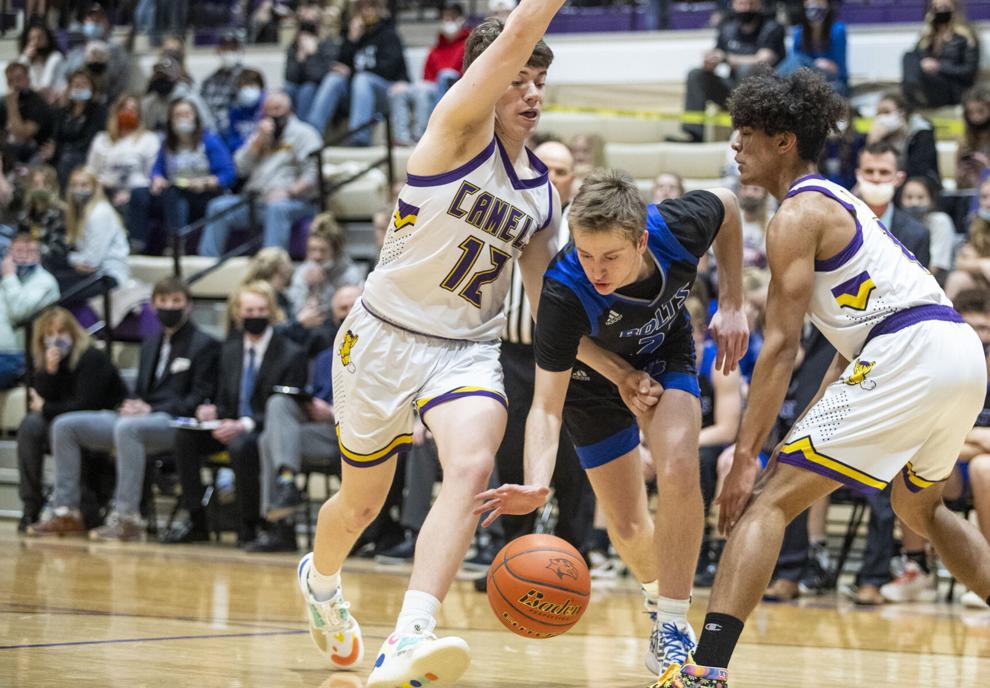 Top teams in the state
The state tournament won't have either the No. 2 team in scoring or the No. 5 team in scoring in Class 4A. Campbell County is second with 67.9 points a game while Thunder Basin is fifth with 62.9 points a game.
The Bolts are shooting 46.1% as a team (No. 3) while the Camels are shooting 44.9% (No. 5).
"It is kind of funny that's it's the two Gillette teams that play against each other for the spot," CCHS senior Tanner Lemm said. "I think we could play just about anyone, though. Fear no one and respect everyone, and I think it will be a good game for sure and we're ready to go get 'em."
Campbell County senior point guard Luke Hladky is second in the state in scoring averaging 23.8 points a game, followed closely behind by Thunder Basin junior Deegan Williams, who is third in the state at 18.4 points a game.
During Thursday night's contest at CCHS, Hladky scored 23 points for the Camels while Williams put up 22 for Thunder Basin.
Gillette has been a perennial powerhouse in basketball. Campbell County has won 14 state championships since 1990.
But the opening of Thunder Basin High School in 2017 has put some pressure on the program as the basketball talent begins to even out between the two Gillette schools.
"When you have two high schools in one town this is eventually going to happen and here we are after four years," Williams said. "Gillette knew that this time would come. I thought it might be a little bit earlier, but here we are after four years.
"One play-in game, so let's throw it up and see what happens."
It's not much of an advantage to play a team you're so familiar with, Hladky said. While the Camels know Thunder Basin's strengths and weaknesses, the same is true for the Bolts.
"We both know each other very well, and we know the personnel and we know what they're trying to do, and they know what we're trying to do," Hladky said. "It just matters who goes out and who hits shots and who executes and who plays defense the way they want to.
"There's not going to be a ton of secrets going on. We're just going to go out and play basketball."
Thunder Basin and Campbell County play at 4 p.m. Thursday at Thunder Basin High School. The winner moves on to play the winner of Sheridan vs. Kelly Walsh to determine seeding for the cross-quad regional tournament starting March 4 at Cheyenne South.
"Unfortunately, one of the Gillette teams is not going to be going to state," Williams said. "There's a lot of good basketball players and some really good coaches that unfortunately won't be making that trip to Casper."
For game updates, follow The Gillette News Record on Facebook and Twitter or visit gillettenewsrecord.com.