Just 20 feet of pavement separated Campbell County and Thunder Basin high school student-athletes at the Energy Capital Sports Complex on Monday.
Twenty-four girls from Campbell County and 29 from Thunder Basin pressed their cleats against the infield dirt for the first day of tryouts. The weather cooperated with an uncharacteristically warm day for an early March afternoon.
No one really knew what to expect. While most of the girls had played softball before, they never expected to be part of a historic tryout.
"I was really nervous," said TBHS senior Macynzie Loftus. "I was just nervous to see who all was trying out and who wasn't.
"It was just the unknown that was nerve-wracking. It's a brand new program and we're trying to build the foundation."
Rather than dwelling on the significance of the moment, both teams dove right in.
For the first time in Wyoming's 131-year history, two sanctioned high school softball practices were held in Gillette. For 53 girls and two local coaching staffs, Monday was something girls had been hoping to happen for nearly two decades.
"We have been pushing for high school softball for as long as I can remember," said CCHS senior Jadyn Groombridge. "Having this opportunity for high school is really great."
Monday had marked the end of an 11-year run of inequality in high school sports. Since gymnastics was cut after the 2010 season for female athletes, boys had 11 sports to participate in while girls only had 10.
Title IX, a 1972 federal law, mandates equal opportunities for male and female student-athletes.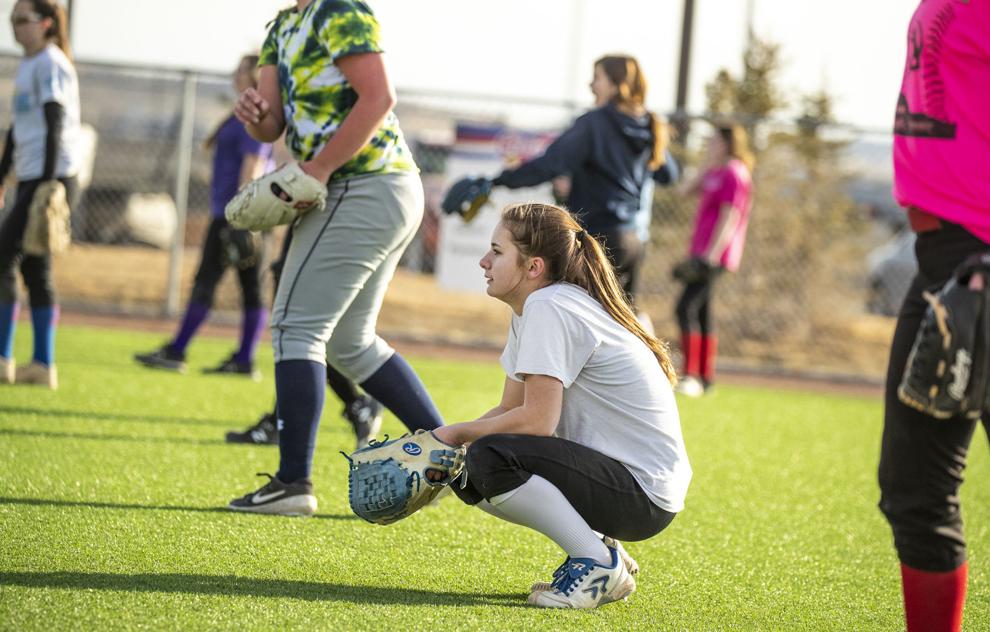 Monday also was International Women's Day and the same day 13 schools in the state of Wyoming could hold their first high school softball practices. At the time softball was unanimously made a sanctioned Wyoming High School Activities Association sport in 2019, Wyoming was one of two states (along with South Dakota) without high school softball.
Representation and respect
For a lot of high school athletes, being recognized for their hard work and dedication is the ultimate reward. Walking into the gyms at either high school, banners drape the walls for every state championship won by Thunder Basin or Campbell County.
Now, softball players at both schools have an opportunity to add some banners of their own.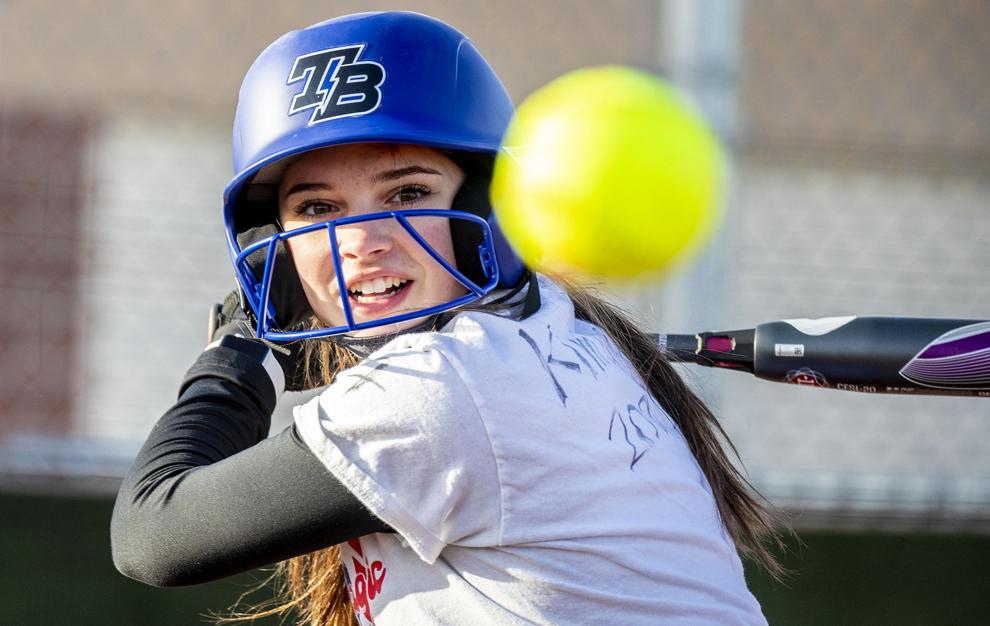 "We've been working really hard to get recognized and to show that softball is a sport in our community," Groombridge said. "It's really heartwarming and really admirable to be able to have our own banners for softball and to prove that softball is a sport and that girls can compete."
Campbell County and Thunder Basin will join 11 other schools for the inaugural softball season. The 13-team league, like most other sports, will be divided into East and West conferences, according to WyoPrep.com.
The Gillette schools will play in the East Conference with Cheyenne Central, Cheyenne East, Cheyenne South, Laramie and Wheatland. The West Conference is made up of Cody, Green River, Kelly Walsh, Natrona County, Rock Springs and Worland.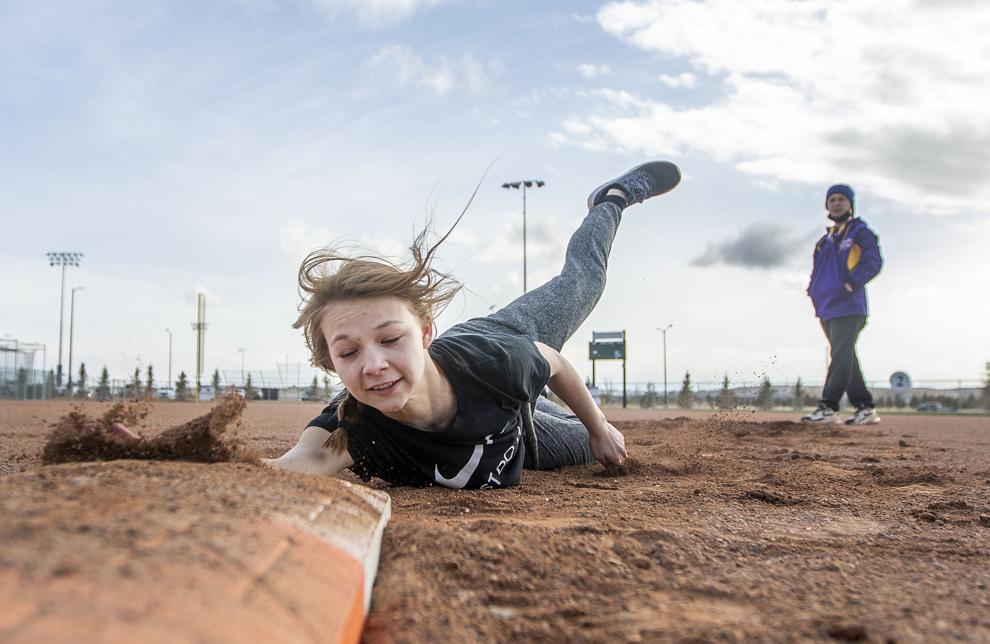 The top-4 teams from each conference will play in the state tournament, which will be held in Gillette this year and next, according to WyoPrep.com.
Building a foundation
The most exciting part of starting a new program is seeing the blend of experienced players and those wanting to try something new, said CCHS coach Haley Gray. With softball now an official high school sport, girls with an interest in the game are more likely to try it.
"It really brings the girls together," Gray said. "We have girls from four different (travel softball) organizations and we have girls that have never played before all coming together. It's nice to see that."
Some are so new to the sport Gray had to loan them a mitt for tryouts, she said, which is something she has no problem doing.
"You have new girls that are joining, which is super exciting because I think we had a lot of girls quit," Gray said about softball before it was a high school sport. "Once they get to 12 or 13 years old, they end up quitting because this isn't a junior high or high school sport.
"I think the fact that this is really going to be in high school is going to help a lot in keeping girls interested longer."
Campbell County's team is relatively young, Gray said. The Camels had two seniors and three juniors at tryouts this week.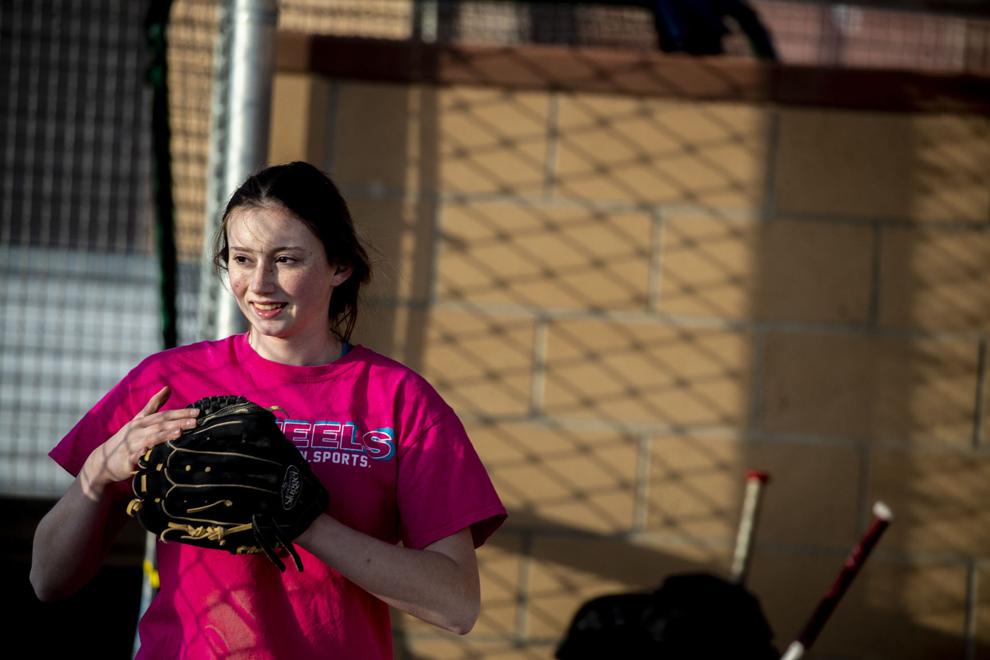 At Thunder Basin, the Bolts are in the same boat with just three seniors in the program's first season. While the seniors — McKyla Smith, Mattea Mattheis and Loftus — were admittedly disappointed the sport wasn't cleared until their final year at TBHS, the girls are living by the adage "better late than never."
"It's kind of sad for us seniors because it's not only the first year for us, but it's also the last," Loftus said. "I expected it to be approved sooner, honestly."
The Bolts seniors are taking it upon themselves to make the most of their only high school softball season.
"Everybody has that point in their life where they want to be that athlete superstar in high school," Smith said. "Now it's my time to shine. It's go time for me."
At Campbell County, junior Rhiannon Davis wants to set the example for younger players coming up through the system.
"I hope that we can build a solid foundation," Davis said. "School ball is just a whole new opportunity for all of us."
Groombridge wants to use the opportunity to not only represent her school, but also Gillette.
"I think the opportunity to play for the high school is really exciting," Groombridge said. "You get to represent CCHS and you get to represent Thunder Basin and you get to represent your own school and get acknowledged that you are competing."
Obstacles along the way
Unsurprisingly for Wyoming, the late winter weather threw a wrench in the plans with a snow storm this week. This forced both Campbell County and Thunder Basin to practice indoors.
Unpredictable spring weather was one possible drawback identified during the process of getting softball approved. Another for a new sport with only 13 teams is travel, which was a big factor in the decision to split the league.
For most of the season, both Campbell County and Thunder Basin will play on back-to-back days on the road. For example, the Bolts and Camels will swap opponents to start the conference season March 26-27, with TBHS playing Central on Friday night and East on Saturday afternoon, and CCHS vice versa.
With most of the athletes having already played on traveling softball teams, long bus rides are just part of the process. In fact, with good teammates around, sometimes long bus rides are the best part of the trip.
"I'm excited for it because I know the bus rides might be a little long, but ..." Smith said before being cut off by her teammate.
"But that's where we bond," Loftus injected. "We've been to Minnesota and Kansas and all over the place. Four hours is nothing."
Another part in the rivalry
The height of the rivalry between the cross-town schools will be unknown until their first game April 22. It could be intense like it has developed for basketball and volleyball, or it could be nearly nonexistent like for the swimming and track teams.
One thing is certain for high school softball in Gillette. While the programs are starting from scratch, most of the players aren't.
"I think everybody is kind of in the same boat," Gray said.
While it may be a new sport at the high school level, there has been a lot of softball played here for the last 20 years with the Blue Jays organization, Little League and another spring league.
"Probably every single girl out here has played in at least one of those three leagues at some point," Gray said. "At least the girls didn't get too far behind because we had that."
With a level playing field going into the first prep softball season, both Gillette school have no reason to believe they can't bring home that first state championship.
"We want to win," Smith said. "Long story short, we want to win. People aren't going to take this seriously until we're like, 'Hey, we're better than everybody else.'"
To find success on the field, players at both schools will have to find ways to build team chemistry after playing on different travel teams for most of their lives.
"I think the most important thing is just learning how to play with each other," Groombridge said. "Most of the girls come from different organizations across Gillette and we don't have a feel yet on how to compete with each other and build each other's confidence in the game.
"We're really looking forward to building up our team and learning how to play as a team."
Years ago, softball players on both sides of Gillette made posters with the phrase "I can only imagine" to fight for an opportunity to play high school softball. For years, players "could only imagine" what it would be like to wear their school colors and play in front of their classmates, Gray said.
This past week, 53 girls and countless more athletes in the future were given something they'd been fighting nearly 20 years for. Finally, high school softball players will hear the ringing voice of an umpire yelling, "Play ball!"